Baiduri Bank recently held a seminar titled 'Preparing for the Future of Work' in a bid to help their corporate clients and partners address challenges facing their businesses in a rapidly changing working environment,
Over 70 guests from government institutions, Government Linked Companies (GLCs) as well as Baiduri Bank's local business partners, attended the seminar that aimed to address how local companies can continue to thrive as organisations across Asia have drastically changed the way they are operating and engaging with their employees.
The seminar also looked at important key trends in the workplace and the growing emphasis on building a strong, positive company culture, with clear purpose and values, alongside the strong need to support employees' well-being. These aspects of the workplace have increasingly been recognised as key to talent retention and increased productivity.
The highlight of the half-day seminar was a panel discussion comprising local leaders in digitalisation and human resources: Fatin Arifin, President of the Young Entrepreneurs Association Brunei and Senior Manager, Business Strategy & Development at Ghanim International Corporation; Kwok Mey Leng, Regional Head, APAC, Chartered Institute of Personnel and Development; Sofiah Umar, Digitalisation Manager, Brunei Shell Petroleum Co. Sdn Bhd; Suzanna Suharju, CEO of Imagine Sdn Bhd; and Veronica Chong, Head of Group Human Resources and Administration at Baiduri Bank.
The panelists addressed how the pandemic, together with accelerated digitalisation, has transformed the way employees work and how leaders can effectively engage their employees, alongside topics related to corporate culture as well as talent development.
The seminar also included a talk by Olly Riches, Senior Managing Director of Indonesia, Singapore, Philippines & Page Executive of South East Asia, who joined virtually to talk about leadership and talent trends, and the importance of a value-based culture in talent management.
Kwok May Leng concluded the event by sharing valuable insights on the future of work in Brunei and how companies can improve their human resources capabilities.
Speaking about the event, Veronica Chong said that having access to other leading institutions, such as the CIPD, has helped provide the Bank's leaders with invaluable support and insights into international best practices.
She said: "We hope that forums like this will help to facilitate knowledge-sharing, not just amongst our local partners and clients but also our global partners, so we can all benefit from the collective insight and discussions, and be inspired to empower our workforce for success, not just now, but for the future of our workforce."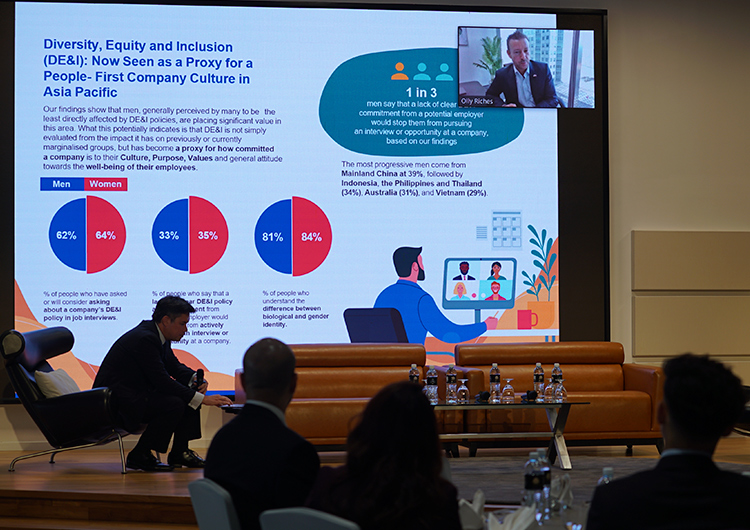 She also mentioned how the Bank has already introduced a number of HR initiatives to address these needs – namely the Employee Wellness Initiative, designed to improve and raise awareness of the Bank's employees' physical, mental and spiritual health through various activities, and, on the Organisation Development and Learning front, the Bank also launched the Leadership Academy and Emerging Leaders Mentoring Programme to help its employees develop future-ready capabilities and foster a learning culture within the organisation.
During his welcoming remarks, CEO of Baiduri Bank Ti Eng Hui said that more organisations around the world are focusing on building a strong work culture, because they are fully aware that a company's work culture directly affects important aspects such as productivity, retention and even succession.
He added: "It is often said that change is not constant; it is accelerating, especially in the post-pandemic world. It is therefore increasingly important to help our employees prepare for the future, giving them opportunities to reskill and upskill, so they can be more resilient.
"Over the past two years or so, we have seen how digitalisation and new technologies such as robotics, machine learning and artificial intelligence are reshaping the way we work. This unprecedented environment has brought about new challenges, and opportunities, for businesses, and the future of work across Asia, including Brunei, is rapidly changing.
"So, we hope that through seminars, workshops and forums like these, we will continue to leverage the expertise of our global partners to help the business community be ready for the challenges they may face in the future, and even transform them into opportunities for growth."
For more information, customers may log on to www.baiduri.com or contact the Baiduri Bank Customer Helpline at 244 9666.
THE BRUNEIAN | BANDAR SERI BEGAWAN