Siblings Angela Yong and John Yong invested in their individual interests and ideas when they decided to open a business, cashing on the concept of a sip and craft cafe.
The sister loves doing craftwork during her spare time while the brother is equipped with the knowledge of brewing coffee who desires to be a barista.
With these two skills, they thought it would be great to start something together on the side, and not long after, Craft Beans was realised.
Inspired by the craft cafes they see on social media, the youthpreneurs wanted their business venture to be the first of its kind in Brunei.
Located in Tanjung Bunut, Craft Beans serves specialty coffee and bakes as well as creates a space for customers to express their creativity by doing some crafts while enjoying some cups of coffee.
Although the business just started in the second half of 2022, it has garnered positive responses due to the unique experience they offer at the café – a hangout place for coffee and crafts.
"Craft and Sip is our slogan where customers can come here, do some crafting while enjoying our coffee and other non-caffeinated beverages," said Angela, adding that some of the drinks include The Magic, Flat White, Signature Biscoff Latte and Butterfly Pea Fizz.
The cosy space is ideal for anyone who wants to recharge their mind and spend some quality time with family and friends.
Creative crafts
The crafting corner provides several items that customers can choose to decorate such as phone cases, tissue boxes, mirrors and hair clamps, among others.
First, one gets to pick any preferred items from the crafting menu which are mostly inclusive of decorative accessories.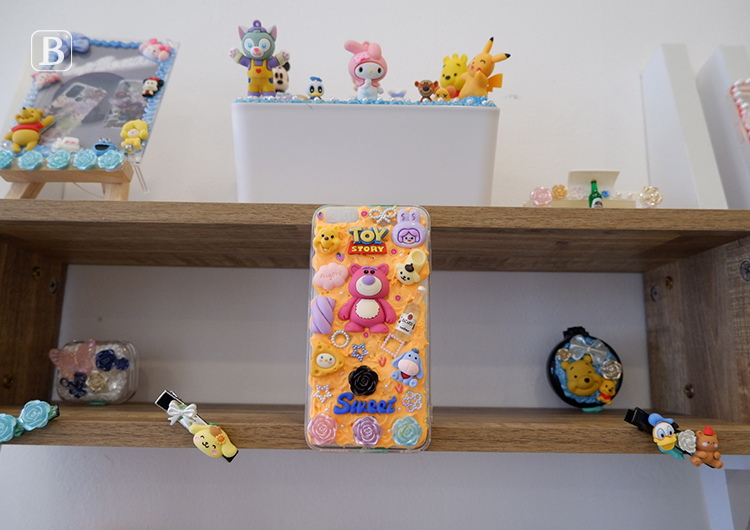 Secondly, they can choose the decoden glue in any colour followed by the accessories they would like to put on the item.
For example, one phone case priced at $20 comes with decoden glue and an unlimited amount of accessories
The final step would be just to wait for the customised items to dry and ready for use before bringing them home.
For the phone casing, customers are allowed to bring their own if the café does not have a specific model available in stock.
Moreover, Craft Beans' crafting menu also has an option for customers to design their own bracelets and rings using beads and charms.
For customers who prefer online purchases of their drinks, they are also available via the mobile marketplace HeyDomo and get them delivered right to their doorstep.
Although the business is still in its infancy stage, the café had gone through some challenges such as a lack of manpower where they were not able to cater to many orders during peak hours.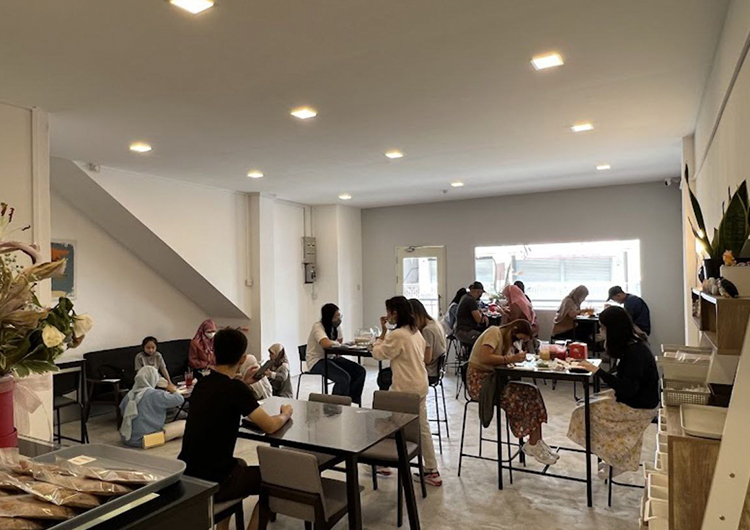 "But regardless of that, I would say that the shop is doing quite well as of now. There were obstacles in the journey but I am lucky enough to have supportive loved ones constantly giving me encouragement and assurance," said 24-year-old Angela.
For future plans, Craft Beans hopes to expand its food and drinks menu as well as offer a variety of options for its crafting menu.
Do some crafting and sip on some coffee by heading over to Craft Beans at Unit No. 3, First Floor, Block D, Tanjung Bunut and check out their Instagram @craftbeans.bn.
THE BRUNEIAN | BANDAR SERI BEGAWAN