Singgah Sdn Bhd (Singgah) recently opened its third On-the-Go store at the Roxana Shell Service Station in Seria, following its first two branches at PGGMB and Kg Buang Sakar Riverine Station.
The latest flagship store features "Grab 'n' Go" meals and drinks such as sandwiches that are prepared fresh to provide convenient quick grabs for On-the-Go customers.
Singgah is currently expanding its On-the-Go food and beverage ranges. Not only that but it also offers car care products for its On-the-Go drivers.
The grand launch was witnessed by Deputy Minister (Energy) at the Prime Minister's Office Dato Seri Paduka Haji Matsatejo Sokiaw, as the guest of honour.
During the launch, BSM Managing Director Muhammad Norshafiee Dato Paduka Haji Abdul Jalil in his speech highlighted that with their shared interest in serving customers and the community, Singgah plans to drive growth in Shell retail stations and expand across the nation as they continue to work with the community.
"Every day, about 1,000 customers visit this station to buy fuel, whom we are pleased to provide a convenient facility for drivers to take breaks, to refuel and recharge in a relaxing setting with excellent customer service before they continue with their journey," he said.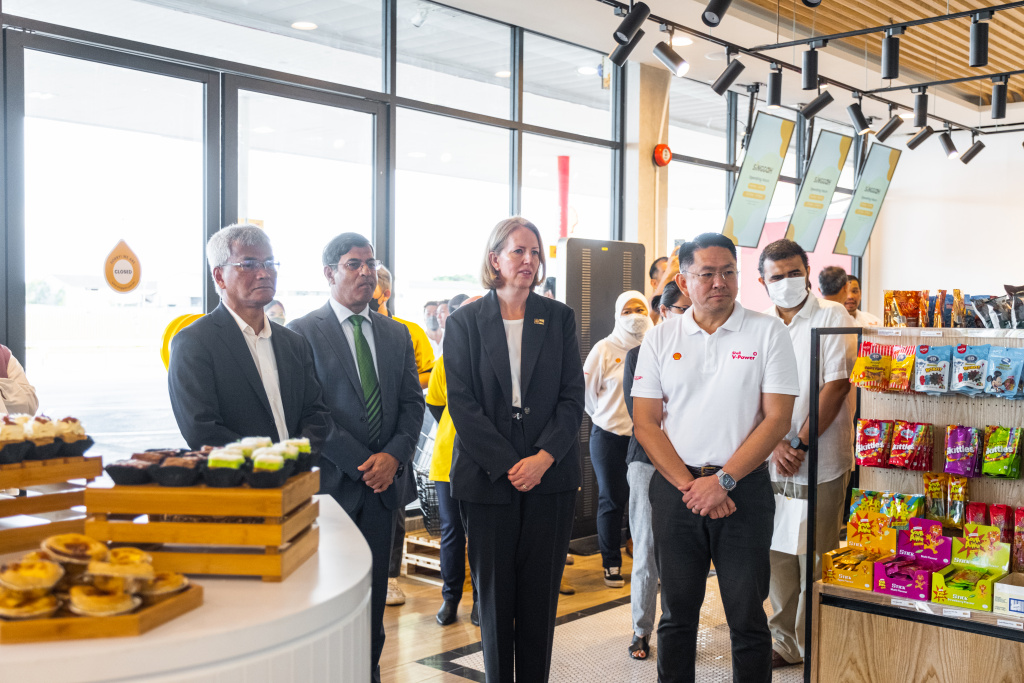 Sharing the same sentiment, Singgah's Operation Manager Arinah Ramle added: "Singgah's objectives are to provide hyperlocal convenience retailing for On-the-Go Customers and to boost and uplift our local surrounding communities by building better customer shopping journey and experience through its distinct products and services."
Tulen, Singgah's very own branded water is also available in store.
As part of its Corporate Social Responsibility (CSR), sales revenue collected from every bottle of Tulen will be contributed to the underprivileged community.
In addition, Singgah also has a local featured programme that invites selected local companies and entrepreneurs to participate in pop-ups in-store as part of its initiatives for community building and local business collaboration.
At the Seria branch, Singgah features local products such as bottled coffee from Two Sons and Hujan, ice cream from Happy Cream, tea by Mori Farm, and On-the-Go local snacks from Kachew and Warisan Maruku.
The team is made up of 100 percent local youth, with the aim for the store to be a development ground for excellent customer service and experience to meet the expectation of their On-the-Go customers.
Singgah welcomes any interested suppliers and vendors that offer unique or premium products to register. Singgah opens its door daily in the morning from 6am until 10pm, except for Friday, Singgah is closed for the Friday prayers from 12pm to 2pm.
THE BRUNEIAN | BELAIT