Missing the glorious food scene in Singapore?
The much-anticipated Singapore Food Festival returns for its 2023 edition at Anjung Saujana Restaurant, Brunei International Airport.
Held in collaboration with Singapore Tourism Board, Singapore High Commission in Brunei Darussalam and RBC, the food festival is slated to take place from 3 to 28 February 2023.
For this year's Singapore Food Festival, Anjung Saujana Restaurant is bringing back the prominent player in the Halal independent culinary scene, The Black Hole Group and offering food lovers a melting pot of Asian flavours.
The Black Hole Group has been making waves in Singapore's casual dining scene with Muslim-friendly restaurants and cafes such as Tipo Pasta Bar, Working Title Burger Bar, Catalan-inspired restaurant The Great Mischief, Mexican taqueria Afterwit and Greek Restaurant Éla.
Specially flown in Brunei are Group Head of Operations, Afiq Sulaiman; Group Head Chef, Ashik; Group Executive Sous Chef, Zulfadhli and Tipo Group Sous Chef, Chef Imran to guarantee the authenticity of this food festival.
In a press conference Black Hole Group Executive Sous Chef Zulfadhli shared that, "Two years ago, we came not without knowing what to expect from Brunei. We came in representing the Black Hole Group and showcased our dishes."
"This year, we will come in differently with a better understanding of how Bruneians eat and what kind of food Bruneians like. We listened and will cater more to the Bruneian taste," he added.
On his part, Group Head of Operations Afiq Sulaiman shared that when comparing Singapore cuisine and Bruneian cuisine, the former reflects more on the country's diverse melting pot of cultures and influences.
"Alternatively, Brunei food is more rooted in the traditions of the country itself that's been around for a very long time and I think there is a stronger appreciation for food that is more familiar here such as lamb ribs. That is something we wanted to showcase this time around," he added.
Throughout the festival, the Black Hole Group will offer gastronomes a specially curated ala carte and buffet menu featuring modern Singaporean dishes with fusion twists.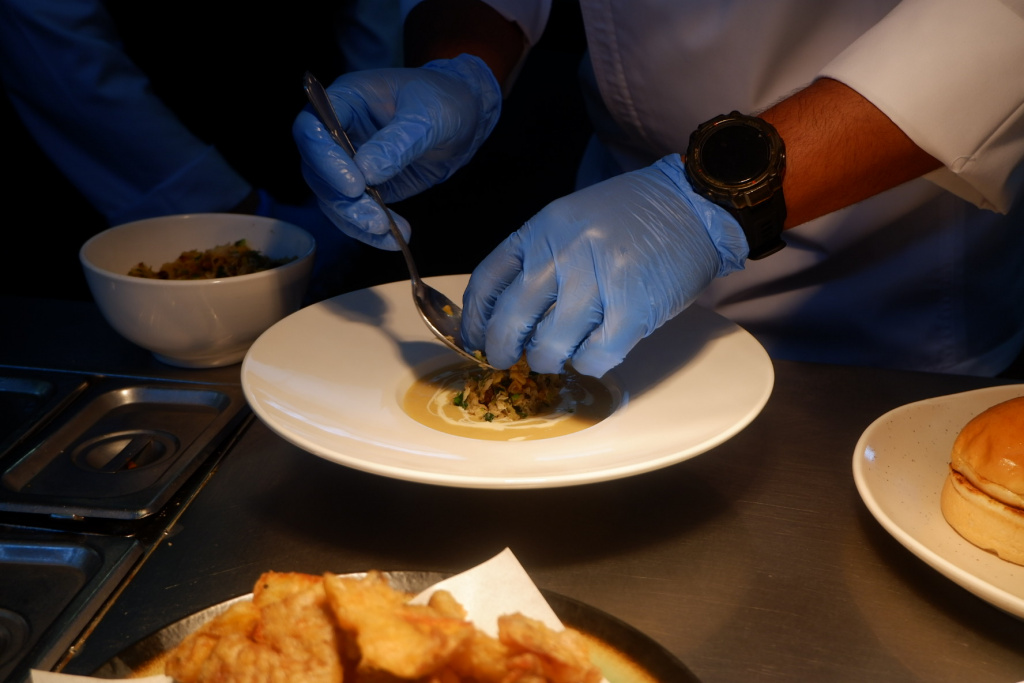 The ala-carte menu features fusion contemporary dishes such as Creamy Crab Potato Gnocchi, Bon Jovi Burger served with Sambal Kicap with fries, Ayam Percik Skewer served with Roasted Potato & Romaine with Cincalok Lime Dressing and Lamb Ribs Sambal Kunyit with Raisin Coriander Rice and Urap Salad, Pineapple Crème Brulee and Pandan Churros, to name a few.
The two-week-long festival will also feature a buffet of scrumptious traditional and contemporary Singaporean delicacies created from the finest ingredients: Singapore Tulang Merah in Kawah, Gado Gado Minang, Blue Butterfly Nasi Lemak Singapore, Seafood Laksa Pasta, Singapore Chili Crab, Cereal Prawn and more.
Moreover, your sweet tooth will also be satisfied with the festival's unique and contemporary Singaporean-inspired desserts such as Pineapple Crème Brulee, Pengat Durian Sticky Rice, Red Velvet Speculoos Cake, among others.
For the ultimate Singaporean cuisine experience, diners will also get a chance to choose from the irresistible temptations of hawker-style live stalls.
Throughout the festival, the Special A la carte Menu will be available daily except for Friday and Saturday from 11 am to 8.30 pm.
Whereas the dinner buffet is available every Friday and Saturday throughout the month from 7 pm to 9.30 pm.
Not only that, but diners will also stand a chance to win a variety of fantastic prizes including return air tickets to Singapore, kitchen appliances, electronic gadgets and more.
In addition, with the support of BIBD, the Singapore Food Festival promotion this year offers diners "Tag & Win" whereby they will stand a chance to win a dining voucher worth $100 at Anjung Saujana Restaurant.
Moreover, RBC Dining Privilege Card holders can enjoy a 10% discount while Bank Islam Brunei Darussalam credit cardholders can enjoy up to 25% discount when dining in for the Singapore Food Festival.
For bookings and reservations, contact Anjung Saujana Restaurant at 2331853. Follow @AnjungSaujanaRestaurant on Instagram for more information and the latest updates.
THE BRUNEIAN | BANDAR SERI BEGAWAN