Si Manja Pet Grooming Spa (Si Manja) is the brainchild of pet lover Billy Lim who has a great interest in running a business.
After working for both private and government sectors for several years, the 37-year-old realised that it is time for him to pursue his entrepreneurial dream.
The pet grooming spa was not the first thing that he had in mind. It was only when he started brainstorming for ideas and did his research in the local market.
He noticed that there are abundant pet shops and veterinary clinics around but there is a gap in the market for pet grooming. He began looking up pet grooming businesses and understands the importance of pet grooming in the community.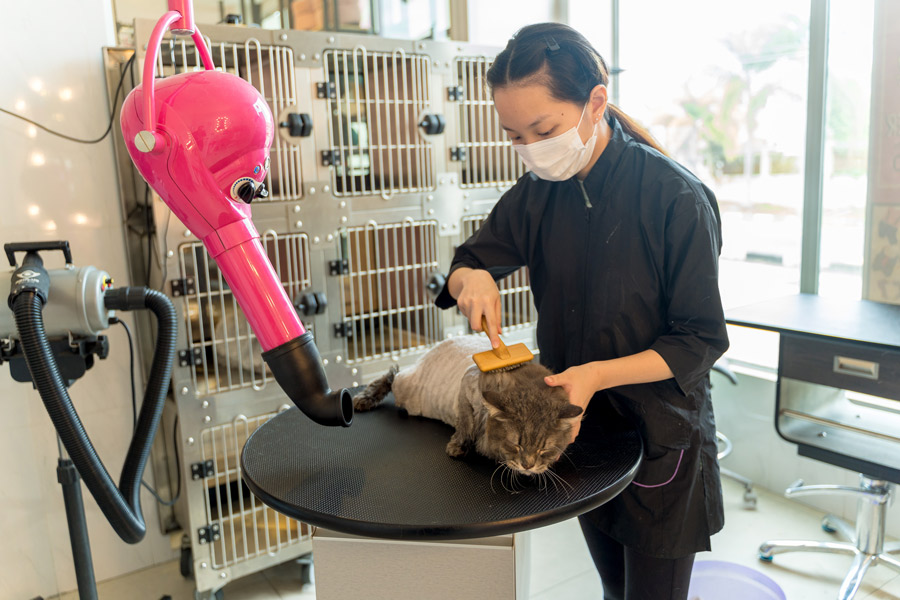 While there are many home-based grooming establishments, there is only a handful of brick-and-mortar pet grooming spas.
"My vision and mission to start my own pet grooming business became clearer after I visited many pet grooming businesses overseas," said Billy.
Journey of Si Manja Pet Grooming Spa
For his love of animals, the business fits right for him. Prior to the spa, he groomed his two dogs and a cat Bella, Jack and Tommy on his own. He learned how to do everything from prepping to keeping their hygiene in check.
Grooming for pets is very important and with proper care, it helps to get rid of shedding, fleas, ticks, and various health conditions.
"Proper grooming is more than just having a cute pet. By prepping your pet, you will also be tackling potentially unhealthy conditions. It will also allow you to identify any underlying conditions or diseases early," said the entrepreneur.
As an avid traveller too, he spent time abroad visiting grooming shops or boutiques and seeing what they offer that can be applicable to Brunei.
Knowing what was needed, he began looking for a perfect place to start his venture and purchase quality equipment that is safe for use on pets.
Starting the business, Billy has saved enough money from his previous job in the banking industry of more than 10 years. It is with that that he was able to kick-start his business and go full-time.
"I am not much of a risk-taker, so I made sure my business was stable before I pulled the plug on my corporate career. I was juggling between my banking job and business for three years before I finally decided to focus on the business fully," said Billy.
The business began its operations in 2018 from Melabau Complex in Kampung Serusop and they have since gained new and returning loyal customers.
Si Manja is a business dedicated to pampering cats and dogs while at the same time providing boarding services for cats and selling pet merchandise like pet clothes and accessories.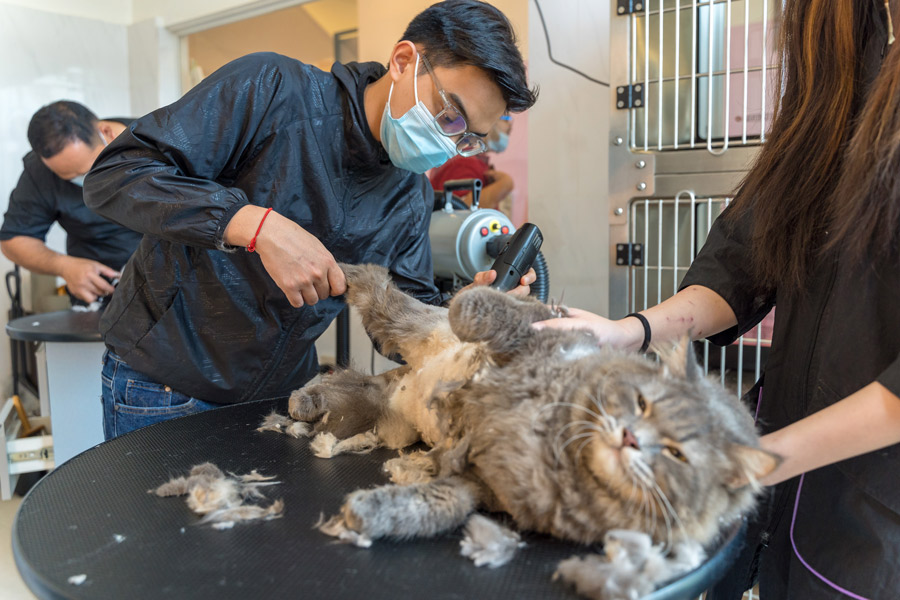 What started as a small business, it now has three branches located in Serusop, Sengkurong and Batu Satu with a team of 15 employees.
The premium pet spa is made up local management team, IBTE graduate groomers with veterinary backgrounds and four senior groomers with more than ten years of experience from the Philippines.
For the team, Billy chooses them carefully as he wants the best for the spa, assuring customers that their pets are in good hands. He makes sure that one senior and junior groomers are allocated in every branch.
Support from external agencies
With support from national agencies, Si Manja Pet Grooming Spa has expanded its team through the i-Ready scheme and took part in business training from Darussalam Enterprise (DARe).
His team attended a fully-sponsored training by DARe's Industry Business Academy on how to manage finances. Billy also received a co-matching grant which allowed the business to procure state-of-the-art grooming equipment used by top professional groomers worldwide.
"I personally think the Brunei Government has already done a great deal for the youth community in the form of free training, grants, mentorship programmes and more. It is up to them to take the initiative and tap on these opportunities," said the youthpreneur.
Si Manja and its specialty
Si Manja currently offers basic grooming for cats and dogs which includes brushing, shampooing, eye and ear cleaning and blow-drying, among others.
Apart from that, the spa also caters to styling trim and other ala-carte services such as teeth brushing, de-shedding, conditioning, and moisturising.
"Haircuts such as teddy bear cuts, summer cuts and lion cuts are also popular among our customers as they make them look sharp and cute," he said.
For boarding services, customers can be at peace when leaving their pets with Si Manja.
It has more than 30 air-conditioned and well-ventilated lofts across three branches monitored by an in-house boarding manager with an unlimited supply of dry food from the Royal Canin brand.
What makes Si Manja different from the rest is that their core packages of basic and full grooming can now be complemented with two bath treatments using Japanese pet care products; an organic herb-based mud bath from Animal Ayurveda or an aromatherapy bath salt spa treatment.
Animal Ayurveda is a combination of cassia, neem and aloe vera which moisturise, deodorise, and repel ticks and fleas.
Moreover, Si Manja also has bath salts that come in six different natural scents; rose, peppermint and rosemary, chamomile, coconut and vanilla, lavender and musk mallow which help with skin and fur.
These two treatments are what Billy has picked from his travels abroad and found them suitable to be added to the grooming spa menu.
Si Manja future plans
The pet grooming shop is also looking to expand its business to cater to rabbits or guinea pigs As rabbits are more fragile and need to be handled with more care, Billy hopes to realise the plan someday.
Other than that, Billy shared that he eyes opening a fourth branch located in Kuala Belait.
The youthpreneur sees that pet grooming is becoming popular among pet owners in Brunei as they want the best for their fur babies.
For more info on pet grooming, visit them on Instagram @simanja.petgrooming or any of their branches in Serusop, Sengkurong and Batu Satu.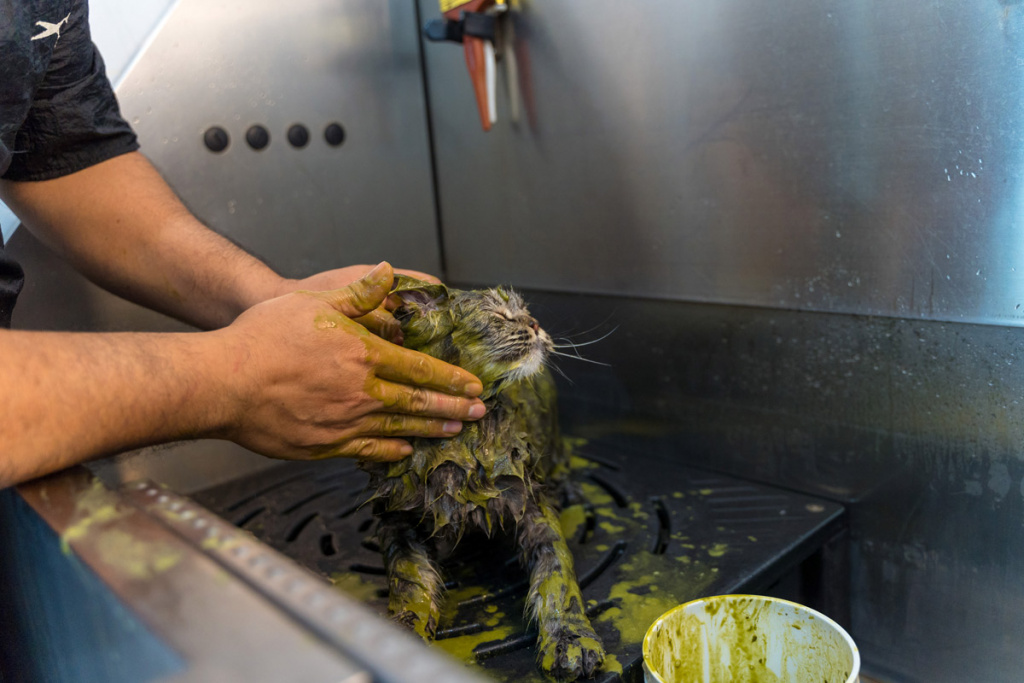 THE BRUNEIAN | BANDAR SERI BEGAWAN