Universiti Teknologi Brunei (UTB) kicked off its annual Project Showcase held in conjunction with the Brunei Mid Year Conference and Exhibition (MYCE) 2023.
This year's project showcase was held at the UTB Multi-Purpose Hall and Common Engineering Block, Phase 3 was organised by the University's School of Applied Sciences and Mathematics.
In total, there were 314 students participating in the showcase from various faculty and schools including the School of Applied Sciences and Mathematics (SASM), Faculty of Engineering (Feng), School of Computing and Informatics (SCI), UTB School of Business (UTB-SB), School of Design (SDe), and Centre for Communication, Teaching and Learning (CCTL) at UTB.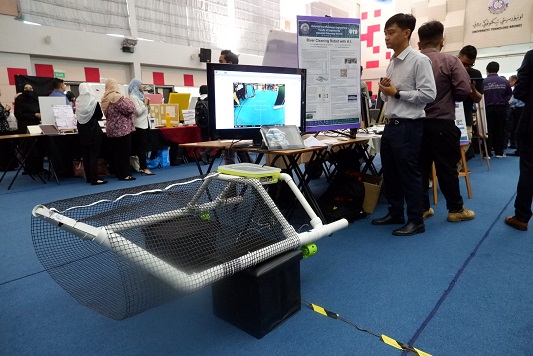 With the theme 'Empowering Creativity and Innovation Towards a Sustainable Future,' the one-day project showcase is designed to recognise and celebrate the outstanding achievements of final-year undergraduate students across all faculties and schools.
It aims to showcase the remarkable quality of their projects while also serving as a platform for students to showcase and communicate their ideas and creativity to the public.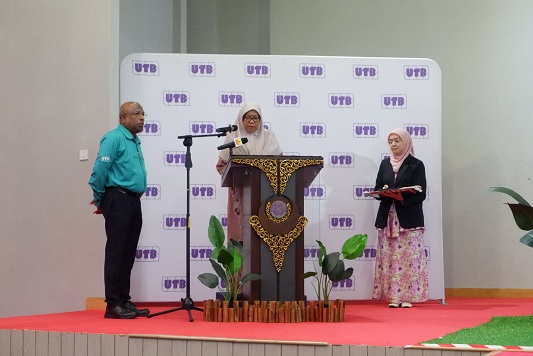 Moreover, the event provides valuable opportunities for private and public organizations to identify promising talent and potential career prospects.
The Dean for the School of Applied Sciences and Mathematics Dr Namasivayam Navaranjan shared during his speech, UTB is a technological and innovative university, its curriculum encourages students to combine theoretical and practical knowledge that they have gained during their undergraduate study to do innovative projects in the final year with the help of dedicated supervisors.
Additionally, the projects developed by the students will also be of valuable benefit in immediate commercialisation or for further development for high-value commercial outcomes, and even publications in highly recognised journals and conferences.
"The showcase provides an opportunity to identify vibrant graduates who can be potential candidates for immediate and future employment in public and private institutes," said the dean.
Amongst the final year project was one that was created by 25-year-old Abdul Mujib Irfan which is an IoT-Based Healthy Drinking Water Quality Management System for homes.
The youth is from the School of Computing and Informatics studying Bachelor of Science (Hons) in Computer Networking and for his project, he created a prototype that allows people at home to be able to monitor and regulate the basic water parameters that ensure water is safe to drink.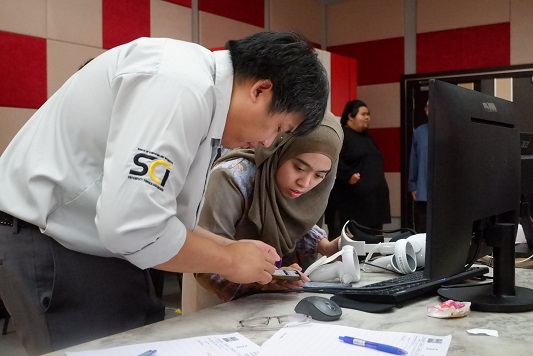 "I chose this particular topic due to the potential that it can bring. For one, there is no existing system or technology like this that has been implemented in Brunei homes and if we were to implement this system, I feel like people would gain a lot of benefit from it," said the student.
Overall, the project took about nine months from the planning to the execution and the outcome of this project has allowed him to gain a new set of skills and knowledge such as handling electronic components, handling sensors, integrating those sensors into a microcontroller and even using a different programming language that what he was used to.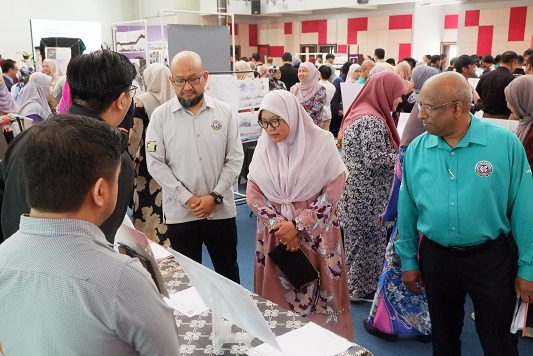 Furthermore, there were four more projects that are related to Melayu Islam Beraja (MIB) under the Centre for Communication, Teaching and Learning (CCTL).
One of the projects showcased was a project on "Rekaan Fesyen Yang DiInspirasikan Daripada 7 Puak Jati Negara Brunei Darussalam", created by Amsyar Abd Razak, Hakim Ariwan, Faizaharina Haji Zulkifli, Syazwani Morni, Nurakilah Abdullah Mohammad Ronney.
The topic they chose is to show how fashion can be modernised but the traditional elements to it can still be kept, hence their project was to create clothing for both males and females inspired by all the seven ethnic groups in Brunei.
"Our main target for this project is to make the clothing of the seven ethnic groups to be remembered again. As time goes by, and fashion changes, we wanted to make something that can help these traditional clothing to be recognised and know of its importance," said Amsyar.
At the showcase, Faculty of Engineering displayed the largest share of the projects, with 108 Final Year Projects and 16 Group Design Projects being the biggest faculty.
Whereas the School of Applied Sciences and Mathematics showcased 21 projects and the School of Design showcased 19 projects.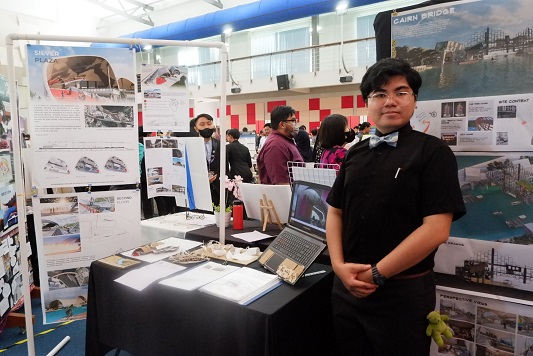 Additionally, the UTB School of Business exhibited 78 projects, followed by 68 projects by the School of Computing and Informatics.
Present as the Guest of Honour at the event was Vice-Chancellor of UTB Datin Paduka Professor Dr Dayang Hajah Zohrah Haji Sulaiman.
Also in attendance were UTB principal officers, invited guests from the governments, higher education institutions, schools and industry partners, staff and students of the university.
THE BRUNEIAN | BANDAR SERI BEGAWAN