Muara Port Company (MPC) recently had its inaugural container voyage from Muara Port to Beibu Gulf Port of China, marking a new shipping route between Brunei and China.
The vessel departure also indicates a new gateway that strengthens bilateral relations of both countries which route will boost economic activities along the Brunei-Guangxi Economic Corridor (BGEC) initiative.
In his remarks at the launch ceremony, Minister at the Prime Minister's Office and Second Minister of Finance and Economy said that MPC is strategically housed in the Brunei Darussalam-Indonesia-Malaysia-Philippines East ASEAN Growth Area (BIMP-EAGA).
"With the location of Muara Port positioned on the northeastern coast of the entrance of Brunei Bay and at the southeast of the South China Sea, MPC is committed to further enhancing connectivity to the world by promoting new container line routes from Muara Port to Beibu Gulf Ports," said Yang Berhormat Dato Seri Setia Dr Haji Mohd Amin Liew Abdullah who is also Chairman of MPC.
He added: "This complements MPC's long-term vision to serve as a hub in the region by promoting knowledge exchange with our partners from China in the perspective of industry expertise as well as technology advancement."

The minister shared that the BIMP-EAGA region encompasses a land area of 1.6 million square kilometres and is home to 57.5 million people.
As a node for BIMP-EAGA, Muara Port can effectively facilitate trade between the region and western China via the International Land Sea Trade Corridor.
"As we witness the first maiden vessel all from Muara Port to Qinzhou Port, today we stand and bear witness to the potential for increased trade, growth and connectivity. This is crucial to the development of Brunei's economy and BIMP-EAGA region as it will facilitate import and export and open new markets," continued the minister.
Moreover, the minister highlighted MPC's accomplishments over the years since its establishment in 2017.
The company has expanded beyond cargo handling to now engaging in port-related activities supporting downstream activities and other industries in the country.
In 2021, he added, MPC has established the subsidiary Muara International Fish Landing with the aim to attract more foreign investments and promoting large-scale aquaculture to ensure stable growth of Brunei's catches.
Meanwhile, in 2022, the company signed an agreement with Brunei Fertilizer Industries for a joint project pertaining to the largest exportation of urea in Brunei.
"To create increased efficiencies in port handling productivity and to cater to an anticipated increase in throughput, terminal and port capacity, MPC is embarking on an expansion plan for Muara Container Terminal," said YB Dato Dr Hj Mohd Amin Liew.
He further said that the expansion is expected to complete by 2025 as a solution to facilitate a projected increased volume from local industries and international cargo.
"It is envisaged that the extended terminal will also be able to accommodate larger vessels at double the terminal capacity. This project is consistent with MPC's goal of becoming an international logistics hub," said the minister.

On her part, Executive Vice-Governor of the Guangxi Zhuang Autonomous Region Cai Lixin extended her gratitude to the government of Brunei for the support on the development of Muara Port and BGEC.
"On behalf of the People's Government of Guangxi Zhuang Autonomous Region, China, I would like to express our congratulations on the opening of this new container liner route," she said.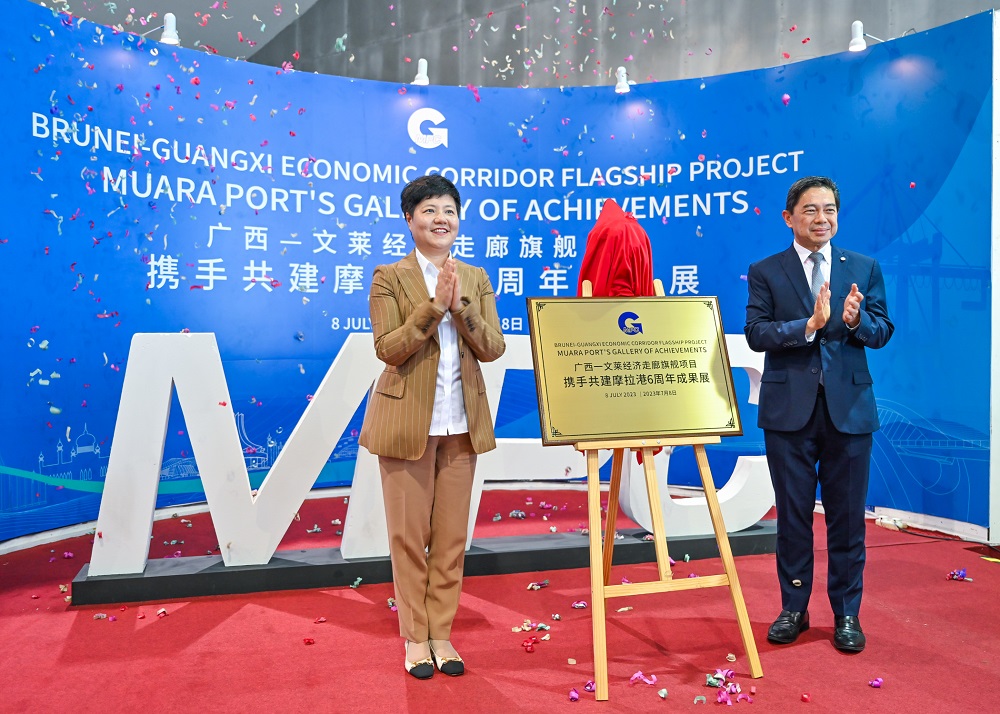 She further outlined Brunei and China's development over the years as friends and partners in strengthening strategic trust, mutual economic benefits, people-to-people exchanges and mutual assistance in the international arena.
"Last year, trade volume between Brunei and Guangxi increased by 531.7%, presenting great potential for future growth. We are convinced that with the upgraded development of BGEC, the exchanges and cooperation will be further expanded with more fruits," she said, adding that in 2022, bilateral investment of Brunei and Guangxi reached USD360 million.
Lixin shared that this year marks the fifth year of China-Brunei Strategic Cooperative Partnership, providing more opportunities for cooperation.
"Guangxi looks forward to joining hands with our partners in Brunei to further implement the consensus reached by the two heads of state with practical cooperation in areas like port logistics, trade and investment and competitive emerging industries, facilitating upgraded development of BGEC, thus further contributing to China-Brunei Strategic Cooperative Partnership," concluded the executive vice-governor.
In a previous container voyage which commenced on 27 April 2023, the vessel departed from Muara to Hong Kong, and to Qinzhou before returning to Muara passing by Bintulu.
Service calls have been increased to twice a month from once a month in the early phase due to increased volume and demand.
Specialties transported from Brunei to Qinzhou Port include sliced shrimps, muskmelons, processed seafood from the Fish Landing Complex, as well as cargo from Hengyi Industries.
With each voyage taking six days, the provision of this service is envisioned to attract China-bound cargo from the BIMP-EAGA region to tranship in Brunei, said MPC in a statement.
"Voyages from Qinzhou Port to Brunei and East Malaysia take up to seven days and transports Guangxi agricultural products such as fresh fruits and vegetables, which are loaded directly from Qinzhou Port to Muara Port," said MPC.
Through the opening of the container route, the cargo from China to Brunei and East Malaysia regions will be attracted to Qinzhou Port for transshipment.
The launch of the maiden voyage also saw the reveal of Muara Port Gallery of Achievements held at the Cruise Ship Centre.
The gallery showcases the development of Muara Port from 1970 to the present day with a primary focus on achievements and developments such as port throughput, operating income, and employment creation.
The future development section showcases the proposed expansion of the new container terminal and further plans on the route between Beibu Gulf Port and Muara Port.
Also present at the event were Minister of Development Yang Berhormat Dato Seri Setia Haji Muhammad Juanda Haji Abdul Rashid, Minister of Transport and Infocommunications Yang Berhormat Pengiran Dato Seri Setia Shamhary Pengiran Dato Paduka Haji Mustapha and Deputy Minister of Finance and Economy (Economy) Dato Seri Paduka Haji Khairuddin bin Haji Abdul Hamid.
The Guangxi Government delegation was led by Executive Vice-Governor of the Guangxi Zhuang Autonomous Region Cai Lixin; and joined by Deputy Secretary of the People's Government of Guangxi Zhuang Autonomous Region Lu Xinhua, Deputy Director General of Guangxi Development and Reform Commission Nong Bing, Deputy Director General of Guangxi Foreign Affairs Office Wei Yu, Ambassador-Designate of the People's Republic of China to Brunei Darussalam Xiao Jianguo, and Chairman of Guangxi Beibu Gulf International Port Group Co. Ltd Li Yanqiang.
Other attendees comprised Brunei Government officials, the Brunei Belt & Road Association, Chambers of Commerce, financial institutions, MPC's stakeholders, management, and staff.
THE BRUNEIAN | BRUNEI-MUARA