Maju Motors, the sole distributor of BYD (Build Your Dreams) in Brunei, recently celebrated the debut of the brand's first global car, the BYD ATTO 3.
The BYD ATTO 3 is an all-electric C-segment SUV. The family crossover combines modern design with exceptional intelligence and efficiency derived from pioneering electric vehicle technology and smart connectivity.
Unveiling the BYD ATTO 3 was Deputy Permanent Secretary (Transport) at the Ministry of Transport and Infocommunications (MTIC) Hj Mohammad Salihin Haji Aspar, Chairman of Maju Motors, YAM Pg Ratna Wijaya Brigadier General (R) Pg Hj Hasnan Pg Ahmad, Managing Director Maju Motors Chan Key Hong, Executive Director Stanley Lim and BYD Singapore Managing Director James Ng.
BYD, founded in 1995 under the name "Build Your Dreams" has established itself as an industry leader in automotives, renewable energy, electronics and rail transit.
The debut of BYD in Brunei signifies the brand's expanding new energy vehicle footprint and is committed to its success in Southeast Asia.
Moreover, the company has already extended its new energy vehicle footprint to over 400 cities across 70 countries and regions on 6 continents.
The BYD ATTO 3 will be the first EV from the Chinese automaker to launch in Brunei. It is the most awarded electric SUV with 18 awards worldwide.
Named the "BYD Yuan Plus" in China, the BYD ATTO 3 is inspired by the Attosecond – the smallest time scale unit in physics – and embodies a speedy, energetic, and dynamic characteristic inside and out.
The BYD ATTO 3 is equipped with the all-new BYD e-Platform 3.0 designed exclusively for pure electric vehicles, giving an exceptional performance in terms of intelligence, efficiency, safety, and aesthetics.
Prior to the reveal, Managing Director Maju Motors Chan Key Hong in his remarks said that Brunei may not be ready for EV cars yet.
"However, we are confident that by bringing BYD's game-changing EVS into Brunei, Maju Motors will take the lead to drive Brunei towards the adoption of clean renewable energy, support the growth of EVs in the market and ease climate change and save the earth for the younger generation to come," he said.
He further said that the company plans to introduce more models such as BYD Seal and BYD Dolphin in the future.
The managing director also announced that BYD ATTO 3 is selling at $66,800 with six years warranty on the car and eight years warranty on the battery.
The price also comes with a 22kW wall box charger and a portable adapter charger.
A sporty and aerodynamic design
On the outside, BYD ATTO 3 dons a sporty and cutting-edge look that exudes dynamic and expressive characteristics.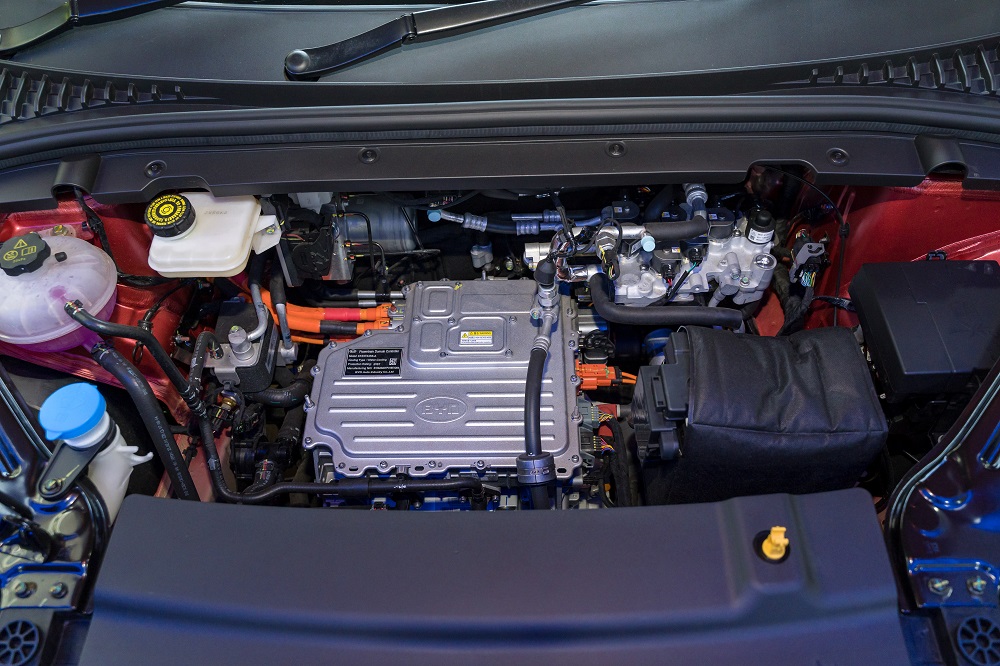 The design of the eSUV exudes the perfect blend of athleticism and elegance, captivating from every side with the Dragon Face 3.0 design language.
The smooth design language flows perfectly through the captivating front fascia; it is equipped with Full LED headlights with an overall design style that inherits the family "Dragon Eyes" design language giving the eSUV a more polarising look.
On the rear end, the penetrating LED tail lights, combined with feather special effects, stunningly portray a dragon's wagging tail.
Furthermore, the ATTO 3 gives out a sporty and aerodynamic design with its expressive upward-sloping waistline and stylish dynamic alloy wheels.
Not only that, but customers will get to choose from five striking colour options including Surf Blue, Forest Green, Parkour Red, Boulder Grey, and Ski White.
Inside is where the magic happens. Highlighted features include a stunning interior that takes inspiration from a music and fitness theme, a 12.8-inch electric rotary touchscreen, DiLink voice command " Hi, BYD" and many more.
Step into the BYD ATTO 3 and you get enveloped in its sporty interior that takes inspiration from a music and fitness theme including red strings on the door cards to mimic guitar strings and dumbbell-style air conditioning vents.
The eSUV also impresses us with its spacious boot and plenty of space for both driver and passenger making it perfect for a family car.
Engineered to offer quality e-performance and safety
Under the hood, the ATTO 3 is powered by a 60.48kWh battery pack that offers a range of 521 km (ARAI). It also makes 201bhp and 310 Nm of torque, enabling the eSUV to go from 0-100km/h in just 7.3 seconds.
As for safety, the eSUV comes with Euro NCAP's excellent 5-star safety rating equipped with innovative and safety functions which offer the ultimate confidence and maximum comfort in all journeys.
The ATTO 3 is equipped with 7 airbags. The all-round airbag SRS protection system includes front double airbags, front and rear seat side airbags and far-side airbags.
All models feature Forward Collision Warning, Automatic Emergency Braking System (AEB), Rear Collision Warning (RCW), Rear Cross Traffic Alert (RCTA) and Rear Cross Traffic Brake (RCTB), Lane Keep Assistance (LKA) and Emergency Lane Keep (LKA)
In addition, further driver aids include 360 View Monitor, Digital Video Recorder (DVR), Tyre Pressure Monitoring System (TPMS), Electric Parking Brake System (EPB), Anti-lock Braking System, Hill Descent (HDC), Stop & Go Full Speed Adaptive Cruise Control and many more.
Moreover, for fast charging, a Fast and Rapid Charge (DC) from 30 to 80 per cent state-of-charge (SoC) takes about 30 minutes, while AC charging from 60 to 100 percent SoC requires 8 to 12 hours.
Not only that, but the eSUV also features Blade Battery technology, which sets new benchmarks and redefines the standards of EV safety.
Not only that, BYD's game-changing Blade Battery has passed a series of extreme tests in rigorous conditions making it one of the world's safest batteries.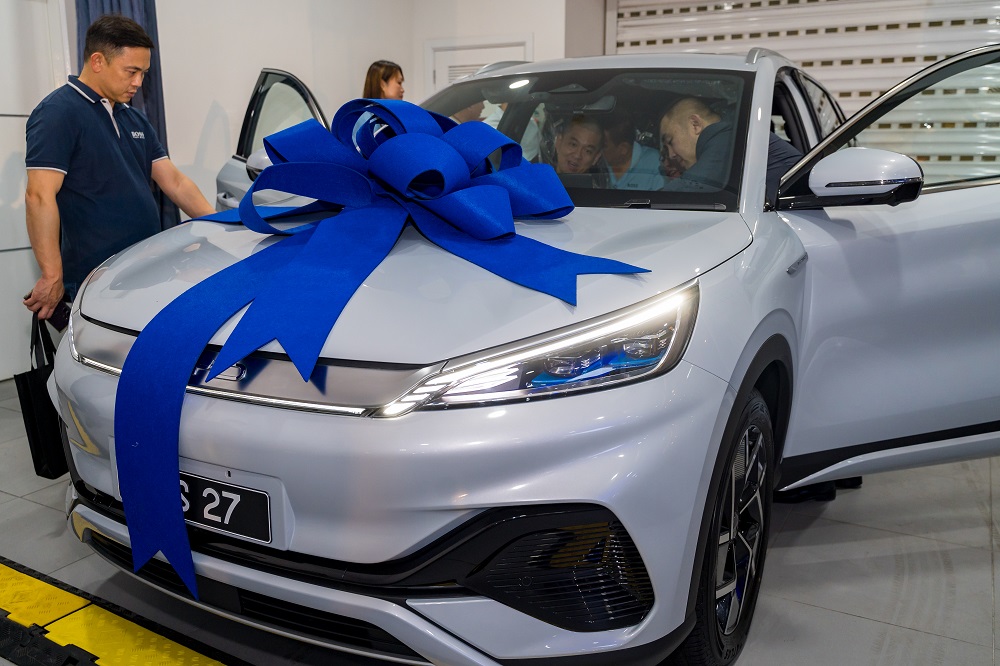 Overall, combining ground-breaking technology, modern design, and versatile interior, the BYD ATTO 3 is the family e-crossover that guarantees high-quality performance and outstanding safety.
For more information on BYD and ATTO 3, customers can also visit their website www.byd.com.bn, or follow them on Instagram @byd_brunei for the latest updates.
THE BRUNEIAN | BANDAR SERI BEGAWAN