From corporate life to becoming a personal fitness trainer and business owner of a healthy meal delivery service and cafe, Abdul Syafiq Iqbal Abdul Manap has been through it all.
However, the ups and downs of life did not stop the young entrepreneur from pursuing better opportunities not just in daily life but for his career and main motivation; his family.
What began as a plan to help his good friend in his fitness journey turned into a full-fledged business in 2018. Since then Abdul Syafiq has been thankful for this pivotal moment in life.
The 31-year-old, who created Seven Sporks, shared that the accidental journey was not just merely a contribution to the healthier lifestyle movement in the country, but an overall success for him and his family.
From home to cafe
Seven Sporks kicked off from the comfort of his own home, with Abdul Syafiq preparing everything from cooking, and packing to deliveries.
"It was gruelling times as I had to do it alone for awhile until I could accept more orders," he said, adding that he only accepted orders for 30 locations at the time.
Now the healthy meal service has a dedicated team of four working in the kitchen as well as runners for daily deliveries.
"I believe it is enough with the system I have developed (throughout the years) as everything is pretty straightforward. With proper planning and early preparations, we are able to always deliver on time."
With the early success of his business and intentions to continue and expand, the founder participated in various programmes provided by Darussalam Enterprise (DARe).
"I was approached by a friend to take part in one of the programmes which led to me joining two others, that I believe brought benefit to my business journey."
"It opened my eyes, I met more people and engaged with different businesses; remembering the key takeaways being improvisation, analysation and execution."
Seven Sporks was then provided with the opportunity to test their product in a real market setting at DARe's Kontena Park in 2022.
"That one year we experienced great success as we were able to reach out to more customers who wanted to try our food and not just people who had a healthier or fitness goal in mind."
"It helped us build our confidence to continue what we were doing," he added.
Now six years into the business, Seven Sporks has expanded with a cafe located at Jalan Subok run by the owner himself along with his family members.
Opened just recently in April this year, patrons can find a different set of menus at the cafe with food served over rice to pasta, burritos and shawarmas.
"Our most popular item here is the Smashed Chicken which consists of chicken, homemade sesame oil, cabbage and Basmathi rice."
Other customer favourites at the cosy cafe include the Chicken Shawarma which comes in original and spicy.
In the same vicinity, visitors can try coffee from Jangan Serius.Elek, run by Abdul Syafiq's brother.
From one to five
In the beginning, Seven Sporks provided meal plans that entailed a healthier version of rice meals which he practised as a personal trainer at the time.
"These recipes are my own; I have been doing a lot of cooking since I was a kid. (I loved) watching Jamie Oliver and Gordon Ramsey and other similar cooking shows."
Drawing inspiration from his favourite cooks, Abdul Syafiq practised cooking relentlessly, perfecting recipes over the years, making sure they stay within 400 to 600 calories each.
Now his meal plans have expanded to five types which include Signature, Premium, Keto, Customisation (for training plans) and Vegetarian.
The most popular plan among his customers is the Premium Plan which contains costlier ingredients such as broccoli, cauliflower, pumpkin and radishes.
"We believe it's a more chosen plan because of the better range of options therefore it's logical as the more you pay, the more you get."
These meals are delivered daily from Monday to Saturday and priced from $6 to $7 per bowl or between $42 and $48 for five days.
Seven Sporks has also made it easy for new and regular customers to pre-order meals through a form they can fill out through a link posted on their Instagram @sevensporks.
"We recommend placing orders at least a day in advance to ensure you get your meal the next day."
Working within the community
Sourcing ingredients has been an easier task for the foodpreneur as he connects with local businesses throughout the years.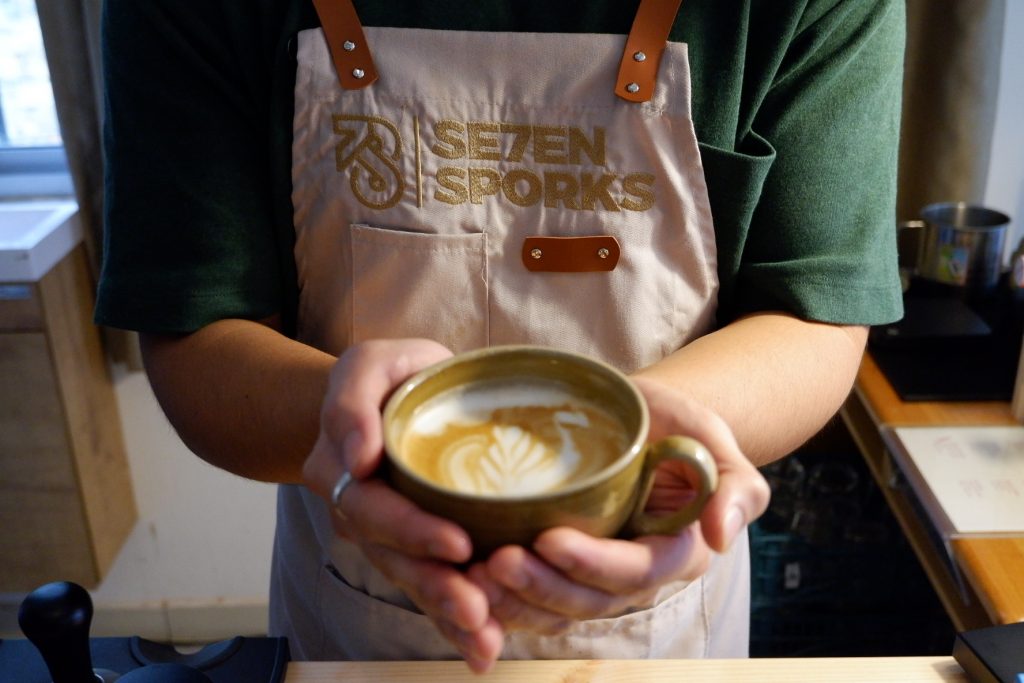 "It is important to support them to help the particularly smaller local companies grow. We can help each other be successful and if there's an opportunity to do so, why not take it?"
Abdul Syafiq attributes this need to help the local community inspired by His Majesty's support of locals venturing into entrepreneurship to further aid the country's economy.
"I'm happy to be a part of this community while helping others in their path."
Additionally, Abdul Syafiq credits his steady success to his family who has been there since the beginning of his journey.
"They have helped me during my darkest times and when I began Seven Sporks and saw the direction it was heading to, I thought, why not bring my family into this?"
With that, the business turned into a whole family affair and motivates him to continue to do even more.
"I was looking for growth and even now that I am 31, I still feel like I am 23 because there is a lot more that we can achieve whether locally or internationally."
"But for now it is for my family; my success is their success and I will continue to work hard for them."
With the continuous support of his regular customers, Abdul Syafiq plans to expand Seven Sporks locally in the years to come.
"This expansion is not only for Seven Sporks but my brother's coffee shop too. Once we've reached our target here, hopefully, we can extend it even further to outside the country."
"I am blessed that my journey is successful despite just jumping into it but then I had a clear goal of where I wanted to go," he added.
Abdul Syafiq advises those who intend to delve into entrepreneurship to have a clear vision in mind.
"See it in a broader picture, don't just open a cafe because everyone is doing it. What do you want to achieve and see in the years to come?"
"Be clear about why you want to start, get into any programmes available that can help elevate your business and be sure to work hard."
THE BRUNEIAN | BANDAR SERI BEGAWAN