USS Blue Ridge, the United States' seventh fleet flagship, is currently on a goodwill visit to Brunei for three days until 5 August.
Led by Commander of the United States 7th Fleet, Vice Admiral Karl Thomas, the entourage welcomed several officials from Ministry of Defence (MINDEF) on the day of arrival for a tour onboard the vessel.
During the visit, the USS Blue Ridge also conducted a Passage Exercise (PASSEX) with Royal Brunei Navy ship KDB Darussalam.
"The USS Blue Ridge has a long history with Brunei since 1985 and it is great to be back. The USS Blue Ridge is the flagship for the USS' seventh fleet. Our purpose has been the same since 1979, when we are first ported in Japan," said its commanding officer, Captain Dale Gregory in an interview.
He further said that the visit is to also show the presence of United States and their commitment to promote a free and open Indo-Pacific region.
"We are here today to continue our partnership with Brunei that we have been fostering for almost forty years. The USS Blue Ridge caters to about 1000 people in our visit here to Brunei," said the captain.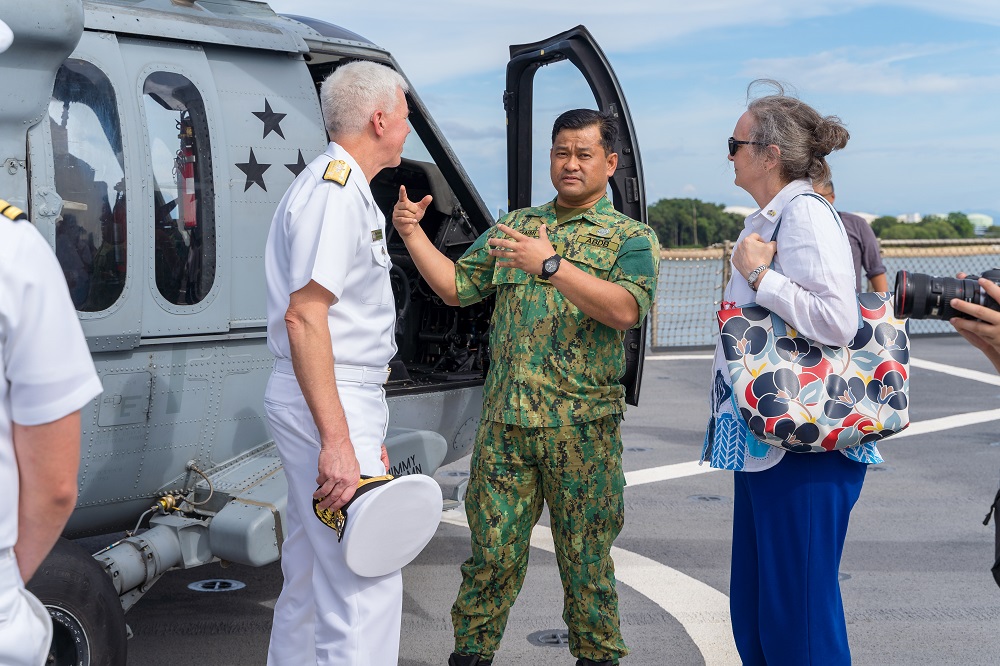 The visit aims to help enhance the interoperability of our two nations' maritime forces, enable an exchange of expertise, and build capacity to respond to mutual threats and promote a free and open Indo-Pacific, said the Embassy of the United States of America in a statement.
Blue Ridge has been forward-deployed and operating in the Area for more than 40 years, continuing her primary mission of supporting the Commander of the US 7th Fleet while conducting sustained operations at sea.
Blue Ridge is the oldest operational ship in the Navy, and as the US7th Fleet command ship, is responsible for command and control of all U.S. naval vessels patrolling and fostering relationships within the Indo-Asia Pacific Region.
The MINDEF officials were Commander of Royal Brunei Armed Forces Major General Dato Paduka Seri Haji Muhammad Haszaimi Bol Hassan, Commander of Royal Brunei Land Force Brigadier General Haji Mohammad Shanonnizam Sulaiman, Acting Commander of Royal Brunei Navy Captain Haji Mohamad Sarif Pudin Matserudin, Commander of Royal Brunei Airforce Brigadier General (U) Dato Seri Pahlawan Mohd Sharif Dato Paduka Haji Ibrahim, Joint Force Commander RBAF Brigadier General (U) Dato Seri Pahlawan Haji Alirupendi Haji Perudin and Director of Intelligence Colonel (U) Haji Mohd Muluddin Awang Haji Latif.
THE BRUNEIAN | BRUNEI-MUARA