Futuristic and electrifying design, cutting-edge technology, a premium interior and an exhilarating performance are what make the Kia EV6 stand out from the crowd.
Grand Motors, the exclusive distributor of Kia vehicles in Brunei recently introduced the Kia EV6 into the Bruneian market.
With its long-range, zero emissions power, and distinctive styling, the EV6 is Kia's first car to be based on the company's dedicated new platform for battery electric vehicles (BEVs).
This pioneering crossover – the first dedicated BEV launched under the new Kia design philosophy 'Opposites United' – displays a future-oriented EV design characterized by high tech details. It is powered exclusively by electric energy, with a long-range, zero-emissions powertrain configuration.
Moreover, the GT-Line version, engineered to inspire consumers with exciting driving performance, can accelerate from 0-to-100 km/h in 5.20 seconds with a top speed of 188 km/h.
The EV6 is the first dedicated BEV produced by Kia using the all-new Electric-Global Modular Platform (E-GMP), and forms the first part of Kia's transition to the new era of electrification under the new brand slogan, 'Movement that inspires'.
"EV6 is the embodiment of the new Kia. It is born to inspire every journey, through bold design, progressive engineering, innovative technologies, and exciting electric performance," Kia's President and CEO, Ho Sung Song said.
"EV6 also represents the beginning of Kia's long-term commitment to sustainable mobility, accelerating the transition not only to clean transportation but also products, materials and manufacturing," he added.
Electrifying Elegance Exterior
The design of the EV6 commands attention and admiration. The e-Crossover was designed under the brand's new design philosophy 'Opposites United', which takes inspiration from the contrasts found in nature and humanity.
At the center of the design philosophy is a new visual identity evoking positive forces and natural energy, with contrasting combinations of sharp stylistic elements and sculptural shapes.
Designed to deliver something different in the crossover class, the GT-Line version of the EV6 offers a distinctive, and impactful exterior with high-tech features.
At the front, Kia's 'tiger face' has been re-interpreted for the digital era. Forming part of this 'Digital Tiger Face', daytime running lights display a sleek, modern appearance and include a 'sequential' dynamic light pattern.
Below this, a low air intake visually widens the front of the car, accentuating its high-tech image.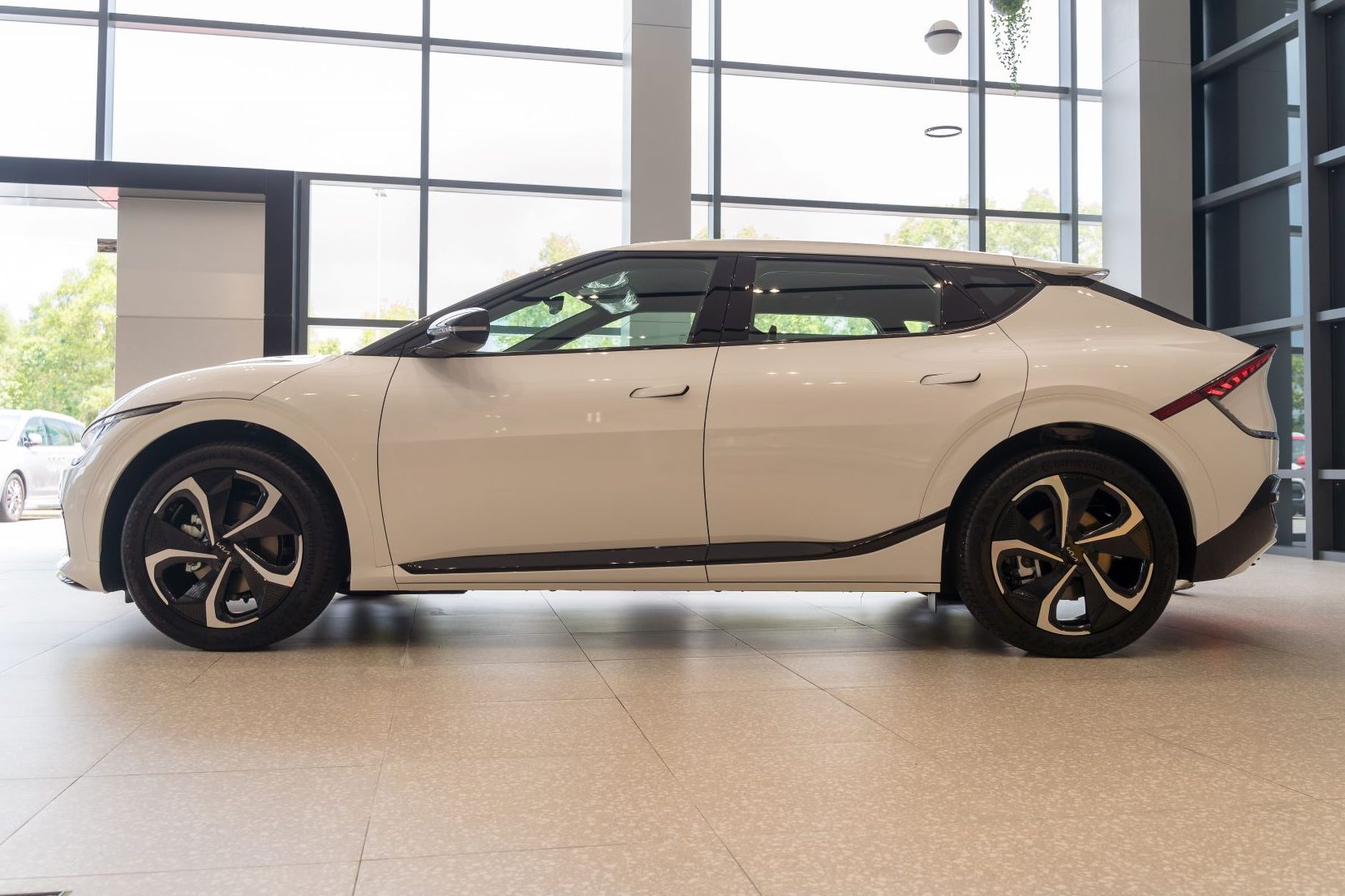 The side profile displays a crossover-inspired silhouette, which is modern, sleek and aerodynamic. A character line runs along the bottom of the doors, curving upwards towards the rear wheel arches to visually elongate the profile of the car. Designed in part to realize ultimate aerodynamic performance, the rear displays a sloping C-pillar with an integrated black glossy insert that appears to extend the window glass.
Above this sits a prominent wing-type roof spoiler that channels air downwards towards a raised lower spoiler, which sits atop the car's unique rear light cluster.
"EV6, as the first dedicated Kia EV, is a showcase of human-centred, progressive design and electrified power. We strongly believe EV6 is a compelling and relevant model for the new EV era," said Senior Vice President and Head of Kia Global Design Center, Karim Habib.
"With EV6 we aimed to create a distinctive, impactful design by using a combination of sophisticated, high-tech features on pure and rich volumes while providing a unique space as a futuristic EV," he further elaborated.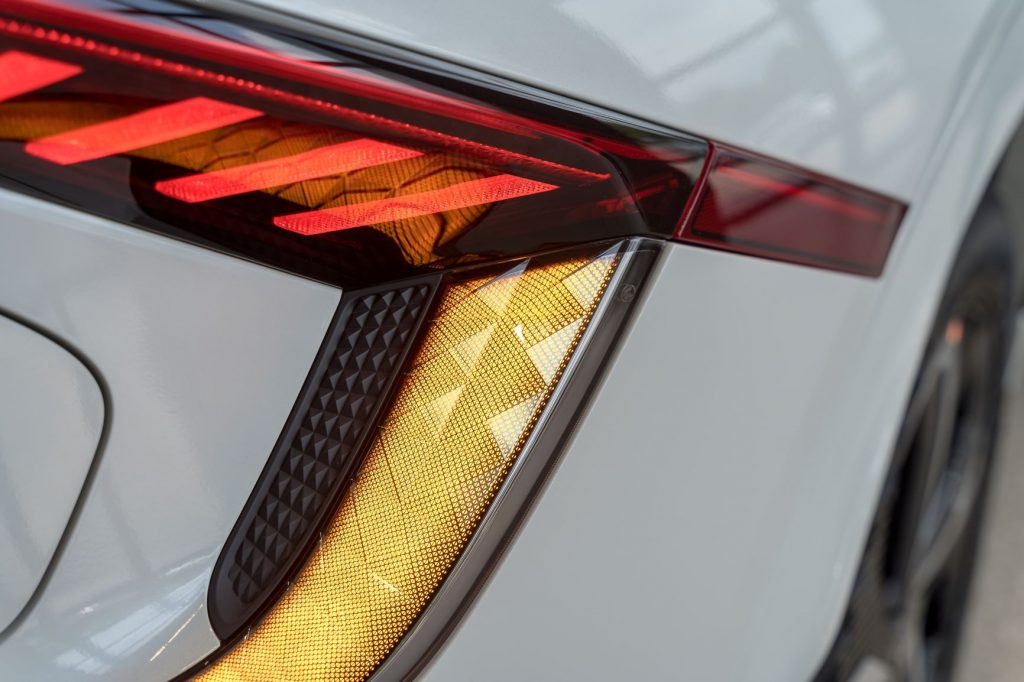 Not only that, but customers will get to choose from five striking colour options including Yacht Blue, Runway Red, Aurora Black Pearl, Moonscape and Snow White Pearl.
Emotionally Engaging Interior
Step inside the Kia EV6 and you will enter a world of luxury and innovation.
Inside, high-tech details can be found throughout the Kia EV6 for a futuristic and luxurious feel and design.
A distinct product of the EV era, the interior design benefits greatly from the application of Kia's dedicated E-GMP platform. Despite the EV6's compact exterior dimensions, its 2,900mm wheelbase results in a cabin space similar to many mid-size SUVs.
The minimalist cockpit is equipped with state-of-the-art technology, including an expansive 12.3-inch curved touchscreen infotainment system that seamlessly integrates with your smartphone, keeping you connected on the go.
Sink into the sumptuous and lush leather seats, with "Zero Gravity" relaxation comfort seats and with a wide range of settings, ensuring a blissful drive in any condition.
For enhanced comfort and luxury the eight-seater also features a powerful 14-speaker Meridian® surround audio system, a first for a Kia BEV and delivering a truly immersive sound experience.
The 14-speaker audio system has been engineered by the experts at Meridian and features several of the British audio pioneer's proprietary digital signal processing (DSP) technologies. Meridian's core sound philosophy has been integrated into the EV6 allowing customers to enjoy natural, lifelike and authentic audio on the move.
Moreover, the family crossover offers intelligent and flexible interior packaging and an abundance of cabin storage areas, including 520 litres (VDA) of trunk space with the second-row seats in place.
With the second-row seats folded down, stowage capacity increases to approximately 1,300 litres. The car also features a front trunk which provides up to an additional 20 litres for AWD models.
Engineered to offer high-performance and safety
Under the hood, the Kia EV6 GT Line houses a state-of-the-art electric powertrain that delivers exhilarating performance.
The EV6 offered in Brunei has a fully-electric, zero-emission powertrain, and includes long-range (77.4 kWh) high-voltage battery packs. The EV6 GT-Line is available in all-wheel drive (AWD) offering enhanced dynamic capability in even the most challenging conditions.
The AWD 77.4 kWh EV6 GT-Line can travel over 506 kilometres on a single charge on the WLTP combined cycle. With a maximum 605 Nm torque available on the AWD version, the EV6 can accelerate from 0-to-100 km/h in just 5.2 seconds.
As for safety, the eSUV is equipped with innovative and safety functions which offer the ultimate confidence and maximum comfort in all journeys.
The EV6 is fitted out with standard dual frontal, side chest-protecting, and side curtain airbags
The crossover also features Anti-lock Brake System (ABS), Electronic Stablility Control (ESC), Hill-start Assist Control (HAC), Manual Speed Limit Assist (MSLA), Electronic Parking Brake (EPB) and many more.
Moreover, in terms of the charging system, the EV6 is more flexible than previous generation BEVs thanks to an Integrated Charging Control Unit (ICCU).
The ICCU enables a new vehicle-to-load (V2L) function, which is capable of discharging energy from the vehicle battery. The V2L function can supply up to 3.6kW of power and is capable, as an example, of operating a 55-inch television and air conditioner simultaneously for more than 24 hours. The system is also able to charge another EV if needed.
Together with the V2L function, EV6 owners can take everything they need on an outdoor adventure with friends and family and do it all with zero emissions.
Overall, the Kia EV6 ticks all the right boxes for the ultimate electric SUV. Combining speed, style and cutting-edge technology, the EV6 is definitely a big leap into the electrifying future of driving.
For more information, visit the Kia Showroom in Beribi or log on to Kia Brunei's website at www.kia.com.
THE BRUNEIAN | BANDAR SERI BEGAWAN