A total of 1.4 tonnes of garbage were collected at Brunei Gas Carriers (BGC) recent ninth annual International Coastal Clean-up at Jerudong Beach as part of the company's social investment initiative, 'Clean Rivers, Clean Seas'.
The one-day event aimed to create awareness and promote environmental conservation in conjunction with World Maritime Day 2023 which falls on 28 September 2023.
Held in collaboration with the Maritime & Port Authority of Brunei Darussalam (MPABD) for the fourth year, the initiative gathered 200 volunteers collecting trash across two kilometres of shoreline.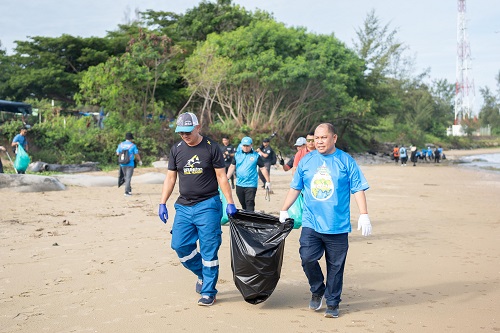 BGC also partnered with Makan Ceria Brunei Sdn Bhd for the provision of refreshments.
BGC Managing Director Captain Abdul Mateen Abdurrahman Liew in his welcoming remarks said that coastal areas play a vital role in supporting biodiversity, providing livelihood, and offering recreational spaces for communities worldwide.
"Unfortunately, these delicate environments face numerous challenges, including pollution and marine debris. It is up to us to take responsibility and work together to ensure the longevity and vitality of our coastlines for future generations," he said.
The captain added: "As keen supporters of Brunei Darussalam's efforts to promote environmental sustainability, we will continue to organize events such as these to further promote environmental conservation and increase environmental consciousness in Brunei Darussalam especially with the younger generation."
During the event, participants were equipped with gloves, trash bags, and other necessary tools, and worked together to remove debris, plastic waste, and other pollutants that threaten marine life and habitats.
The International Coastal Clean-Up is an annual event that brings together communities, organisations, and volunteers from around the world to take action and make a collective impact on our oceans.
This global initiative aims to preserve and protect marine ecosystems and promote the preservation of our precious coastlines. BGC aims to raise awareness about the devastating effects of marine debris and hopes to inspire others to take action and protect the environment for future generations.
Also present at the event was Deputy Permanent Secretary (Transport) at Ministry of Transport and Infocommunications (MTIC) Hail Salihin Hail Aspar along with BGC employees and families, representatives from the Jerudong community, government agencies, institutions, and schools.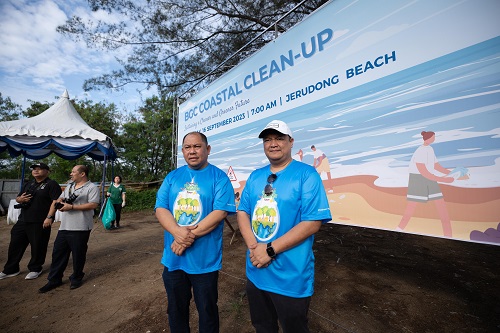 THE BRUNEIAN | BANDAR SERI BEGAWAN