When one thinks of Sabah, what comes to mind is the majestic Mount Kinabalu and the clear blue waters surrounded by lush green islands.
It is one of the top go-to holiday destinations among Bruneians and travellers who are looking for a calm and relaxed getaway for the weekend – either for some shopping or walks on the sandy beaches.
Sabah is blessed with many breathtaking natural wonders, especially its pristine islands and beaches. These gems are what attract many visitors from around the globe with Sabah's perfect coastlines along the South China Sea, Sulu and Celebes seas.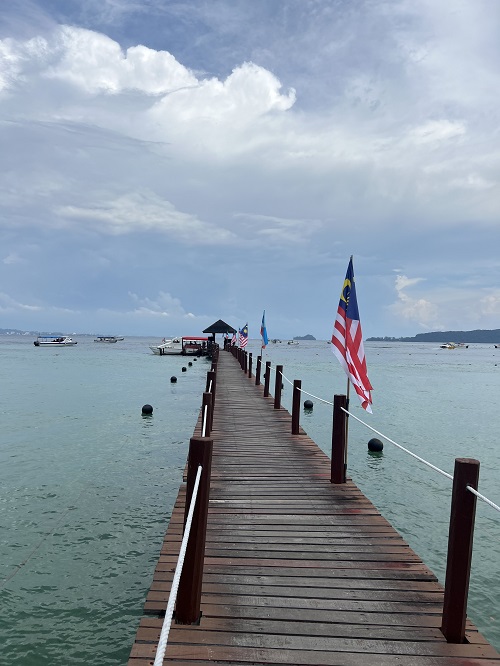 Fondly known as the Land Below the Wind, the eastern state of Malaysia has numerous islands where you can enjoy recreational and water activities such as swimming, snorkelling and diving. Among the most popular ones are the islands of Tunku Abdul Rahman Park, Layang-Layang, Mabul, Sipadan and Mantanani.
Sabah Tourism Board has noted the increase of Bruneian travellers to Sabah visiting diving sites, eyeing some fun-filled adventures in the water.
The Bruneian team and local content creators recently had a chance to immerse themselves underwater at Tunku Abdul Rahman Park, discovering the captivating sight of coral reefs and marine life. It was indeed an unexpected life-changing experience for them.
Tunku Abdul Rahman Park
Located just about three kilometres from the city of Kota Kinabalu in Gaya Bay, it is the nearest national park in Sabah accessible by most water sports enthusiasts.
It comprises five islands namely Gaya, Sapi, Sulug, Manukan and Mamutik – each with an expansive number of coral reefs and underwater flora and fauna which one can discover through scuba diving.
Worry not, if you are not a certified scuba diver, the park offers Discovery Scuba Diving (DSD) activity whereby you will be briefed and guided by a PADI master diver.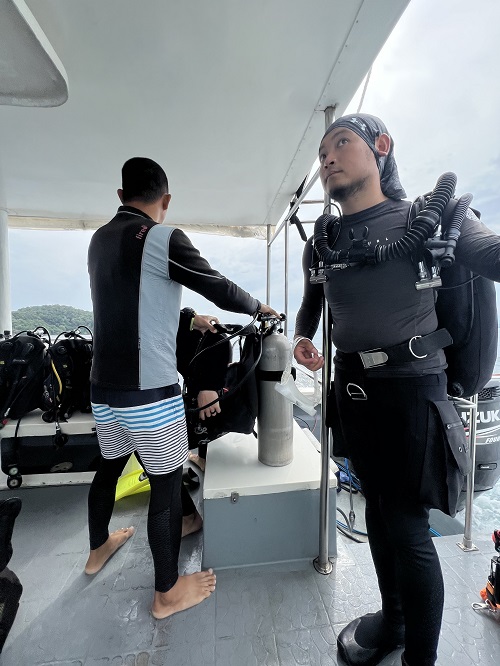 For the DSD, one will be familiarised with using basic scuba diving gears such as mask, snorkel, fins, regulator, Buoyancy Control Device (BCD) and scuba tank, prior to the dive.
Our chosen island was Sulug which is the furthest from the mainland. The area is rocky with a long sand spit with an extensive coral reef, making it a favourite swimming and snorkelling spot.
We spent about 30 minutes by the beach and shallow water to fully understand the functions of using the equipment and breathing techniques as well as to gain confidence being underwater.
One important thing that we need to remember during diving is to never hold our breath and to breathe calmly through the regulator or scuba mouthpiece connected to the oxygen tank.
Do not let the weight of the oxygen tank scare you that it will be heavy underwater. To our surprise, it was weightless despite all the things we need to carry our body – thanks to buoyancy which we can control with the BCD.
Once we gained our confidence and the master diver was assured that we were ready to dive, he then took us slowly into the deep. Seeing the beautiful reefs and small fishes in the shallow area magically cleared our fears and worries away.
Tunku Abdul Rahman Park was indeed beautiful and full of mysteries underwater. Not long after our slow descent, we were able to see larger reefs and vegetation of various sizes and colours which are homes to marine life like lion fish, crustaceans, sea cucumber and clown fish, among others.
At times, we saw some schools of fish swimming past us, and we had a brief stop to enjoy the show. While underwater, we need to do some checks on our timing and oxygen level as well as the diving depth.
These checks and controls are monitored by the master diver, making you not worry and enjoy the beautiful underwater scenery that you never get to see on land.
The life and view underwater was something that we never expected to witness in our life, especially for first-time discovery scuba divers. Despite the anxiety of going deep into the sea, the curiosity to learn and see more drove us further to try for more dives.
For the DSD programme, we had two dives at different depths and locations. The deeper we went, the more things we saw. The fishes, coral reefs and vegetation were bigger with water visibility of about 10 metres and with temperature of 30 degrees.
In terms of diving attire, you may opt to wear a wet suit or just dry-fit wear that is not too thick and thin to let you feel comfortable underwater.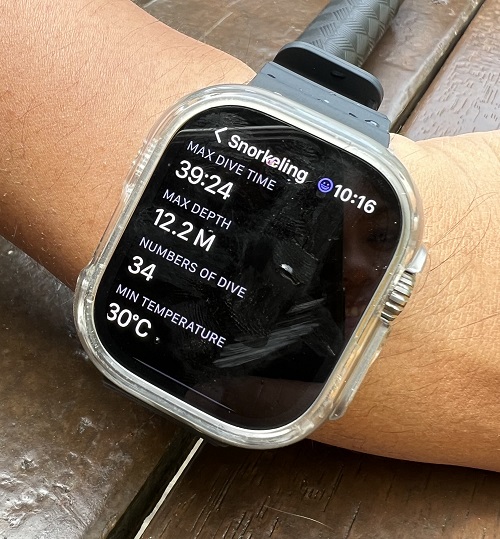 Furthermore, if you are a PADI-certified diver, you will be taken to a different dive location with a maximum allowed depth of not more than 20 metres.
For that programme, there will still be master divers and buddies tagging along but you are more independent to explore the surroundings underwater compared to the DSD. Master diver for the DSD will either be clinging on to you using a hook attached to your BCD or swimming side by side with you.
If you are not a swimmer, you can still do DSD provided you are confident and not afraid of the open water. However, if you have underlying health or medical conditions, it is best not to unless you seek advice from your doctor prior.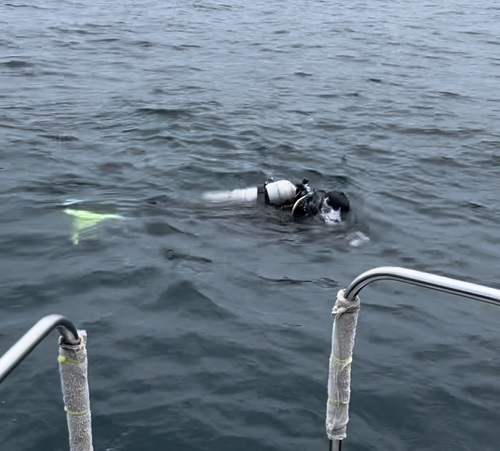 There is no limitation on age and body weight when it comes to scuba diving which makes it an accessible sport or hobby to everyone.
In terms of price, the Tunku Abdul Rahman Park which is under the jurisdiction of Sabah Parks has affordable entrance and diving rates for international and Malaysians.
The cool water, clear weather and helpful master divers made our visit a pleasant experience. The dive operator prioritises safety for all clients, making sure everyone fully understands safety while at the same time letting us have a great time at the park.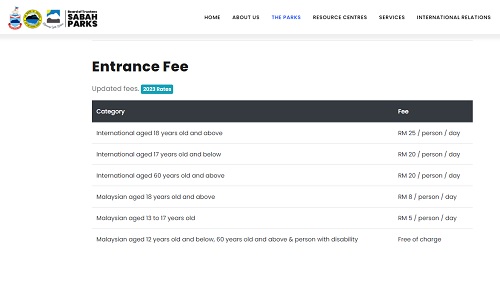 ADEX Sabah Ocean Partnership Summit
Hosted by Sabah Tourism Board and Tourism Malaysia, the diving trip was also coincidental with the ADEX Sabah Ocean Partnership Summit 2023 which complemented our knowledge of the ocean, diving and conservation issues as well as networking opportunities.
The annual summit was held for the first time in Sabah from 18 to 20 August with the next festival to be hosted in China, Singapore, China and Japan.
This year's summit was organised based on the United Nations proclamation – 'Decade of Ocean Science for Sustainable Development'.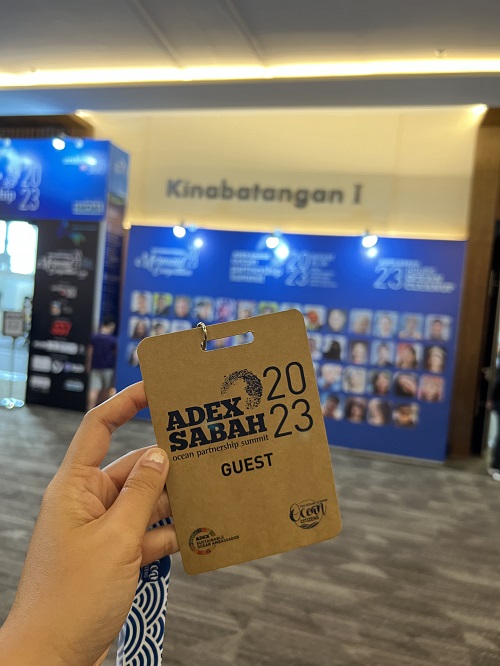 What made the expo interesting was the 23 hours of non-stop ocean cleanup which falls under ADEX Sabah corporate social responsibility with the aim to raise awareness and protect Sabah's marine environment.
Dubbed the 'Ghost Net Hunters – 23 Hours' the initiative gathered a team of divers to remove as many ghost nets as possible featuring local divers and two ADEX ambassadors, Hong Kong actress Hidy Yu and Guinness World Record swimmer Ben Lecomte.
During the summit, we learned ghost nets or abandoned or lost fishing nets make up 46 per cent of marine trash – they are the silent killers of the ocean that pose a danger to sea creatures and humans.
Moreover, we also sat in for the Sabah / Malaysia Plastic Neutral panel discussion, featuring EU Ambassador to Malaysia Michalis Rokas, German Ambassador to Malaysia Peter Blomeyer and BluHope founder Simon Christopher.
It was previously reported in Borneo Post that Indonesia, the Phillippines, China, Thailand and China account for 60 per cent of annual oceanic plastic input with Malaysia ranked fifth globally as the largest ocean plastic polluter.
Being part of the Coral Triangle, which also comprises Indonesia, the Philippines, Timor-Leste, Papua New Guinea and the Solomon Islands, Sabah aimed towards plastic neutrality giving the state and Malaysia as a whole a more sustainable region.
From Tunku Abdul Rahman Park, you need to explore the rest of the diving spots in Sabah. We had our second location the next day all the way up to Kota Belud where we spent two nights at a diving resort.
Stay tuned for a memorable and exciting trip in our next publication.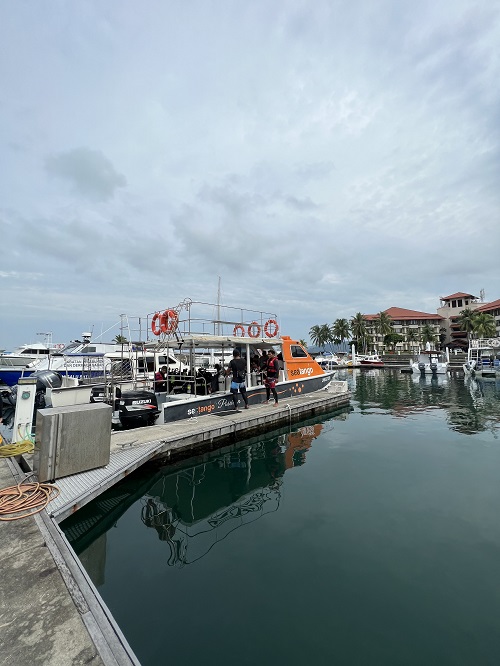 THE BRUNEIAN | BANDAR SERI BEGAWAN