The winners of the Brunei Content Festival (BCF) Awards 2023 were announced recently at the held at Tarindak D'Seni.
Now in its second year, the BCF Awards is an annual event organised by the Authority for Info-communications Technology Industry of Brunei Darussalam (AITI) that celebrates and promotes the creation and development of local content producers in the broadcasting industry.
It also aims to encourage the development and production of high-quality content with commercial potential that can be distributed and broadcast on television platforms or over-the-top (OTT) services.
The ceremony began with a welcoming speech by Chief Executive of AITI Ir Haji Jailani Haji Buntar, followed by the judgement report by Head of Jury Nurain Abdullah.
According to the Chief Executive of AITI, this year was significant for the BCF awards, having received a record of submissions, numbering over 100 entries. An increase of more than 30 percent compared to 72 entries in 2022.
Out of 131 entries received in this year's competition, 96 were selected.
Winners of the Industry Category were Lailatul Shazanas Studio's 'I want to Be #Femes' for Best Drama, 'The Headliners' by Bruhaha Comedy Productions for Best Comedy, 'Selamat Malam 2022' by Visionary Project Film for Best Horror and 'Triple Cheeseburger' by Nadzri Presents Enterprise for Best Advertisement.
Moreover, the Open category winners were: 'Merdeka' by A'aqiil Ahmad for the Best Brunei Identity, 'Cinta dan Harapan' by Wardah Hakimah Hj Gulihana for Best Short Film, 'Leka by Fauzan and Fathin AMJ' by Muhammad Adam Chong for Best Music Video.
One of the winners Wardah Hakimah Hj Gulihana was overcome with joy after discovering that she won the prize for Best Short Film for 'Cinta dan Harapan'.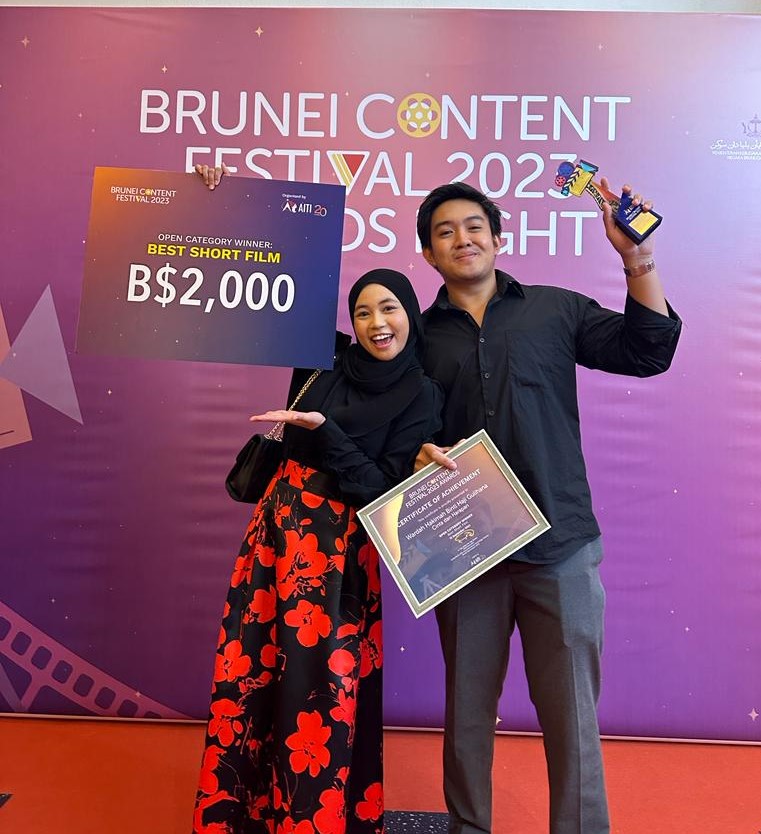 "Alhamdulillah, I feel incredibly grateful and happy to receive this award for 'Cinta dan Harapan' especially considering it's my very first short film. When I embarked on this filmmaking journey, I never imagined that it would lead to such a meaningful recognition. Creating a short film drama 'Cinta dan Harapan' was a wonderful experience," she said.
She described that participating in the BCF has been a transformative experience for her as a content creator.
"This event has provided support and opportunities that have significantly contributed to my growth and development in the world of content creation. One of the most remarkable aspects of the Brunei Content Festival is the sense of community it fosters among content creators. Meeting fellow creators, sharing ideas and experience have been inspiring and educational," she added.
'Cinta dan Harapan' is a deeply personal story for Wardah, whose idea for the film first came to her from her own experiences and observation of the world around her.
She turned her inspiration into an award-winning piece that showcases accounts of people who overcame hardships with unflinching love and optimism.
"It was crucial to me that the story seemed real and relevant and that the characters captured the complexity of actual emotional experiences," she shared.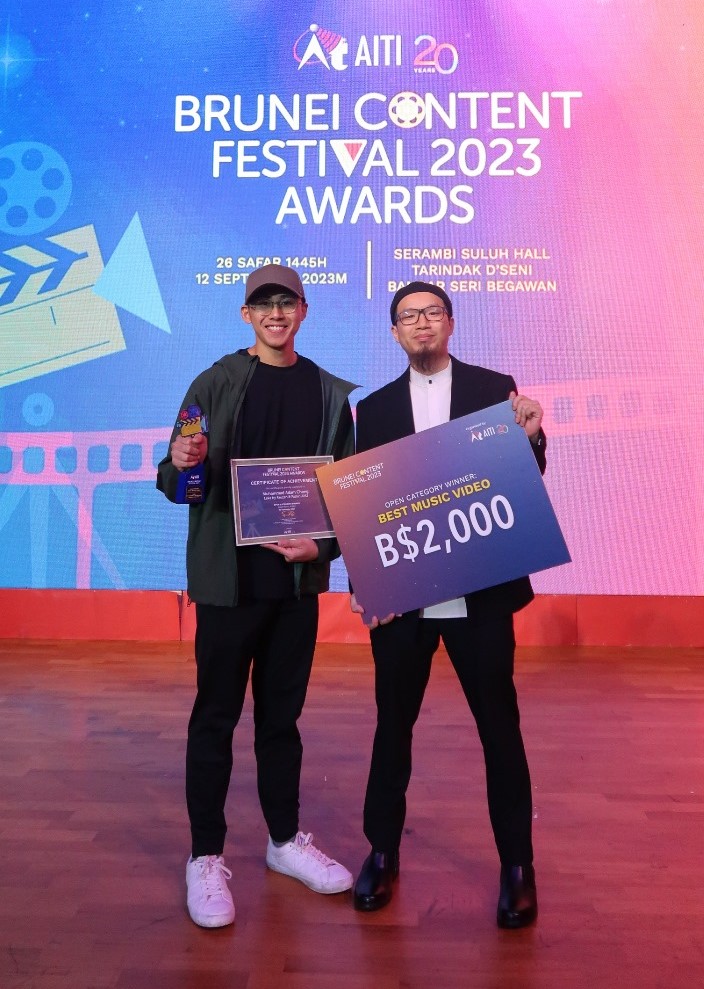 Another open category winner, Muhammad Adam Chong of MattersOfChoice, on the other hand was awarded Best Music Video for 'Leka by Fauzan and Fathin AMJ'.
"Grateful for the opportunity, grateful to be nominated and beyond grateful to have won. Alhamdulillah 'ala kulli hal," he said.
In an interview with The Bruneian, Adam shared that it was their second time winning the BCF awards.
Last year they won the Jury award for the Best PSA/Social Media category for their 'Recycling can save lives' content in collaboration with Green Depot.
"Firstly, BCF has given us a platform to showcase our wide range of content. Secondly, we are able to attain recognition as well as credibility towards our own portfolio for future business opportunities," he shared.
"Finally, BCF also enabled us to network and meet with other content creators for future collaboration within the industry. With the opportunity of BCF, we aim to continue to create, network and inspire the next generations of content creators and future of video and content marketing," he added.
When asked about their next step, he said that he is focusing on working on their corporate and business content as well as looking to explore different mediums such as short films.
"I very much enjoy doing comedy and drama with a twist of Islamic content. In fact, it becomes very marketable and well accepted so we also work with businesses who wants their content to be done as such," he shared
"Moving forward, it's been awhile since I did something for the big screen so I'm looking to explore either a featured (or short) film once again, something within the comedy genre of course, but make it 'action' comedy. Somewhat inspired by Jackie Chan films and One Punch man perhaps," he added
Moreover, The Best Short Film Under institute of higher learning was awarded to Dzul Shamsol from Universiti Brunei Darussalam for 'Nilai Part 1'.
All winners from both Industry and Open categories each received a trophy, certificate of appreciation and cash of BND2,000.
The Jury Awards winners included 'Sampul by New Wave Films for Best Cinematography, 'Fasa' by Nur Faralisa Nabilah Zulfikri for Best Editing, Shafiee Mostar for Best Actor , Nabilah Hamid for Best Actress to Nabilah Hamid and 'Alamat Hati music video' by Mui'z Bakar for Best Direction .
In addition to that, the Best Concept winner was 'Mari Iski Bercerita' by Adam Syed, while Best Social Media Content was won by Azim Ghani Mercedes – Swanz and Troqy by A Mancientry Original Company.
Moreover, the Best Performance category was won by Masita Tamil from Juan Madial for 'Gurindam music video'.
All winners of the Jury Awards received a trophy, certificate of appreciation and cash of BND500.
All competing entries were judged by a jury panel comprising local and foreign industry experts, teaching staff of higher education institutes and representatives from government agencies.
Entries are evaluated according to the criteria that have been set, including in terms of technicality, creativity and innovation.
More than 80 entries from BCF Awards participants were also screened at the BCF Screening and Exhibition held at the Atrium, The Mall, Gadong from September 8 to 10.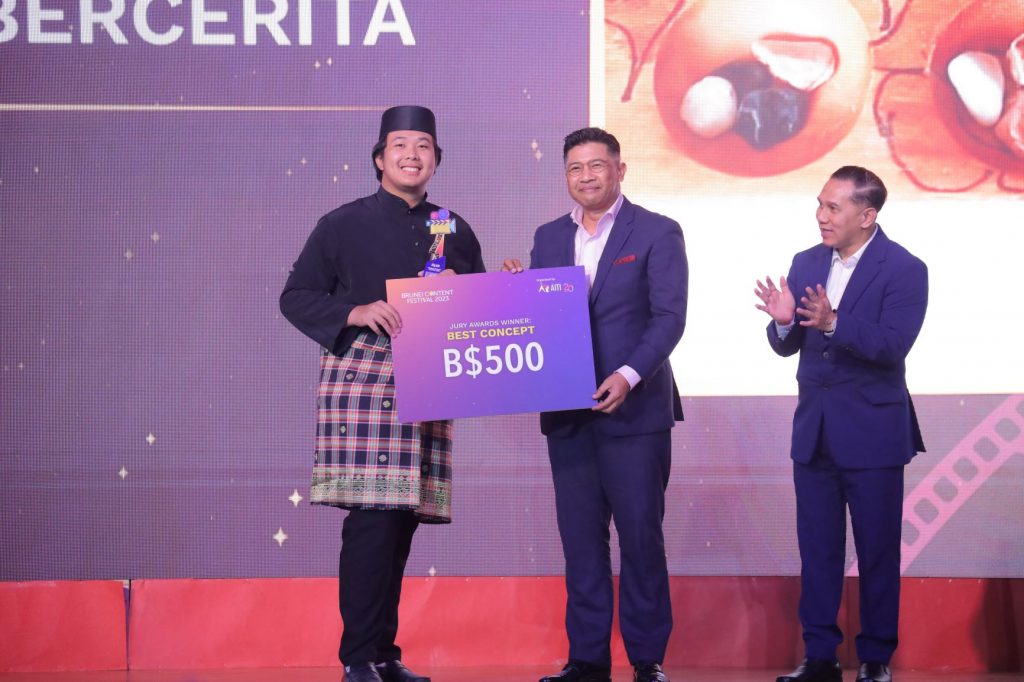 The Brunei Content Festival 2023 was organised with support from the Ministry of Culture, Youth and Sports, Radio Television Brunei, Universiti Brunei Darussalam dan Progresif Media.
Minister of Transport and Infocommunications and Chairman of AITI Pengiran Dato Seri Setia Shamhary bin Pengiran Dato Paduka Haji Mustapha was the special guest at the event.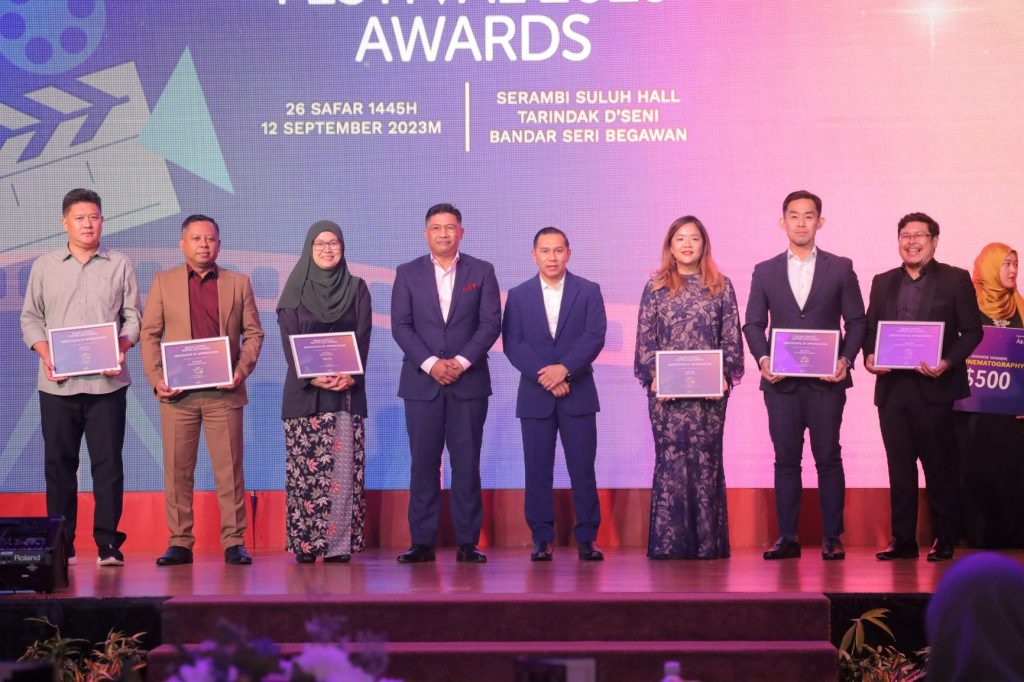 THE BRUNEIAN | BANDAR SERI BEGAWAN