Did you spend your childhood days playing Monopoly boardgame? Well, it is time to relive those memories.
In conjunction with Brunei's 40 years of Independence, MONOPOLY: Brunei Edition is coming to you in May 2024.
MONOPOLY is a worldwide favourite board game and one of the best-selling games of all time around the world. It has been made into over 300 new different editions.
Blacksheep under the license from global leader in play Hasbro has announced a new addition that will feature some of Brunei's favourite historic landmarks.
By next year, it will be Brunei's turn to pass 'Go' and collect $200 with its own special features such as showcasing the most iconic landmarks, local favourite eateries as well as street names in Brunei.
Soon, people will be able to play the game with various Brunei locations such as Kampong Ayer, The Royal Regalia, Belalong Canopy Walk as well as more new properties.
Founder of Blacksheep Nadiyatul during the press conference held at the Brunei Energy Hub said that Brunei is home to so many historic landmarks, beautiful outdoor recreation spaces, museums and restaurants and so they are excited to invite the community to be a part of the process.
"Since we only have 16 squares for local attractions, we want to create an accurate portrayal of what this community loves about their region and encourage everyone to send in their favourite spaces," said the founder.

There will also be 10 commercial spaces up for grabs, with the four corners of the board staying true classic designs.
That means spaces will be limited, and those selected will ultimately have to pay for their claim of MONOPOLY royalty.
Additionally, the MONOPOLY: Brunei Edition is expected to be available in stores sometime in May 2024.
Nadia further shared that the public is also urged to submit their suggestions and proposals of their favourite places in Brunei to be included into the new edition.
"We would love to hear about your favourite places in Brunei, your memories, must-see places and your thoughts on what makes Brunei so special," she said.
The Blacksheep founder added: "From street markets to viewpoints to museums and everything in between, we are looking forward to creating a beautiful portrayal of what locals and visitors love about Brunei".
Once the company has achieved a final list, they will connect with the places and see if they could collectively work out a way of getting them on the board when there is an approval element to it.
Furthermore, the committee also shared among the objectives of the game are to celebrate and showcase 40 years of Brunei's achievements in trade and industries since its independence in 1984.
Another objective is to promote local attractions and encourage people to shop locally as well as to educate players about the value of the dollar, how to save for long-term goals and how to spend responsibly, equipping them with the ability to manage their finances in life.
Not only that, but 10 per cent of the MONOPOLY retail sales will be donated for fundraising for DANA.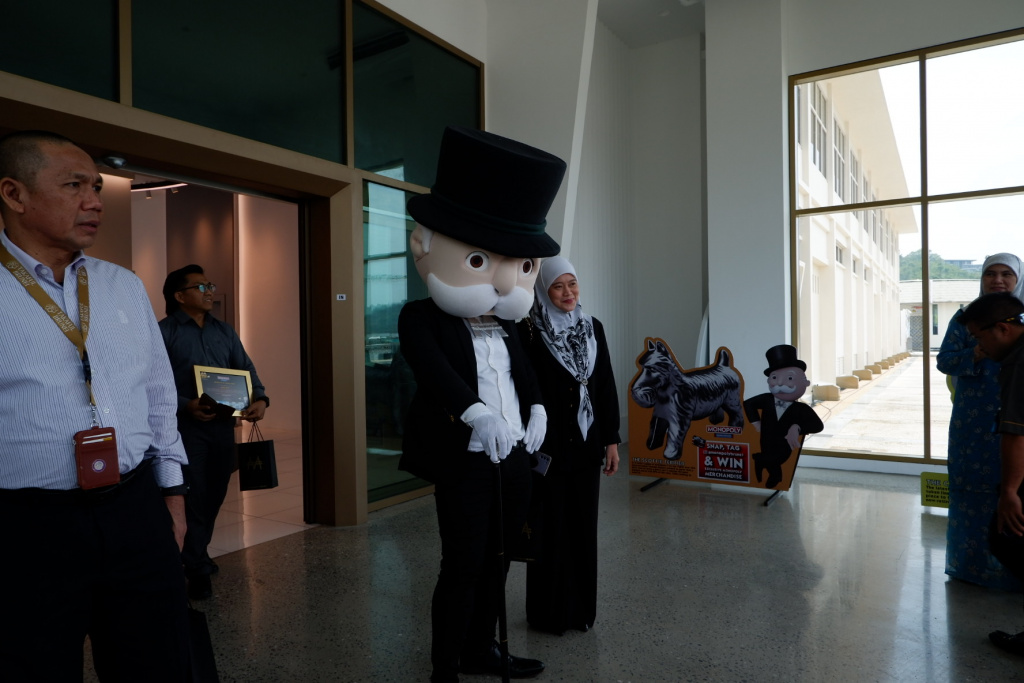 The final objective is that the board game is to influence the support of environmentally friendly use as Brunei Monopoly will be made of renewable sources.
In addition, the key partners for Monopoly Brunei are the Ministry of Culture, Youth and Sports, Brunei Museum Department, Brunei Tourism Board, DANA Pengiran Muda Mahkota Al-Muhtadee Billah, Jerudong Park Medical Centre and Takaful Brunei.
Moreover, it will be exciting to see what the decisions are as the date of the official release gets closer.
For Brunei landmark and Monopoly Brunei token suggestions, the public can send in their votes by emailing monopolybruneivote@gmail.com before 5 October 2023.
To sponsor a commercial space on the Monopoly board, contact them through WhatsApp at +673 8758167 before 10 October 2023 and it is on a first come first serve basis.
Stay tuned and watch out for updates on their Instagram @monopolybrunei.
THE BRUNEIAN | BANDAR SERI BEGAWAN