Looking for the best massage chairs to relieve stress and tension from the comfort of your own home?
Boeffi International recently unveiled two of its latest creations, the Bresso 2 and Begio 2 massage chairs at their branch at the Taibah Nest Complex in Kiulap
These two new additions to our product lineup are designed to elevate the massage chair experience to new heights, offering a range of unique features and benefits for relaxation, pain relief, and overall well-being.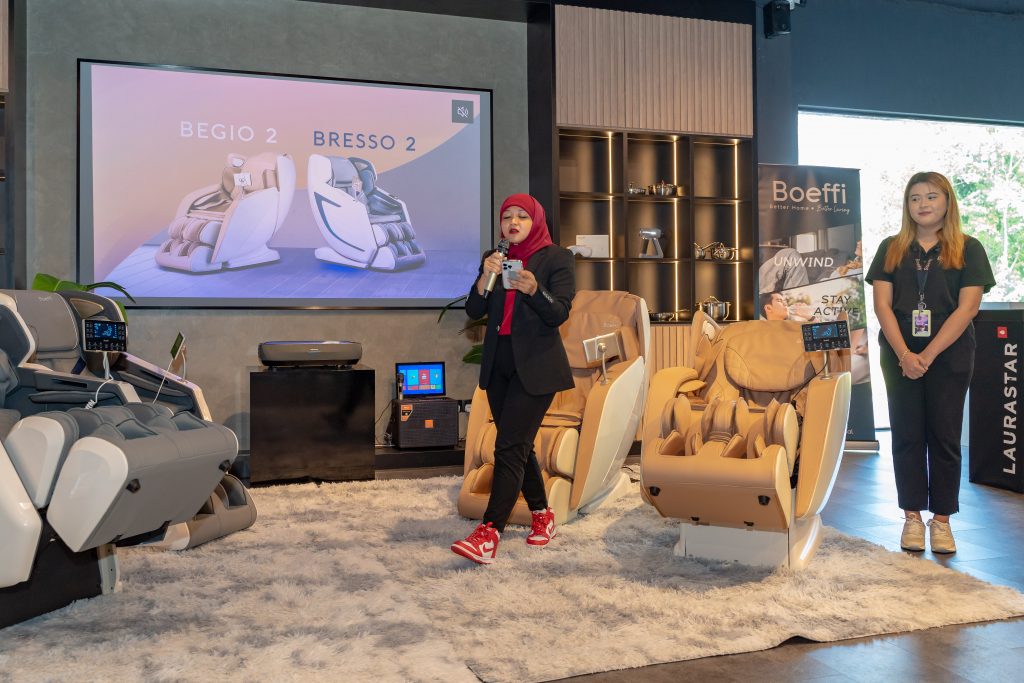 The Bresso 2 and the Begio 2 are not just pieces of furniture; they are your gateway to relaxation, stress relief, and enhanced well-being.
Elevating Perfection with Bresso 2
The Bresso 2 is a breakthrough in massage chair technology, offering a lot of features that cater to a wide range of user needs.
Bresso 2 is equipped with a powerful heating mechanism that enhances blood flow, providing soothing relief to tense muscles and promoting relaxation.
Not only that, but the massage chair includes a diverse 12 Healthcare Massage Programs to choose from, each tailored to target specific areas of the body and address unique wellness needs..
Moreover, the Bresso 2 includes a slim care massage program that focuses on slimming by delivering a deep massage specifically targeting the hips. The program encourages lymphatic flow and circulation, aiding in detoxification and weight loss.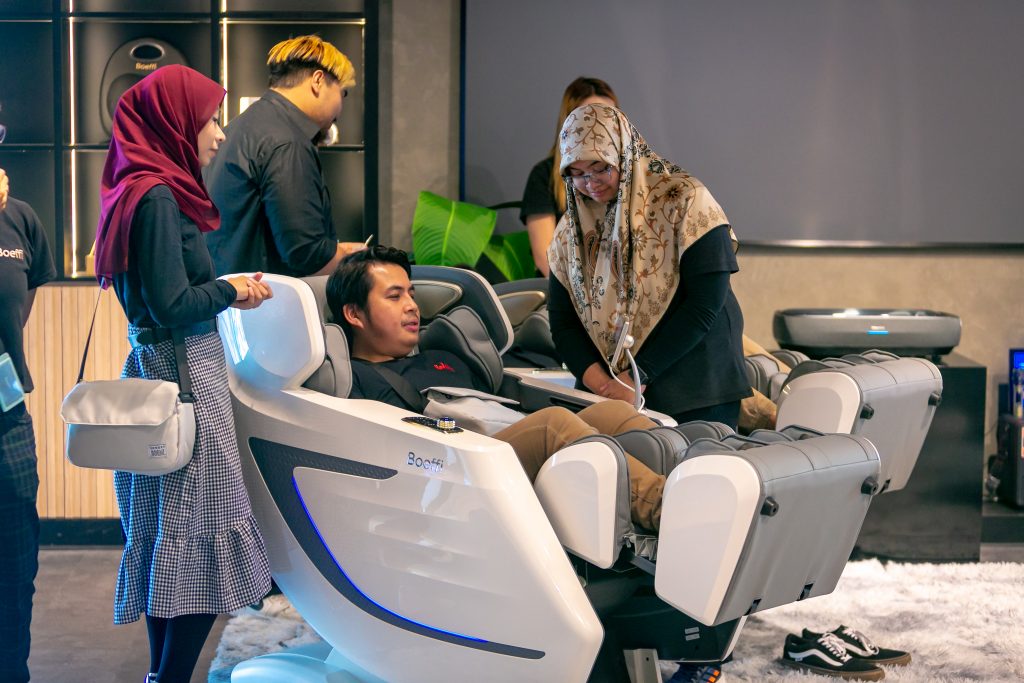 You can also elevate your mood and create a tranquil atmosphere with its integrated night light mode. Designed to help you relax and unwind, this feature enhances your overall massage chair experience.
Relaxation, everyday with Begio 2
The Begio 2 massage chair is specially designed to provide a gentle and comfortable massage experience, making it ideal for elderly individuals and those seeking relief from back pain and tension.
The Begio 2 boasts a soft and delicate touch that provides a soothing and gentle massage experience, ensuring comfort and relaxation.
Similar to the Bresso 2, the Begio 2 features a heating mechanism that enhances blood flow, contributing to the relief of muscle tension and discomfort.
Moreover, you can also enjoy a personalized massage experience with the soft and bendable mode, which can alleviate back pain and provide tension relief tailored to your preferences.
The Begio 2 offers a full-body stretch massage program that delivers high-intensity stretching, promoting flexibility and relaxation throughout the body.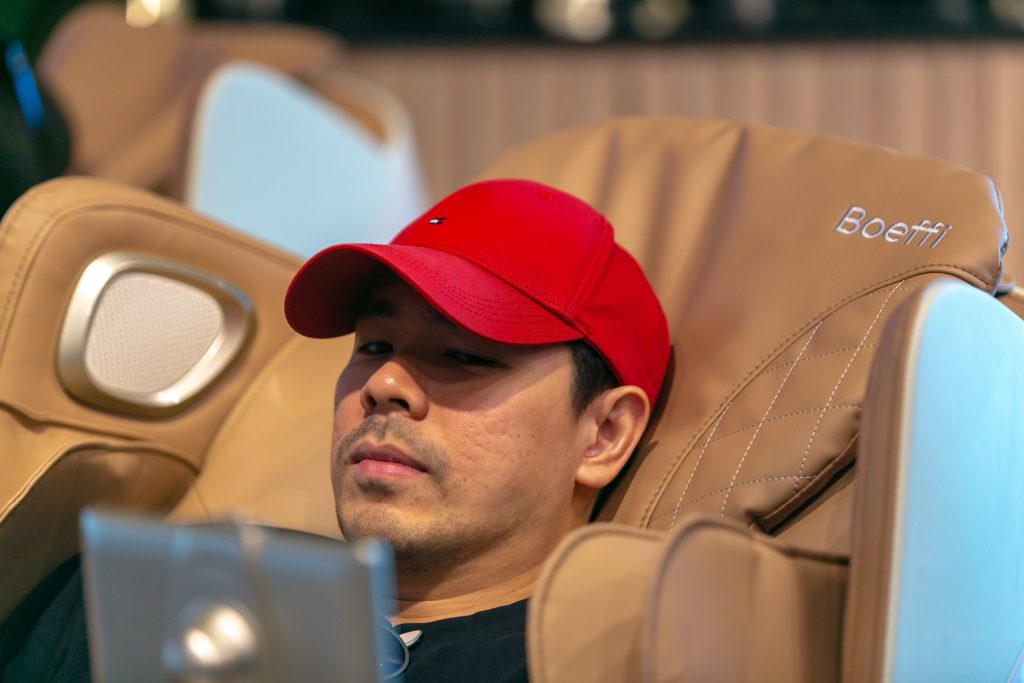 Both the Bresso 2 and Begio 2 massage chairs are meticulously crafted to provide the ultimate relaxation and wellness experience.
The Begio 2 is priced at just $59, and the Bresso 2 is available for $79.
Boeffi International continues its commitment to innovation, quality, and customer satisfaction, ensuring that customers can enjoy the benefits of these remarkable massage chairs.
The local brand will also be introducing their exclusive Boeffi Care Service, designed to keep your investment in pristine condition.
Within the warranty period, Boeffi International offers a service every six months, and twice a year in the second year.
The comprehensive service includes a product diagnostic check, alignment check, lubrication, full antibacterial cleanse, and product polishing.
In addition to that, their Care Specialists provide delicate, expert service, ensuring the longevity of your Boeffi product, giving you and your loved ones peace of mind.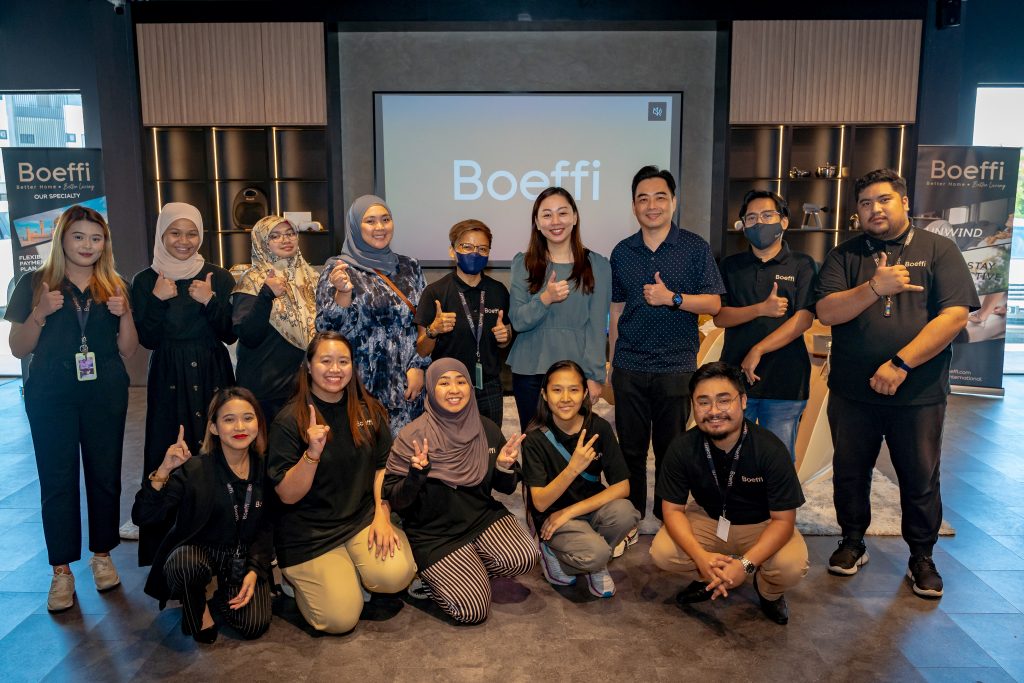 Boeffi also offers a wide range of wellness products that include items designed to enrich your life, improve your health, and make your surroundings more beautiful.
From ergonomic furniture to innovative health and wellness accessories, Boeffi is your one-stop destination for enhancing your physical and mental well-being.
For more information, visit their website www.boeffi.com or contact their customer service team at 234 3000.
THE BRUNEIAN | BANDAR SERI BEGAWAN