Brunei received 100,000 doses of the Japanese-manufactured AstraZeneca vaccine last night, marking the third batch of vaccine donation to arrive in the country this month.
The contribution from Japan will allow Brunei to increase its inoculation capacity with the resumption of the National Vaccination Programme on 16 September after it was put on hold from 1 September due to vaccine shortage.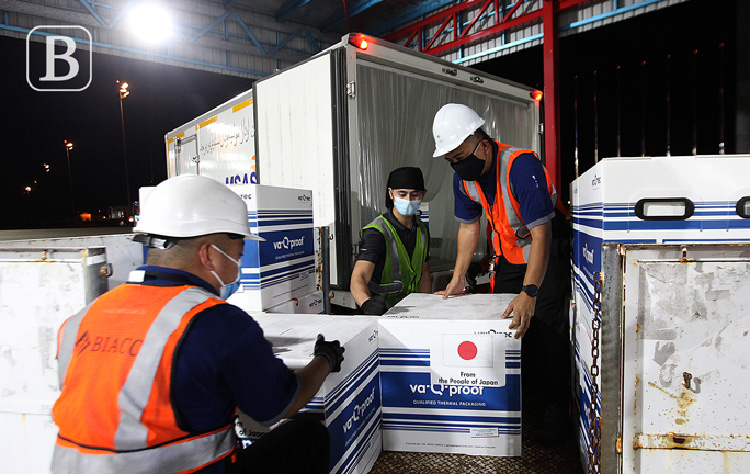 The sultanate in the past weeks already obtained 200,000 doses of Sinopharm and AstraZeneca vaccines from its bilateral counterparts China and Australia.
The vaccines which arrived around 9.57pm were handed over to Second Minister of Foreign Affairs Yang Berhormat Dato Seri Setia Haji Erywan from Japanese Ambassador to Brunei Eiji Yamamoto.
The ambassador in a statement said that the vaccine donation is the latest symbol of the long-standing friendship between Japan and Brunei.
"For over half a century, Brunei has been making significant contributions to the development of Japan's economy through the supply of oil and LNG. Even in our time of need, in the wake of the Great East Japan Eartquake 10 yeas ago, Brunei continues to offer generous support to the people of Japan – a gesture that we will never forget," said ambassador Yamamoto.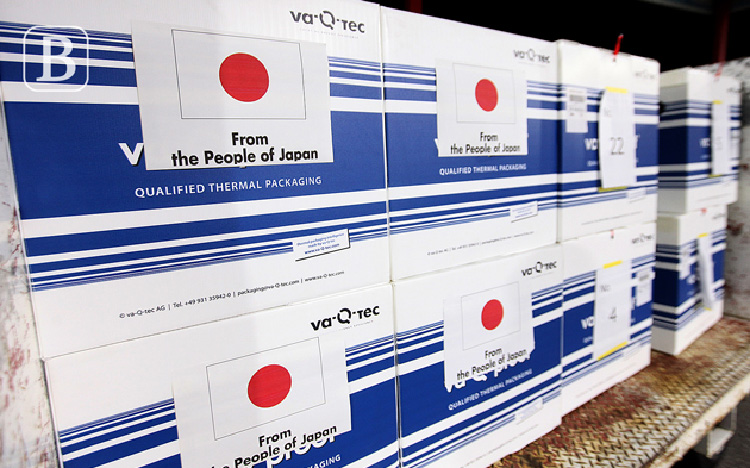 He added: "Now, it is our turn to reciprocate the favour. I sincerely hope this vaccine donation will help the Bruneian people stay protected and contribute to the achieving Brunei's vaccination goal."
Moreover, Japan is looking to supply 50,000 N95 masks to Brunei which are stockpiled by the Asia-Europe Foundation (ASEF) and financed by the island country.
In addition, the country will be extending an Emergency Grant Aid of approximately USD$800,000 to the sultanate by this month which includes medical equipment and cold chain equipment for the health ministry via the United Nations Children's Fund (UNICEF).
Since the establishment of diplomatic relations in 1984, Brunei and Japan continue to share warm and friendly relations in mutually beneficial areas, including energy, trade and investment, education, connectivity and people-to-people exchanges.
Furthermore, both countries have also maintained close cooperation on regional and international issues of mutual interest.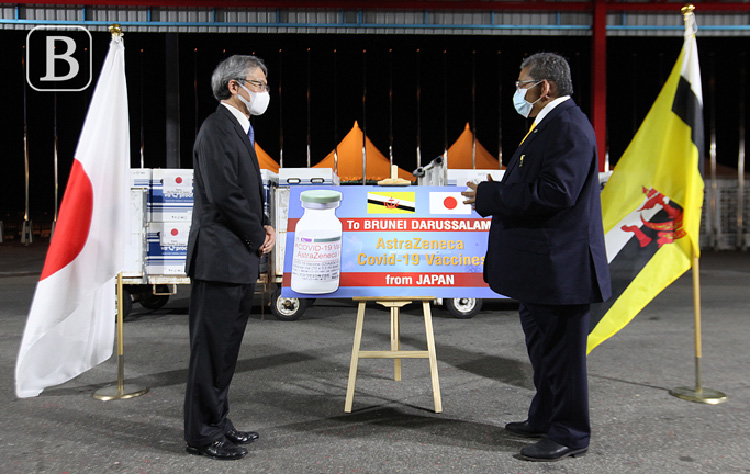 As an important Dialogue Partner, Japan has reaffirmed strong commitment in strengthening the ASEAN-Japan Strategic Partnership, said the ministry of foreign affairs in a statement.
Japan is contributing USD$1 million to the COVID-19 ASEAN Response Fund and USD$50 million for the establishment of the ASEAN Centre for Public Health Emergencies and Emerging Diseases (ACPHEED).
In attendance at the hand over ceremony held at the Brunei International Airport were senior government officials from Ministry of Foreign Affairs and Ministry of Health as well as representatives from the Japanese Embassy in Bandar Seri Begawan.
THE BRUNEIAN | BANDAR SERI BEGAWAN