Crafting to fill up the time, August Culture is a business that focuses on creating things that fit the DIY generation that is full of colours and excitement.
Starting her business from being crafty, Zahra Zamari is very handy when it comes to making her own art.
Thinking that she spends too much time, she decided to turn her hobby into a business and share her creations with the public.
"I decided to name the business August Culture because my birth month is in August and that August culture means everything about summer and creativity; music festivals, concerts, art exhibitions, movie premieres, they often take place in August", said the 27-year-old.
The business started back in early 2017 and it has grown ever since with their now best-selling product, acrylic painting on glass which was initially an idea that came from TikTok.
Zahra had only started painting newly when the pandemic hit and she was stuck at home during the lockdown but little did she know that it would be a popular product of her business.
"Before looking for a new job in 2020, the first wave of COVID-19 happened and I got into a car accident which broke my thumb so I was stuck at home without a choice, but out of boredom. I started picking up woodworking and painting," said the youth entrepreneur.
Acrylic glass paintings that she now specialises in were inspired by videos she saw of another creator painting music albums and Spotify player codes on to clear glass and calling it Music Plaques.
Although it is not the first in the world, Zahra's business is one of the first to do music plaques paintings in the country and she has gained buyers attention.
The business owner believes that the music plaques acrylic painting was the beginning for her business and what made it what it is.
Other than music plaques, she does offer other bespoke pieces on glass such as event signages, portrait plaques, signs or portraits with pressed flowers and customised paintings upon customers' requests.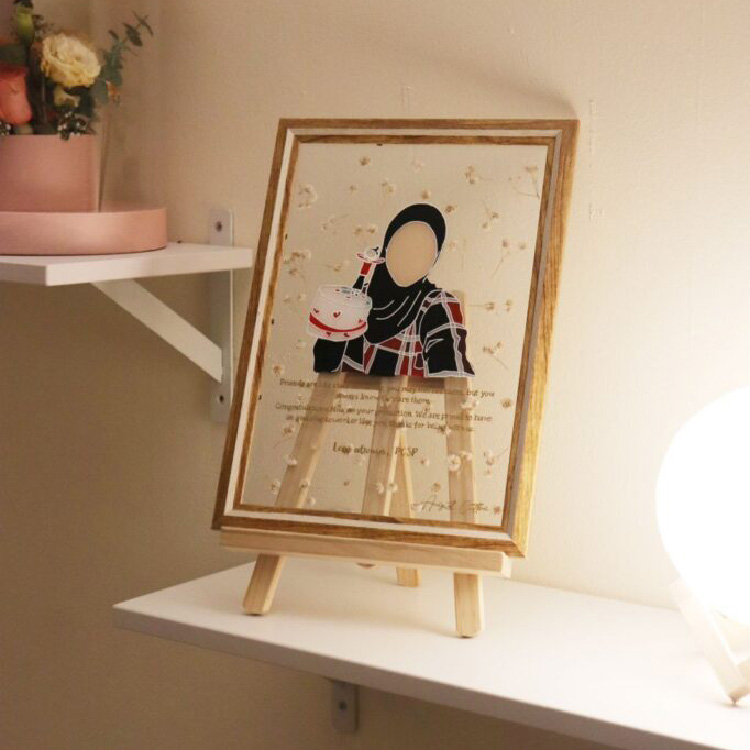 The 27-year-old put everything into her artwork and it makes her happy when she receives positive feedback from buyers.
"It honestly drains me to do everything from scratch while juggling a full-time job, but I cannot describe how happy it makes me feel to put a smile on others' faces when they receive my art, it's the joy that these products bring to others that is just simply priceless," said Zahra.
The business is run from the comfort of the business owner's room and is being managed by herself in which she solely uses Instagram to promote and sell her products.
Being so enthusiastic about the business, August Culture is not only the product of the entrepreneur's crafts, but she also has Eve and Rosie where she sells her own handcrafted accessories such as bracelets and rings.
As a creative person, Zahra believes that anything she puts her heart into will become something she is proud of.
"Honestly, for me, it's to only sell what you believe in. Never hand in a product that you have doubts about because your customer would feel the same," said the small business owner.
To know more about the acrylic paintings that Zahra makes, visit her Instagram @augustculture_ or for her handmade accessories @eveandrosie_.
This article was first published on 13 November 2021 in our Weekly E-Paper issue 167
THE BRUNEIAN | BANDAR SERI BEGAWAN