Believing that a cup of coffee brings people together, The Caffeine Factor shares their knowledge on specialty coffee through what they serve.
Founded by Karthigan Chris, 25 and Renukha Vijayan, 27, the business aims to increase awareness of the differences between specialty and non-specialty coffee, a fact that not many people know about.
Initially, the idea for "The Caffeine Factor" came from travels, as the entrepreneurs are always on the lookout for cafes to sit down and chill. On their cafe hoppings, they started to compare numerous cafe scenes and their different coffees.
Sitting in different cafes and tasting unique cups of coffee, they realised that each coffee has its own flavour.
Their passion for coffee gradually increased along the way, leading them to start a specialty coffee business in Brunei.
"It was purely 'For the love of coffee', as our slogan says as well, and that passion expanded to include educating people in general about the existence of specialty coffee and what it has to offer," said Vijayan.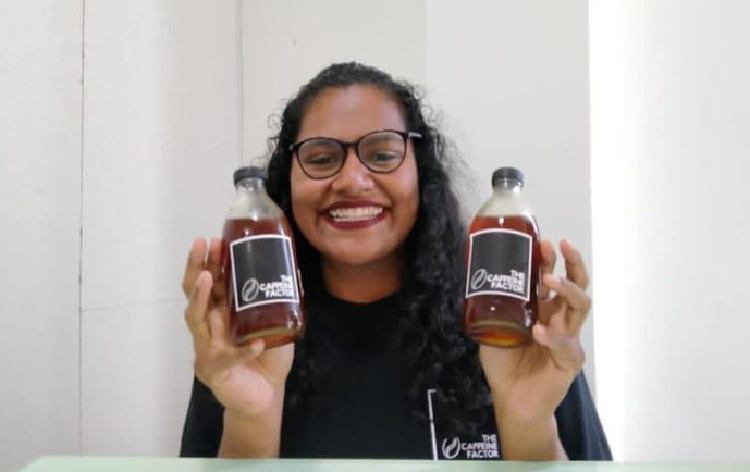 The business debuted when the pandemic hit globally and with the travel restrictions, the entrepreneurs' love for exploring cafes and trying different types of coffees abroad was also hindered. That was when they knew they could start something on their own.
"So, we were like, let's see what we can do here back home that would fuel our love for coffee and at the same time get people to acknowledge specialty coffee," said the 27-year-old.
Handling the business on their own, The Caffeine Factor offers cold brew drinks where they have experimented with different specialty coffee beans weekly from local roasters.
The duo works together to bring out the best-fit coffee flavour for all while at the same time offering Barista Courses for anyone who wants to learn or is just curious to know more.
They started with making cold brew coffee as they were quite new in the specialty coffee scene and thought that it would be the best way to begin, mastering their way into brewing coffee before going further in the business.
The homegrown brand has various types of cold brews and they take non-coffee drinkers as important as the coffee drinkers, and that is reflected in their constant effort to incorporate flavours and infusions into their cold brews.
Moreover, The Caffeine Factor's best-selling drinks and customers' favourites are the Rose Cold Brew Latte, Ethiopian and Papua New Guinea straight black cold brews which have a fun mix of notes like the straight black Ethiopian, bearing notes of blueberry, strawberry jam, mango and rose while the Papua New Guinea has notes of raspberry, golden kiwi and bubblegum.
The entrepreneurs are always on the lookout for new customers with whom they are keen to share their drinks, introducing them to a new side of coffee.
Most of the time their target customers are those who enjoy cold brews, iced coffees or appreciate specialty coffee via cold brews in their original form without any mixes. and non-coffee drinkers by means of their occasional locally-inspired flavoured or infused cold brews.
"We believe in targeting both groups with hopes to bridge the gap between specialty coffee lovers and non-coffee drinkers," said the coffee enthusiasts.
On average, their drinks are priced from $4 to $6.50 depending on the coffee beans and if they are flavoured or infused with other ingredients.
Currently, their products are being sold fully online, mainly through their Instagram and Facebook @thecaffeinefactor where customers would order and get the drinks delivered or have them picked up in Kuala Belait.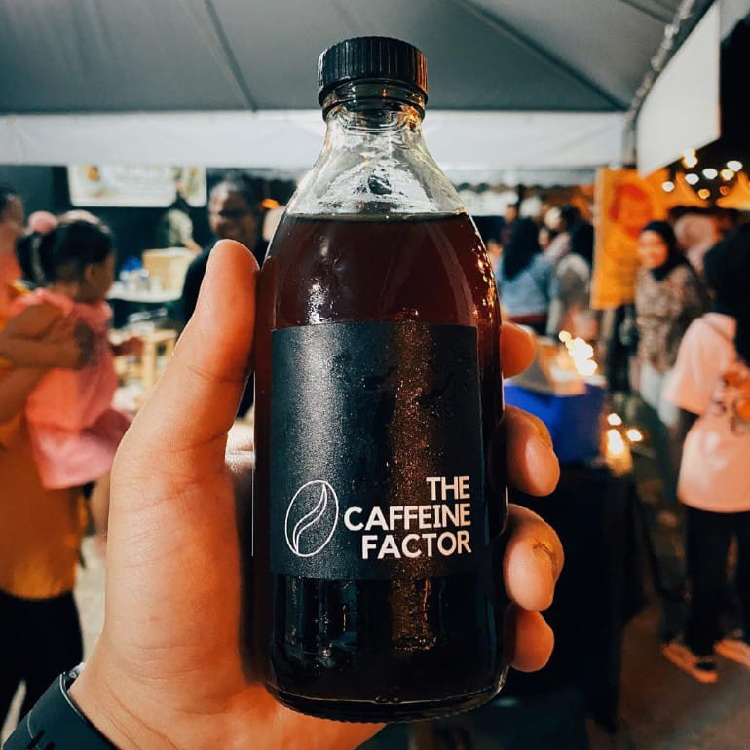 Their drinks are also being sold during pop-up events and they previously took part in various events such as the International Food Festival, Youth Empowerment Weekend and THISAbility at Ozone and Lets.Eat.Seria as well as family fun day at Panaga Club.
Just like any other business, there are some difficulties faced by the youth entrepreneurs and their biggest challenge would be trying to infiltrate an already existing coffee scene during the start of their business while creating a demand for their products.
"From a marketing point of view, we did not realise that there would be a constant need to create content online to make our products and services be visible. However, brainstorming ways to overcome these challenges has been a fun experience overall," said Vijayan.
With time, the two entrepreneurs were able to learn and overcome their challenges by brainstorming ways they can make it work whilst also having fun along the way.
The barista also shared that in business, it is always a good start to have a plan but do not be afraid if it does not go accordingly but go with what works at the moment, without having any regrets in the future.
Always on the move to create something new, the business owners are excited to introduce new drinks to their menu and currently finalising some details prior to release.
This article was first published on 15 January 2022 in our Weekly E-Paper issue 176 | More stories here
THE BRUNEIAN | BANDAR SERI BEGAWAN