Under a black shade netting stretched over a wooden frame, Darren Pong and his employees carefully inspect each and every hydroponically grown vegetable that springs out from rows of pipes at the homegrown farm, Golf Gardens.
The hydroponic farm began operating in 2020 – at the height of the pandemic, growing a variety of leafy greens in a hydroponic system located near the Pantai Mentiri Golf Club in Mentiri, which location also inspired the name of the business.
The farm is a passion project started by Darren and Aaron Pong, whom both wanted to combat food insecurity in the country.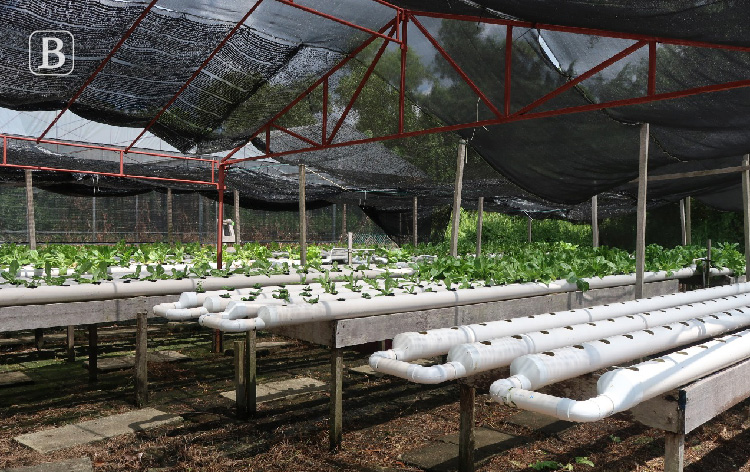 "During that time, it was in the early stages of the Covid-19 outbreak in Brunei and with the pandemic, food scarcity seemed to be an underlying problem. Fresh produce like veggies, eggs and meat were always out of stock back then. I remember having to visit three different supermarkets just to look for chicken and eggs," Darren shared.
It was in September 2020, the brothers came up with the inspiration to set up their own hydroponic farm, a technique of growing plants using mineral nutrient solutions, in water, without soil.
Before planting a seed as an agripreneur, Darren graduated with a Marketing and Management Degree from University Sussex and worked as a Sales Manager of Pantai Mentiri Driving Range and a Sales Rep at a local IT firm.
"Back in 2020, I was still a University student having online studies, and my brother was back in Brunei for his summer break. We decided that with the free time on our hands, why not start a mini-farm project of ours? I have a passion for marketing and my brother, has a passion for the outdoors. We figured it would blend well together," he said.
With no background in agriculture or hydroponic farming, the brothers decided to take a leap of faith to bring their vision and dreams to life.
"With this passion and belief, we decided to kick start this project of ours, with a goal to produce crops and veggies that our family loves to eat," he added.
Although without a green thumb experience, the brothers have grown with the business over the months, learning and trying out new things along the way from identifying the right type of seeds to marketing the produce.
Darren shared that they used different learning materials from online articles, YouTube videos and also talked to some experts in the agriculture sector for help.
Through research and trials, they underwent various experimental phases. According to the brothers, part of the learning curve was monitoring the weather and picking the right crop.
"We've been operating for just over a year now and we realised that in Brunei, although it's hot throughout, there are seasons such as the tropical monsoon season where rain is constant. Whilst our farm is not completely shielded from rainwater, it can be dirty and acidic for some of our crops," said Darren.
"So, during that season, we only plant certain crops where we know we are able to grow well regardless of rain or not. This was based on a trial and error method during the past year. Here's a tip for the young farmers, Thai Basil requires a lot of sunlight and constant rain pour will damage the roots of the herb, causing the basil to die during its growth stage," he continued.
The young entrepreneurs' tenacity in agricultural ventures continues to bear fruit. What started off as a small backyard project turned into a full-fledged business.
Among the produce available at Golf Garden are a variety of lettuce (romaine, coral, leaf) and herbs such as Mint, Thai & Sweet Basil, Rockets.
"Our produce is freshly harvested at 6 in the morning. This is to help keep the veggies at an optimum temperature where it's cool and oxidized," he shared.
Opening a Golf Gardens during the COVID-19 outbreak turned out to be a blessing in disguise for the brothers, as the positive customer support and feedback helped keep them going, despite the uncertainty posed by the pandemic.
Orders for Golf Garden's hydroponically grown vegetables have been increasing ever since they started harvesting.
"People in Brunei yearn for fresh produce. Many families in the Brunei Community adopted the ideal mindset of always supporting locals, and we are truly proud and blessed to be able to be a small entity that contributes to that pool," he continued.
The local hydroponic farm now distributes its products to restaurants, supermarkets and directly to consumers through its social media platform.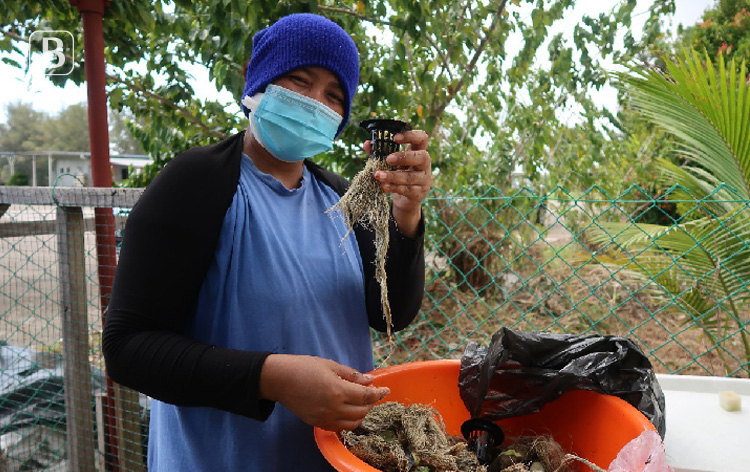 Planting the seeds of tomorrow with hydroponics
Far from being a regular farm, Golf Garden is made out of PVC pipes, a method known as Nutrient Film Technique or NFT system of hydroponics.
"In simple terms, Hydroponic farming is a systematic process that grows crops and plants directly in minerals and nutrient-rich water, without the need for soil," he explained, adding that a Hydroponic system requires five main elements: freshwater, oxygen pump, root support, light and nutrients," Darren explained.
"We construct the system using a PVC piping technique connected to a container for the nutrient-rich water to flow," he further highlighted.
After the initial few months' trials and tribulations, it took 4-5 months to get the first phase of the hydroponic farm started on a full-fledged scale.
"With a concept of "slowly but surely", we started off with one lane, and over time we expanded to 6 lanes which can now bed to almost 1500 crops in total," he said.
According to the 23-year-old, there were a lot of challenges that affected the local farm business including the surplus of production.
"During the second covid-19 outbreak, we had a whole lot of crops that were supposedly booked by our usual cafe and restaurateur clients. However, as they were forced to shut off their business due to the pandemic situation, we had no one to sell to." he shared.
To avoid the oversupply issues in the future, Darren shared that the brothers had to expand their market reach.
"As our target market was mainly eateries and not individual households, we decided to expand our target horizon. With the help of a few texts, word of mouth to family and friends, we managed to sell some of it," he added.
Another strategy the brothers used to boost their market was to promote their products on social media, "We relied heavily on promotion via our Instagram page (@GolfGardens.bn) to reach out to new customers," he shared.
In the near future, the brothers have upcoming plans for a new indoor greenhouse and also to expand their range of produce.
"Getting the publicity and knowing that there's a demand for our produce, we decided to reinvest our money into expanding our farm and building an Indoor GreenHouse, which I foresee to grow more herbs that are in demand in the market right now, such as thyme, chillies and more," he said.
According to the agripreneur, the controlled environment of the greenhouse will allow Golf Gardens to grow many varieties of vegetables that are unable to tolerate the unpredictable weather
The brothers hope their journey inspires a new generation of farmers to grow their businesses. Agriculture, according to Darren is an industry with great potential for youth who aspire to make an impact on society,
Darren hopes for fewer restrictions and more opportunities for the youths."Both cohesively and collectively that will allow the youths to strive in their areas of excellence, and educate and allow the current generation to continue to accept and embrace change," he continued.
"Brunei is filled with multi-talented young individuals, aspiring for brighter and greater achievements in their life to come. Brunei being able to create a platform that enables the younger generation to reach their highest potentials is both motivating and inspiring for many. We may be underrated in most aspects but we do have potential to be the best we can ever be, with the right coaching, funding, and support," he shared.
Darren's advice for people of any age who are considering giving agriculture a try is to always be prepared for challenges ahead, like the weather, the industry is unpredictable.
"We must continue to believe in ourselves and always be bold in our actions. If you want to do something, do it properly and do it right. Leave a legacy, don't leave a bad experience," he concluded.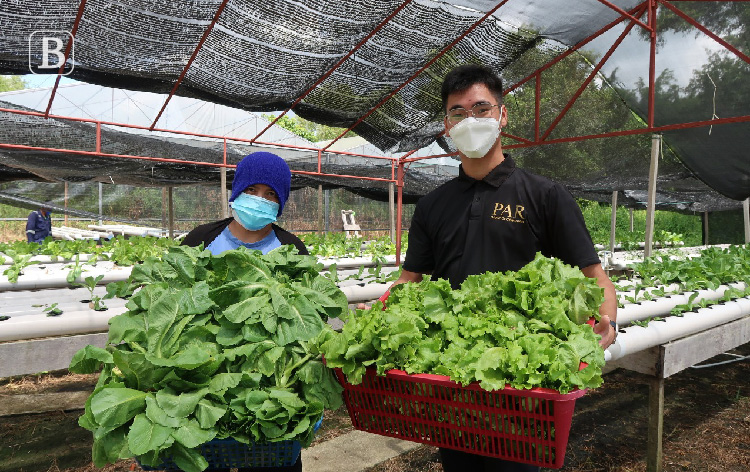 This article was first published on 23 February 2022 in our 2022 National Day Supplement | More stories here
THE BRUNEIAN | BANDAR SERI BEGAWAN