The Range Rover Evoque in the Autobiography derivative is a top-of-the-range luxury compact SUV.
It is recognisable from its beautiful exterior detailing, like its red brake calipers, burnished copper accents and Range Rover lettering.
But, what makes this car one that's best suited for commuters and luxe aficionados are its stunning and supremely comfortable interior.
Whether commuting to Belait or driving home after a long day, Evoque Autobiography ensures that any journey you take is comfortable for you and your passengers.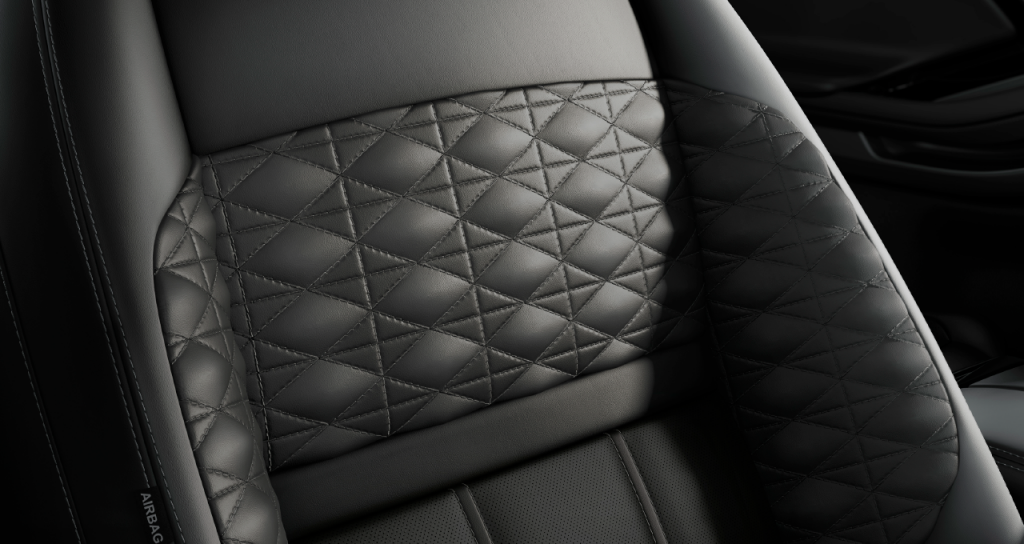 Interior features of Evoque Autobiography
Instantly elevate your drive with the following features:
1. Quilted full Windsor leather upholstery
2. 14-way heated and cooled electric driver memory front seat with heated rear seats
3. Premium cabin lighting
4. Fixed panoramic roof
5. Illuminated metal tread plates with Range Rover Script
Quilted full Windsor leather upholstery
Evoque Autobiography ensures a plush and comfortable drive with its Quilted & Perforated Windsor Leather Seats. Available in Ebony, Cloud or Deep Garnet, Windsor Leather is the highest quality leather available for the Range Rover family.
14-Way heated and cooled electric driver memory front Seat with heated rear seats
Not the only one who drives the car? Evoque Autobiography's 14-way Electric Driver Memory Front Seat allows different drivers to set and quickly access their perfect seating position before hitting the road.
Drivers who frequent long commutes will find Evoque Autobiography's heated and cooled seats a pleasurable luxury.
The feature works by directing cold or hot airflow through the vehicle's perforated seats. You'll be able to keep a comfortable temperature when driving in any weather.
The heated rear seats give additional comfort for your backseat passengers when required.
Premium Cabin Lighting
Evoque Autobiography's premium cabin lighting elevates your driving experience by providing you with up to 10 configurable lighting options. Wherever you are and whatever you feel, you'll be able to configure your vehicle's interior lighting to match.
Fixed Panoramic Roof
Evoque Autobiography's Fixed Panoramic Roof allows sunlight to filter into the cabin, providing a warm, natural flush and glow. Enjoy a panoramic and scenic view of the sky as you drive.
Illuminated Metal Tread Plates with Range Rover Script
A beautiful finishing for when you enter and exit the vehicle, Evoque Autobiography's illuminated metal tread plates with Range Rover branding communicates a symbol of status and luxury.

Range Rover Evoque Autobiography's interior features transform your everyday commute into one that's elevated and elegant.
You can learn more about Range Rover Evoque Autobiography on the Land Rover website. Configure your own Evoque Autobiography or browse available stocks.
THE BRUNEIAN | BANDAR SERI BEGAWAN