Brunei Darussalam's business sentiment index (BSI) stands at 49.8 in August 2022, denoting the first contraction of the Current Business Conditions sub-index since September 2021.
This was due to the private sector in general reporting less optimistic views on business conditions for the month, with a number of businesses expecting lower sales and fewer activities, said Brunei Darussalam Central Bank (BDCB) in a statement.
Some companies attributed the decline in optimism to a seasonal slowdown, higher prices of raw materials, and the re-opening of land borders for non-essential travel starting from 1 August 2022.
On the other hand, some sectors expected to benefit from the further relaxation of restrictions as they foresaw more sales and projects.
"Looking ahead, businesses were generally optimistic regarding their performance in September 2022 as evidenced by the index for one month ahead, which stood at 50.4," said the central bank.
This was driven by expectations of increases in production, sales and business activities, especially with upcoming events and school holidays, it added.
Within the BSI, there are nine sub-indices with the Current Business Conditions sub-index as the main headline index.
The BSI is based on surveys conducted on more than 500 micro, small, medium and large-sized businesses from the 11 economic sectors in Brunei Darussalam, across all districts.
The monthly index is designed to measure the level of business confidence/sentiment in the country and cover various aspects including current and future business conditions; investments; employment of workers; as well as costs of running the businesses.
Therefore, BSI serves as a leading macroeconomic indicator with its forward-looking element.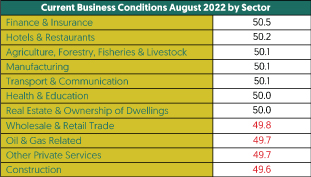 *Investment sub-index*
The Investment sub-index was 50.5 for the current month, 50.1 for one month ahead, and 50.7 for three months ahead.
This indicated that, in general, businesses expected to maintain their investment expenditures in August 2022 as per the previous month.
This was in line with expectations of fewer business activities as businesses were cautious about making additional investments.
However, in the immediate one to three months ahead, some companies have expressed positive expectations of higher investment expenditure such as for the purchase of new equipment, materials and machinery for upcoming projects; expansion of premises; opening new branches; and stocking up of inventory for the year end.
*Employment sub-index*
The Employment sub-index was 50.1 for the current month and 50.1 for one month ahead whereby businesses generally expected to hire more employees in August in anticipation of more projects and business activities in the next month, as well as to replace workers who have left.
Businesses are also expected to continue hiring workers in September 2022 as a large number of companies are still experiencing a shortage of workers and challenges in retaining local employees.
*Costs subindex*
The Costs sub-index was 50.0 for the current month and 50.3 for one month ahead.
This indicated that companies generally expected the costs of running their businesses to remain the same in August 2022 compared to the previous month.
However, businesses expected costs to increase in the next month, on the back of several factors such as cost of raw materials (except crude oil) and ingredients becoming more expensive; higher shipment costs; additional expenditure on maintenance; attaining new projects; rising salary expenses for incoming workers; and repatriation costs for outgoing foreign employees.
*Economic sectors*
In terms of economic sectors, 5 out of 11 sectors recorded optimism in August 2022. The Finance and Insurance sector showed the largest increase in optimism, as the better performance was expected with further relaxation measures in place.
The Hotels and Restaurant sector also expected an improvement in their performance. On the other hand, four sectors including Oil and Gas Related; Construction; Wholesale and Retail Trade; and Other Private Services showed pessimism in August 2022 on expectations of fewer projects, lower sales and lower margins.
Meanwhile, the Real Estate and Ownership of Dwellings, and Health and Education sectors reported similar sentiments regarding their business conditions in August 2022 compared to July 2022.
In terms of business size, only micro-sized businesses reported optimism in August 2022 on expectations of improved overall business conditions due to more projects and demand in general. Meanwhile, small, medium and large-sized businesses expected similar business conditions as last month.
For more information on BSI, members of the public can refer to the technical notes on the methodology and statistics on BDCB website at www.bdcb.gov.bn and follow updates on the BSI through future press releases and BDCB's Instagram account @centralbank.brunei.
THE BRUNEIAN | BANDAR SERI BEGAWAN