Royal Brunei Airlines (RB) Cabin Crew emerged as the winner for World's Leading Cabin Crew for the third year in a row, as announced recently at the World Travel Awards Grand Final Gala Ceremony in
Oman.
The win marks a significant milestone for the national carrier, which will be celebrating its 48th anniversary on 18 November 2021.
In September, the airline was also announced champion in Asia's Leading Cabin Crew category – also for the third time in a row.
RB Acting CEO Captain Sabirin Abdul Hamid in a statement said that winning the votes for World's Leading Cabin Crew for the third time is an amazing testament to how well their services have been received by guests from around the world.
"I am extremely proud of our dedicated team of Cabin Crew and all the teams involved for their remarkable services onboard our flights. This award comes at a special time for us at Royal Brunei as we will be celebrating our 48th anniversary on 18th November – this is a perfect anniversary gift for the entire airline," he said.
He added: "At RB, we strive to elevate our warm Bruneian hospitality to our guests and this award acknowledges our commitment to delivering experiences that our guests love. On behalf of RB, I would like to thank our guests, friends, and fans for your continuous support."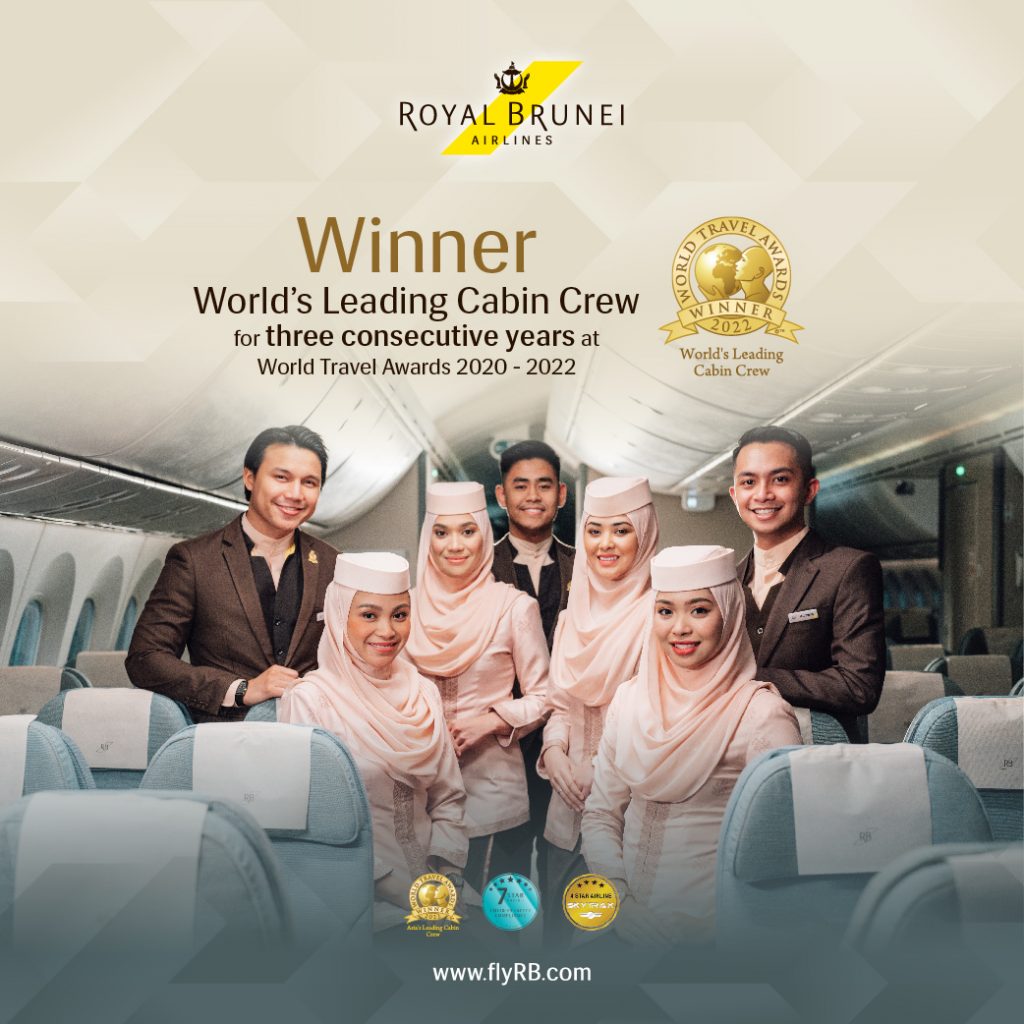 On his part, Founder of World Travel Awards Graham E. Cooke expressed his heartiest congratulations to RB for winning 'World's Leading Cabin Crew 2022'.
"This is a remarkable achievement, reflecting how the brand is setting the benchmark in customer service. The commitment of the entire team at Royal Brunei Airlines serves as an inspiration to us all," he concluded.
RB currently operates a fleet of fourteen aircraft comprising five Boeing 787-8 Dreamliners, seven Airbus A320NEOs and two Airbus A320CEOs.
In 2019, RB received a Five Star rating from the 2020 APEX Official Airline RatingsTM and was ranked 66th in the top 100 airlines in the world and awarded Four Stars at the 2019 SKYTRAX Awards.
Further cementing its position among the world's favourite airlines, RB was ranked by TripAdvisor users as favourites in Travellers' Choice Regional Airlines (Asia) for the past three years.
In 2021, RB was awarded the highest seven-star ratings against COVID-19 by the world's best one-stop airline safety and product review website www.airlineratings.com.
In the same year, RB was awarded Asia's Leading Cabin Crew and World's Leading Cabin Crew; both titles where RB emerged as champion from 2020 to 2021, and Asia's Leading Airline – Business Class by World Travel Awards.
In 2022, RB emerged as the champion for the third time in a row for World Travel Award's Asia's Leading Cabin Crew 2022.
THE BRUNEIAN | BANDAR SERI BEGAWAN