His Majesty Sultan Haji Hassanal Bolkiah Mu'izzaddin Waddaulah ibni Al-Marhum Sultan Haji Omar 'Ali Saifuddien Sa'adul Khairi Waddien, Sultan and Yang Di-Pertuan of Brunei Darussalam held a bilateral meeting with His Royal Highness Prince Mohammed bin Salman bin Abdulaziz Al-Saud, the Crown Prince and Prime Minister of Saudi Arabia on the sidelines of the Asia-Pacific Economic Cooperation Forum Summit (APEC 2022) on Friday, 18 November 2022 in Bangkok, Thailand.
His Majesty, accompanied by His Royal Highness Prince 'Abdul Mateen, held the meeting at the Queen Sirikit National Convention Centre.
The two heads of state discussed matters of mutual interest in strengthening the long-standing bilateral relationship between the two countries as well as fields of cooperation and opportunities for developing them.
His Majesty also congratulated His Royal Highness the Crown Prince on his appointment as the Prime Minister of Saudi Arabia on 27 September 2022 and extended an invitation to the Saudi Arabia Crown Prince and Prime Minister to visit Brunei Darussalam.
Additionally, His Royal Highness the Crown Prince and Prime Minister of Saudi Arabia extended an invitation to His Majesty and members of the royal family to visit Saudi Arabia to perform umrah.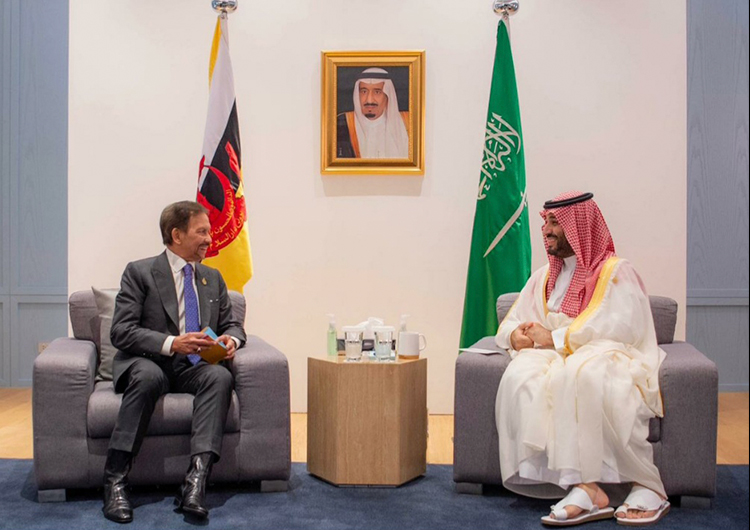 "The meeting in Bangkok came at a time when the world is hemmed in by political and economic difficulties and uncertainties but with ambition that binds the two leaders as a common factor to support joint action and build a deep-rooted relationship to serve the people and support the establishment of peace around the globe," said the Deputy Ambassador at the Embassy of the Kingdom of Saudi Arabia in Brunei Darussalam, Safar M. Al-Safar.
"It is an errand of pride and honour, as they have been working to achieve this goal through peaceful and legal processes in which education is the first axis of development accompanied by health and stability so that the aspirations of the two leaders are realised."
Al-Safar added that the meeting laid the foundation for a bright stage with the support of the outstanding relationship between both countries that has grown over the years.
"(It also) draws in depth the aspirations of all of us for cooperation and active participation through the developmental frameworks refined by the sincere desires of His Majesty and HRH the Crown Prince and Prime Minister of Saudi Arabia, for a new era to begin," he added.
Brunei and Saudi Arabia established diplomatic relations on 1 July 1987. Since then, the two countries have had close and friendly cooperation.
THE BRUNEIAN | BANDAR SERI BEGAWAN