In a bid to further empower the creation of a sustainable digital
society and fully realise Brunei's Smart Nation agenda, Bank Islam Brunei Darussalam (BIBD) is advancing its efforts to promote cashless transactions at supermarkets and fast food outlets through the use of self-service kiosks.
The latest initiative is a first-of-its kind collaboration with local fintech ThreeG Media and the Milimewah Group, in line with the government's agenda to promote digital payments and create sustainable solutions towards a more efficient community.
Two units of self-service kiosks were unveiled at the Jaya Hypermart Centrepoint recently in an event attended by Chairman of ThreeG Media Yang Amat Mulia Pengiran Anak Haji Muhammad Ruzaini Pengiran Haji Mohd Yakub, BIBD Managing Director and CEO Junaidi Haji Masri, other members of the BIBD senior management team as well as directors of the Milimewah Group.
The kiosks will provide customers and shoppers with an interactive experience and convenience which will ultimately foster and transform future consumer habit.
Customers are able to scan their items using the kiosks and pay for their goods via BIBD credit cards or Pocket, the cashless payment mobile application operated by ThreeG Media.
Pocket, which is able to house up to three Visa or MasterCard cards, allows users to pay by either scanning QR codes or remotely through a Biller function.
"The introduction of this solution is one of BIBD's initiatives and commitment to create more collaboration and alliance which encourages the creation of a sustainable cashless economy and helps the nation document the economy. It also demonstrates BIBD's eagerness to support businesses in enhancing their customer experience whilst providing convenience at the same time," said BIBD's Head of Merchant Services, Andy Yong.
"For businesses, this is especially useful and beneficial as one of the primary benefits of self-service kiosks is reduced overhead expenses. Self-service kiosks also allow staff to be more productive as they can be stationed in busier areas that require more attention and personalised customer service.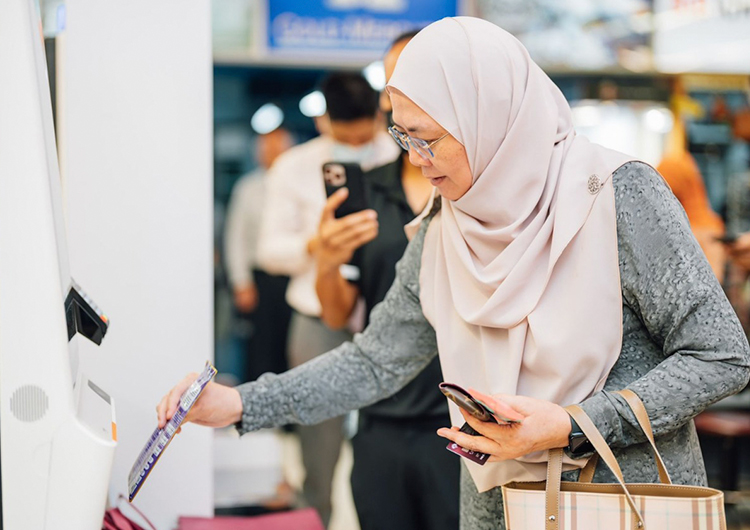 As a Partner in Progress, BIBD has always supported the nation's drive towards becoming a Smart Nation, powered by a digital economy," he added.
ThreeG Media Sdn Bhd was set up in 2001 as an I.T company and has gone on to become a reliable business partner and service provider for telecommunications, banking, utilities and SME solutions in Brunei Darussalam.
BIBD and ThreeG Media have established a strong working relationship since 2011 especially in the field of digital payment. In 2021, the two companies collaborated in a joint promotion campaign for BIBD Cards and Pocket.
A certified IT firm, ThreeG Media is accredited by the Authority for Infocommunications Technology Industry) and is made up of a management team and staff who are well-equipped and experienced in information technology advancement consisting of a balanced local and foreign workforce.
The Milimewah Group, which consists of Jaya Hypermart, Utama Grand, Milimewah and M Emporium, began operations in 1990 and has 10 outlets throughout the country.
Self-service kiosks are also smaller in size compared to traditional checkout counters, allowing for better space management which will in turn free up more room to showcase products and potentially boost sales.
The kiosks can also help in mitigating the risk of loss and theft from cash collection as well as minimising human errors on manual cash reconciliation and improving accuracy.
With Covid-19 cases seemingly on the rise again, the introduction of these kiosks is very important to encourage social distancing and ensure customers are not left to wait indoors for long periods of time.
The unveiling of the self-service kiosks marks the start of a journey for BIBD to roll out more units within the next 3 to 6 months at other Milimewah Group brands and outlets with the ultimate goal to expand and collaborate with other shopping centres and food and beverage outlets nationwide.
BIBD is also planning to integrate QuickPay into the self-service kiosks in the near future. Powered by BIBD NEXGEN, BIBD QuickPay allows customers to make payments by scanning a QR code through the BIBD NEXGEN Wallet mobile app on their smartphones.
In conjunction with the unveiling of the self-service kiosks, BIBD has launched a promotion from 28 November 2022 until 31 December 2022, which offers cashback rebates to all purchases made on the kiosks with BIBD Credit Cards and the Pocket App.
For purchases above $50, customers are entitled to a 10% cashback while purchases below $50 entitle customers to a 5% rebate.
THE BRUNEIAN | BANDAR SERI BEGAWAN