Darussalam Enterprise (DARe) has announced eight new vendors for its fifth cycle of Kontena Park, a food incubation-training programme aimed at fostering growth and development within the local food industry.
The Kg Anggerek Desa-based space is an initiative under DARe that serves as a platform for aspiring food entrepreneurs to test and validate their products in a real marketing setting.
The programme offers comprehensive training, mentoring, and coaching, along with subsidised rental for a one-year period.
By providing a conducive environment for experimentation and learning, Kontena Park plays a pivotal role in nurturing the talents of food entrepreneurs and empowering them to succeed in the competitive marketplace.
At the event launch, Director of Enterprise Development DARe Norlela Suhailee expressed her enthusiasm for the fifth cycle of Kontena Park.
"We are happy to unveil the fifth cycle of Kontena Park, which continues to pave the way for the growth and innovation of our local food industry,"
She further said: "We will continue our efforts in providing you with the platform and necessary support in order to flourish and excel throughout our programmes and entrepreneurial journey."
Executive Officer Rofini Zainal also shared her remarks, highlighting the significance of the Kontena Park programme in driving economic development and supporting the aspirations of food entrepreneurs.
She emphasised the importance of collaboration between relevant stakeholders in nurturing a vibrant and sustainable food ecosystem.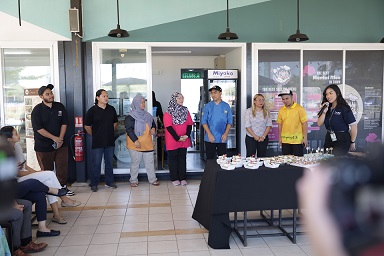 The launch event provided an excellent platform for the new cycle of vendors to showcase and sample their culinary creations. It also facilitated valuable networking opportunities with previous cycle vendors and various stakeholders within the industry.
The eight food and beverage vendors participating in this cycle of Kontena Park are Pondok Qaya, Dewa Selera, My Dish by Azeem, Nad Cooks, Noaz Creation, The RZ Café, My Dessert Diaries, and Pais Nyanyat.
As the fifth cycle of Kontena Park commences, DARe reaffirms its commitment to supporting the growth of the food industry in the country.
Through continued collaboration with stakeholders and the nurturing of local talent, DARe aims to establish Brunei as a culinary destination and promote entrepreneurial success within the food sector.
For more information about Kontena Park and the participating vendors, please visit the DARe website at https://www.dare.gov.bn/kontena-park
THE BRUNEIAN | BANDAR SERI BEGAWAN