"If someone were to ask two years ago about running and owning a gym, I would say no" – this was the sentiment shared between two friends Wajdi Manaf and Nadzri Harif as they reminisced about their fitness journey.
They have the same passion for fitness although in different sports in their early days – one was into bodybuilding and the other was spinning.
Wajdi and Nadzri crossed paths when they started working out at a local gym 673 Fitness, previously known as Reebok CrossFit 673. They frequent the establishment as clients in the beginning before becoming instructors in their respective fields.
Now, the tables have turned. Ten years later, they are the co-owners of 673 Fitness along with another two business partners.
Prior to acquiring the business under their helm, the strength and conditioning gym was owned by an American CrossFit athlete Michael Mogard who saw the potential of the programme in the Bruneian market.
"The gym was opened in 2012 and it's interesting because I think at the time, CrossFit was booming. Many people started to hear the word CrossFit and weren't sure what it was," said Nadzri.
673 Fitness was one of the pioneers that brought over CrossFit in Brunei and became the first Reebok affiliate in the country at that time.
"We started in Pasir Berakas and expanded to two more branches – 673 Jerudong and 673 Kuala Belait," said Wajdi, adding that currently, all gyms are owned by separate parties.
Fast forward to 2023, 673 Fitness is fully-owned by four Bruneians who shared their humble beginnings at the same place, a safe space they call home.
Running a business is not for the faint of heart, it has risks but a gratifying journey in the long run.
For Wajdi, one of the earliest business partners and co-owners, a conversation with his former superior made him self-reflect on what he wants to do and value the most.
"I really value security and I have been in the corporate world for seven years with my last position as a career coach. During the day, I coach people at work and at night, I am a fitness coach. Both tasks have a common denominator which is helping people to lead a better life," said the entrepreneur.
The 31-year-old further said that it is a challenge to be out of his comfort zone, now that he is no longer in the corporate sector.
When given the opportunity to take over the gym earlier this year, he decided to embark on the journey along with another two friends turned co-owners.
"I try to make use of the opportunities and I won't regret not taking it.
Whatever happens, be it success or not, at least I test it out. If it turns out great, then Alhamdulillah," said the head programmer at 673 Fitness.
He added: "It is the intention to help people that drives me to go out of the corporate world and be here. It is a space where I can do and influence the members to live a better life. I feel more fulfilled."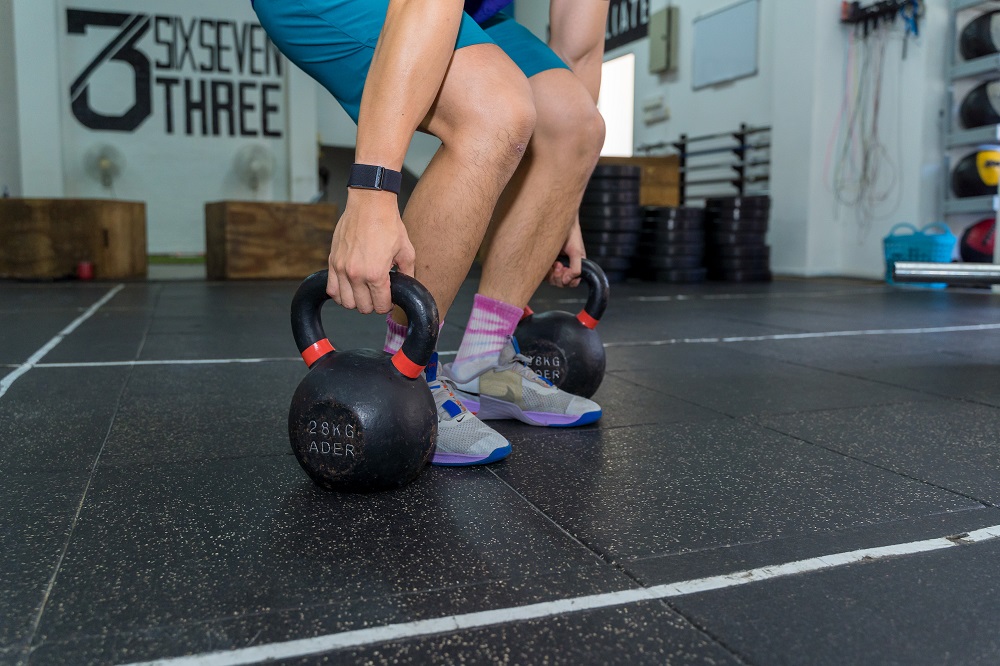 Meanwhile, Nadzri worked with 673 Fitness until January 2020 before he joined another fitness centre in the capital as a coach. He only entered the partnership two months ago after ending his term with the previous gym.
"They were already partners at that time and reached out to me if I can be a part-time coach, but I told them that I'm at this age where I want to help a place grow and develop," said the coaching and development instructor.
He added: "So I asked, are you guys owners now and they told me their story. I pitched in what I could bring to the table as a partner and as a coach. So, everything is aligned, I took out my savings and here we are. For me, this is home."
Having the conversation with all the partners gave Nadzri and Wajdi the confidence to run the business full-time while the other two partners attended to their daily work commitments.
"That was the first time when I had a sense of confidence, an urgency to offer something to the table and help," said Nadzri.
Sharing the same sentiment, Wajdi said: "Having to know that I have these guys as partners, getting the support and learning from each other… I'm really confident."
What is 673 Fitness
The name 673 Fitness is derived from the country code +673 whereby the brand founder wanted to give a representation of Brunei, making it a unique and catchy moniker.
The gym is no longer affiliated with Reebok CrossFit and has been renamed to '673 Fitness', offering functional fitness training, bootcamp and personal training.
"673 Fitness is a strength and conditioning gym. We want to make working out accessible; we want to make working out fun. We want to make working out safe and easy. And we work with people from all walks of life. We also do group classes," said Nadzri.
When asked about functional movement, Wajdi explained that it helps to prepare oneself to perform daily tasks better such as picking up groceries or carrying a child.
"Strength training is basically getting that body stronger in terms of lifting heavier progressively. For me, fitness means being able to do whatever I want outside of the gym," added Nadzri.
Touching on the situation whereby some people may feel intimidated to go to a gym especially those who are just about to start their fitness, they understand that there is a stigma.
"I think one of the issues that we have as new owners, is that 673 was such a prominent brand within the CrossFit scene. So, whenever people think of 673, they think of CrossFit and what CrossFit comes with is a stigma where people be like, 'Oh, I got to be a certain level of fitness, I have to look a certain way to join a workout," shared Nadzri.
Noting the hesitation from the public and the image the brand portrayed, 673 Fitness aspires to make their programme more accessible for everyone.
"We want to make workouts fully scalable. If you cannot do a squat, we're going to find ways to sort of build you up and will tear away the complexity of the movement. We'll try to make it as basic as possible. And as you progress then we start building from there. So, I think that's what we want to do," added Nadzri.
Creating a community
With all three 673 brands owned by separate individuals, 673 Fitness is pleased to still share the same name.
"We're happy to share with the 673 branches because it's something that all of us have in common in terms of building the name (from previous ownership), regardless of where they are," said Wajdi.
The friendship bond built over the past decade within the 673 branches has garnered a community of athletes whose aim is to lead a stronger and healthier lifestyle.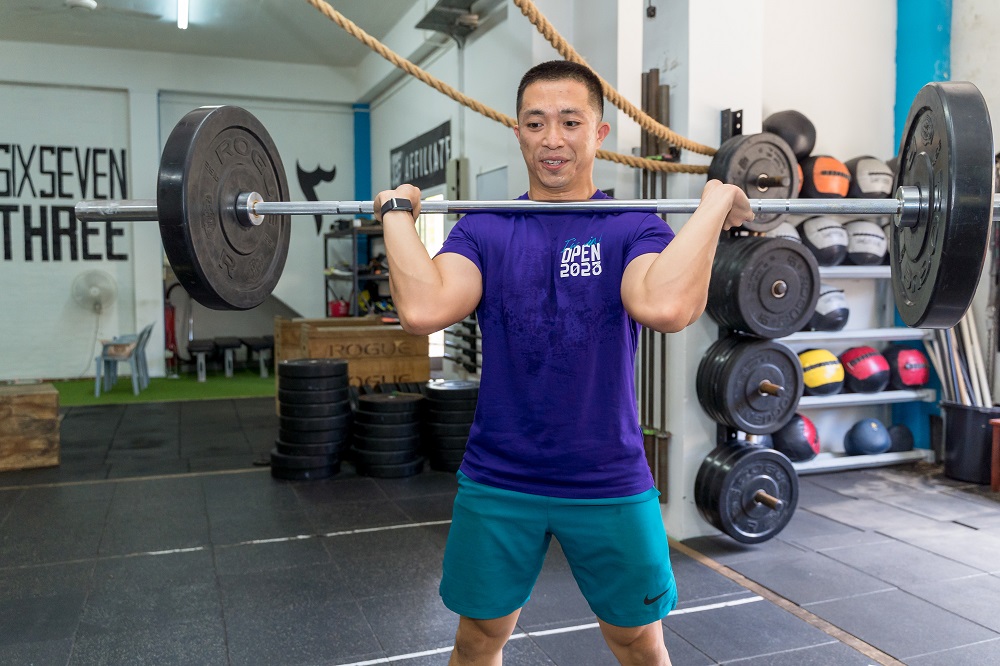 "There's a certain camaraderie that you get when you suffer together. You go through all these workouts, knowing that our friends in Jerudong and Kuala Belait are suffering just as much as we are in the workout," shared Nadzri.
Wajdi further said that relationships are not limited to 673 communities but also with other gyms in the country and that they are open for collaborations with the hope to strengthen their networks.
"There is such a small pie in Brunei when it comes to business specifically in the fitness industry. I feel like you don't need to be aggressive in terms of competing with one another and I think that collaboration is something that we want to try," said the coaching and development instructor.
On gym members having other gym options, the co-owners are supportive of them for it is one way for a person to progress in their fitness journey.
"For me, it is something that is outside of our control. We can just focus on what we can do here as a gym, improve people's life, performance, and health. We cannot stop them from going to other gyms," said Wajdi.
As coaches, added Nadzri, they fully encourage their athletes to explore and try new things as avenues to grow and learn.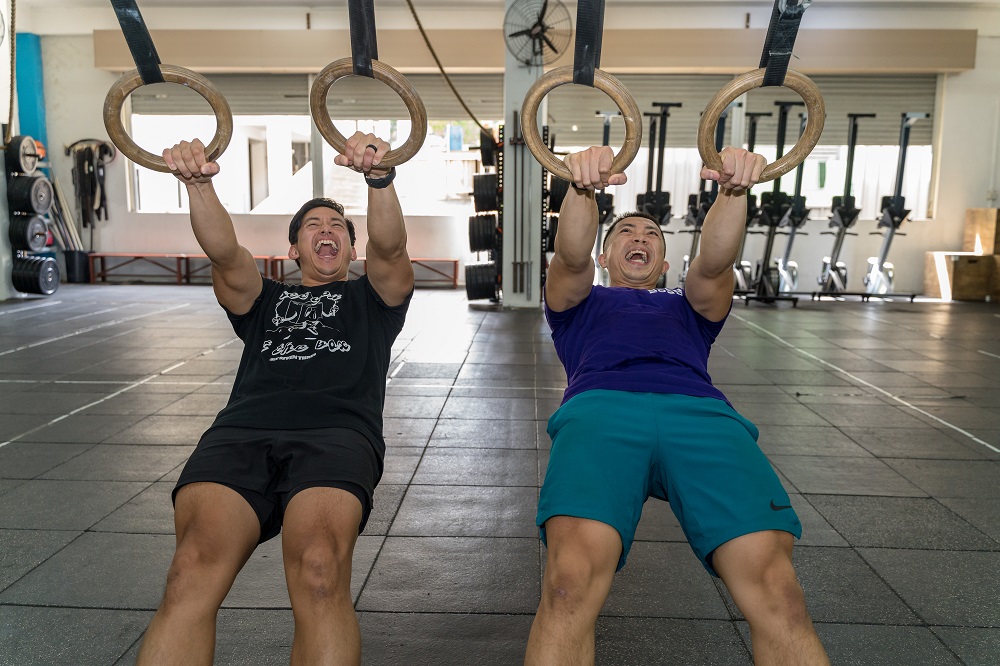 "Honestly, sometimes this strength and conditioning programme is not everyone. Some people just don't enjoy it. So, for me, when I think of things holistically, people who are starting to get into fitness, I encourage them to try anything and everything until they find the one that they really enjoy," said Nadzri.
He added: "Find one that you can do consistently but we really feel a strength and conditioning programme, will help support all your other activities outside of the gym. I think any sports regardless, will benefit from the programme, programmed correctly."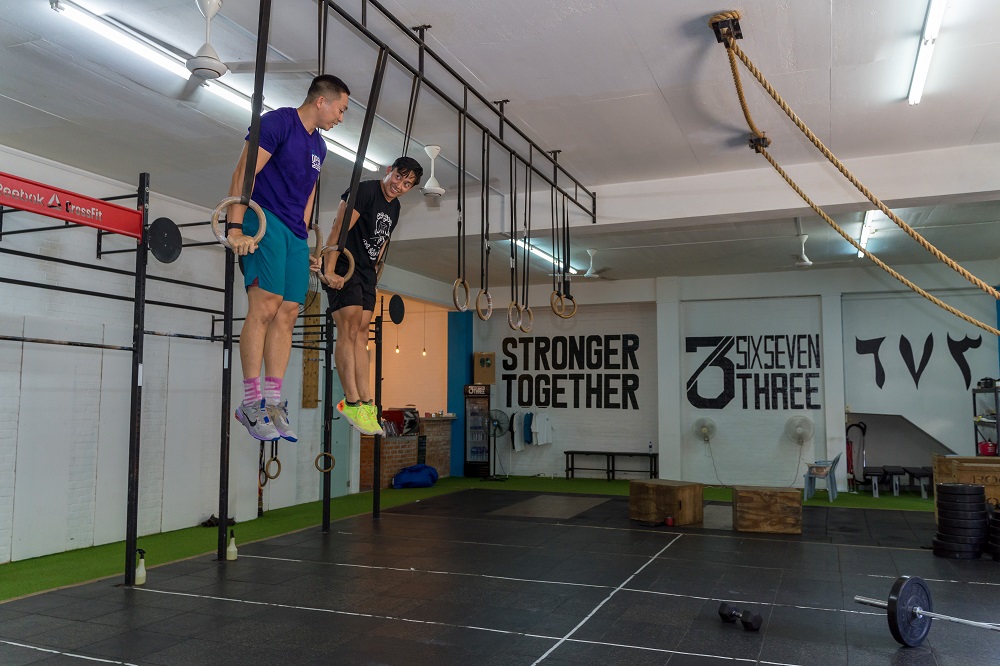 673 Fitness as a business
Owned by four friends, running a business as co-owners is not child's play but can be rocket science at times.
For 673 Fitness's new owners, transparency and having difficult conversations are among the things that they need to address so as to avoid misunderstandings or disagreements in the future.
"What helps is all four of us have known each other for more than five years. We all do know what our commitments are outside of the gym. We are super transparent with what we bring to the table, we feel that everyone has experiences and strengths that complement everyone else," said Nadzri.
At the beginning of their partnership, Wajdi said that they laid out their expectations in terms of everyone's roles and responsibilities.
"Those are the talks that are important in order to make things easier for us to move forward, recounter issues to operate the gym," shared the head programmer.
Nadzri further said that all difficult and uncomfortable conversations needed to happen; everything from money, roles and responsibilities.
"Uncomfortable things are bound to happen anytime, and we just need to be transparent. Talk about it and it is about how you handle it faster and recover to the centre quickly," shared Wajdi.
Touching on wearing different hats as owners and instructors, Wajdi and Nadzri are steadfast in their respective roles. For them, one needs to be devoted to the hat they are wearing at one time.
"When we are coaching, we are 100 per cent as coaches and not as business owners. My responsibility when I'm on the floor my attention is all to my clients and athletes on the floor. I want to look out for their safety, well-being, how to improve their technique, how do I get them stronger and better," said Nadzri.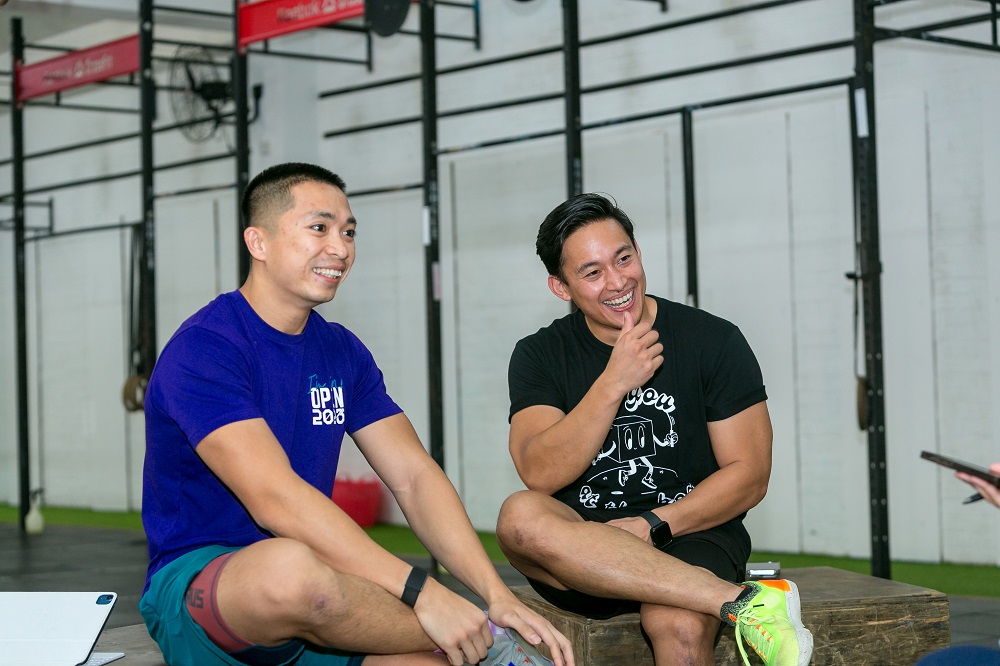 He added: "As soon as I step out of the floor, now I'm community, hanging out with friends, members and athletes. When everyone leaves, that is when our business owner hats come out. We are working on it, everyone is struggling with this, we just want to make sure that when we are in each role, we fully commit and dedicate to each role."
Two of the co-owners have their own roles at the gym during their free time. They oversee monthly community events hosted inside or outside the box, operations and facilities.
Entrepreneurship
Speaking on the entrepreneurship scene in Brunei, they noted that it has been encouraging and growing over the years.
"We are actually in a society now where people can freelance doing what they like to do. It is more open and accessible. There are courses and programmes you can take, grants you can apply for," said Nadzri.
Wajdi added: "People are more willing and daring to take this leap of faith and pursue their passion towards entrepreneurship."
On grants, the business owners are not looking but they are open for any opportunity when the time is right.
"At the moment, we haven't looked at anything yet only because we've been lucky enough to be able to pump in enough funds to have some resources, but we are not closing that door," he said.
"We don't want to take the grant for the sake of taking it. If it is something that lines up with what we want to do, help benefit our clients and athletes and experience, that is something that we may be looking into," he continued.
Meanwhile, for aspiring businesses who want to venture into the scene, the two friends shared that in-depth research must be done before taking the leap.
"Look into the field that you are trying to jump into, try to understand it as much as possible and plan. Immerse yourself in the business or industry that you want to do, see what works and study the companies you look up to," shared Nadzri.
For Wajdi, prior to taking the business, he did his research on the current fitness scene in Brunei and come up with several contingency plans.
"What gives me confidence you must have a lot of contingency plans. It gives you ease of mind that you are ready and prepared. Do your research and talk to people that matter to your support system," advised Wajdi.
"If you are doing things for the first time, mistakes are bound to happen, and it is totally normal. I tell this to my clients; when they are jumping onto the programme, mistakes will happen. There are always speedbumps throughout your journey but they are meant to slow you down not to stop you," concluded Nadzri.
THE BRUNEIAN | BANDAR SERI BEGAWAN