In recent years, the healthcare landscape has steadily shifted from a narrow focus on medical treatment to a more comprehensive approach that embraces a broader spectrum of health and well-being.
While medical treatments remain crucial, the understanding of healthcare is evolving encompassing the idea that health goes beyond the absence of diseases.
As healthcare expands its horizons, the importance of prevention is further highlighted along with mental well-being, social factors as well as patient empowerment.
However, choosing an affordable, reliable and accredited healthcare facility presents challenges requiring careful consideration that extends beyond a simple Google search.
This is where the Malaysia Healthcare Travel Council (MHTC) can help as an agency under the purview of the Ministry of Health (MOH) Malaysia.
Established in 2005, the council has garnered a significant reputation with 97 Member Facilities consisting of 22 Elite Hospital Members, 62 Ordinary Hospital Members and 13 Affiliate Members under their belt.
The Hospital Members are accredited by international bodies; Joint Commission International (JCI), The Australian Council of Healthcare Standards and the Reproductive Technology Accreditation Committee (RTAC) — ensuring the utmost confidence to patients who can therefore expect quality services.
These include affordability with treatment costs 60% to 80% less compared to the United States of America (USA), accessibility with over 200 private hospitals, great communication as Malaysia is a multilingual country and warm hospitality with seamless assistance from inquiry to post-care.
In 2022 alone, MHTC recorded 850,000 healthcare travellers. During the height of the Covid-19 pandemic between 2020 and 2021, 689,000 and 561,000 individuals respectively, sought treatment in Malaysia.
These figures underscore the country's exceptional healthcare services.
Furthermore, Malaysia is ranked top 10 in the Wellness Economy: Top 10 Markets in Asia-Pacific (2020) according to the Global Wellness Institute (GWI) 2020, following other Southeast Asia counterparts such as Indonesia, Phillippines and Thailand.
Flagship Programme Elevates Malaysia's Healthcare Institutions
While Malaysia Healthcare is at its pinnacle, the council is committed to elevating it even further with the introduction of Malaysia's Flagship Medical Tourism Hospital Programme.
The programme was introduced in 2018 and focuses on three core pillars: Medical Excellence, Service Excellence and International Branding.
Currently, four finalists have made it to the acceleration stage namely: Subang Jaya Medical Centre (SJMC), the National Heart Insititute (IJN), Mahkota Medical Centre (Mahkota) and Island Hospital.
These institutions are in the midst of further refining their facilities and services until 2025, when a selected hospital will be recognised as Malaysia's Flagship Medical Tourism Hospital, aligning them with internationally acclaimed medical institutions.
National Heart Institute (Institut Jantung Negara)
Globally trusted and recognised with a recorded five million attendees, the largest heart centre in Asia Pacific, the National Heart Institute or Institut Jantung Negara (IJN) has visibly proven their expertise.
Home to a team of highly trained cardiologists with sub-specialties, the institute is committed to ensuring advanced healthcare needs including Paediatric Cardiology covering every stage of growth from foetal, infancy and adolescents.
Additionally, IJN regularly trains their doctors as well as nurses in specialised fields in order to provide patients with comprehensive care from start to finish.
Speaking to international media on 17 October, Head of Marketing Akim Affandi Ahmad highlighted the importance of having capable nurses.
"Mortalities happen after procedures therefore while it is great to have skilled doctors, it is equally important to have very strong and capable nurses to support patients during aftercare, which translates to the mortality rate of the hospital itself."
"We have the lowest mortality rate in terms of patients versus procedures and are the only hospital in Malaysia that provides this information online, readily available on our website," he added.
The transparency of these statistics is important to the institution, according to the marketing head, to ensure a patient's trust.
"In the field of Cardiology, there are multiple aspects that we need to consider; we have to ensure the hospital is good, the doctors are skilled and the readiness of the patient – all of which are factors that patients value."
"Which is why IJN has made the data readily available on our website from success rates to mortality rates of certain procedures."
Furthermore, the institute aims to minimise patient expenses, reduce waiting times and length of stay, reiterating the need for skilled doctors and overall patient care.
"The expertise of our doctors can significantly impact the expenses associated with Intensive Care Unit (ICU) stays, which can be costly, often exceeding RM1000 per night."
"With skilled doctors, the duration of ICU stay can be shortened to just two or three days before transitioning to a regular ward," said Akim.
Patients are encouraged to present their medical reports first and if a procedure isn't necessary, he said IJN would prefer to avoid it.
"Our goal is to prevent unnecessary suffering for patients while ensuring careful and patient-centred care, with doctors closely attending to their needs."
He added the significance of linking patients with the right doctors as a crucial part of the institute's comprehensive patient care initiative.
"Patients should choose IJN not just for affordability, but because we offer a competitive edge, careful consideration of cases along with highly skilled doctors with subspecialties and well-prepared nurses."
IJN is also connected to strong international partners from Indonesia, Bangladesh and even Brunei.
"Therefore any international matters most of the time experience a seamless transition because of our existing partnerships and cooperations."
"We are not solely driven by financial motives; our primary focus is meeting the needs of our patients," the marketing head concluded.
IJN has received the Best Cardiology Services Provider in the Asia Pacific accolade four times consecutively at the Global Health and Travel Awards in 2016, 2017, 2018, and 2019.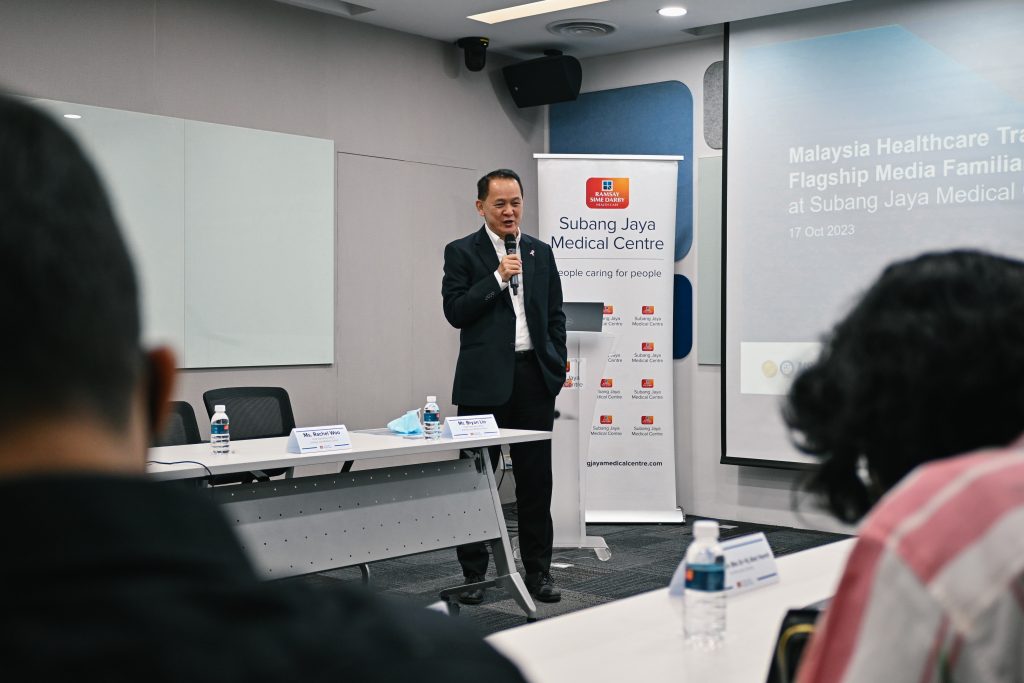 Subang Jaya Medical Centre
Subang Jaya Medical Centre (SJMC), a flagship hospital under Ramsay Sime Darby Health (RSDH), has maintained an outstanding reputation as one of Malaysia's most reliable private medical centres for nearly four decades.
Particularly renowned for its exceptional clinical outcomes, the multidisciplinary tertiary hospital is at the forefront of numerous pioneering medical achievements and is the instigator in radiation oncology services and facilities.
The centre proudly hosts an award-winning Cancer & Radiosurgery Centre (CRC) equipped with state-of-the-art medical technologies for cancer detection, monitoring, and treatment.
Carrying the motto "People Caring for People," this sentiment holds a deep truth, as the centre's dedication extends beyond mere treatments, encompassing comprehensive support for patients.
Their commitment begins with prevention and extends through screening, diagnosis, treatment and goes beyond to provide palliative and psycho-social care.
According to SJMC Chief Executive Officer (CEO) Bryan Lin, specifically in the journey through cancer, a strong support network is crucial to navigate the challenges together.
"We commemorate the lives of cancer survivors with dinners, send them flower arrangements, teach them makeup techniques and engage in various other activities as they progress on their journey."
The centre also features real-life cancer survivors around its establishment to inspire and support current patients throughout their treatment.
A dedicated International Patient Centre (IPC) is available 24/7 from the moment healthcare travellers arrive at the airport until their discharge, ensuring all their needs are met.
"Even in complex cases, we extend our support to help family members with tasks such as extending visas and finding suitable accommodations," said Lin.
"We strongly believe in the importance of this holistic approach. That is also why we provide translators to ensure patients can communicate comfortably in their mother tongue."
To further alleviate the burden on patients, SJMC has made significant investments in various technologies aimed at ensuring efficient surgeries, ultimately resulting in shorter hospital stays.
"This ties into providing more cost-effective healthcare to our patients, which is also achievable due to the robust pricing regulations in Malaysia's healthcare system," said SJMC's Director, Business Development, Strategy and Transformation Joanne Lee Ching Whey.
"Malaysia has stringent regulatory measures in place for healthcare pricing, ensuring that charges are fixed," she explained.
The centre also accommodates day surgeries for certain cases and is in the process of investing in a dedicated Day Of Surgery Centre, expected to be operational in two to three years, shared CEO Lin.
This expansion is currently in the planning phase and aims to serve an even larger patient base as a comprehensive one-stop centre.
"Patients can conveniently walk in, undergo surgery, receive treatment and return home from the same facility, making it a more patient-friendly environment," said Lin.
In 2023, SJMC was certified by the Australian Council on Healthcare Standards International (ACHSI) as a Centre of Excellence for Oncology (Cancer), a first in the Asia Pacific region.
Mahkota Medical Centre
Mahkota Medical Centre (Mahkota) is a well-established private hospital in Melaka, with a proud history spanning 29 years, situated strategically within a UNESCO World Heritage Site.
The hospital saw over 300,000 local and international patients before the Covid-19 pandemic and performs over 12,500 surgeries annually.
As the first JCI-accredited hospital in Melaka since January 2020, the hospital is also the first in Malaysia to receive the Breast Cancer Clinical Care Programme in Certification.
In an interview with The Bruneian, CEO Stanley Lam expressed that as a finalist in the flagship programme, Mahkota's goal is to enhance Malaysia's healthcare services and become a recognised regional reference centre.
One of their key initiatives was a rebranding effort in 2019, adopting the motto "Hands That Treat, Hearts That Heal," which emphasises their commitment to being a patient-centric facility.
"A significant portion of our patients come from abroad and more than 80% of them are returning patients, highlighting their loyalty and the positive recommendations they make to their family, friends, and relatives," shared the CEO.
The hospital boasts a robust surgical capacity, with a considerable number of surgeries performed: over 1000 a month.
"Because our doctors are active in surgery, they are able to sharpen their skills at the same time," said Lam.
"We also receive referrals from other hospitals, including from (Mont) Kiara, recognising our specialisation in specific medical services."
Prioritising patient safety and clinical outcomes above all else, the CEO said Mahkota ensures to renew and comply with GSI and JCI accreditaions which entails rigorous assessment of clinical indicators, staff competence, doctors furthering medical education and various other factors, guaranteeing comprehensive healthcare quality.
"As healthcare providers, we view it as our utmost responsibility to deliver the best care to our patients. The flagship programme instils a strong sense of accountability toward our patients, encouraging us to follow established guidelines."
"We have also transformed from an individual-based and ad hoc decision-making approach to a collaborative one, involving various experts such as surgeons, pathologists, oncologists and more, who collectively formulate comprehensive treatment plans for the patients. This ensures that patients receive more effective and holistic care," added Lam.
Island Hospital
Founded in 1996, Island Hospital, located in Penang is one of the leading tertiary care providers in Malaysia that receives over 80,000 healthcare travellers annually.
Situated in a state often frequented by tourists, the hospital has won the Global Health Awards 2023 highlighting it as a Value Based Hospital of the Year, Smart Hospital of the Year, Health Screening Service Provider of the Year and Diagnostic Imaging Centre of the Year in the Asia Pacific Region.
Speaking to The Bruneian, Island Hospital's Head of Marketing (Regional) Vincent Tey said the institution ensures quality medical procedures while fulfilling a Person Centred Care System.
"Focusing solely on treatment is a thing of the past. Nowadays people are looking for experience – a good experience when they come to hospitals."
"Which is why we prioritise the emotional well-being of our patients, aiming to create positive and fulfilling non-medical experiences," said Tey.
He shared that a significant number of healthcare travellers opt for the hospital's affordable and speedy Health Screening Packages that include specialist consultations where results are typically available within 24 hours, based on the specific case.
"Patients who are seeking this particular package will find that everything is on the same floor from consultation to procedures and access to the pharmacy."
"This is one of our ways to ensure a seamless and pleasant patient journey, going the extra mile to provide and assist with any additional needs or preferences."
The marketing head encourages patients to make appointments with their preferred doctors, although walk-ins are also welcomed, offering both convenience and cost-effectiveness.
"However many healthcare travellers make their research beforehand and have specific doctors in mind. In situations where their preferred doctor is unavailable, they are generally open to alternative choices."
"Patients also often request help plan their medical journey and outline the necessary steps. We offer a preliminary journey guide to ensure they have a clear understanding of what to anticipate," he added.
Tey reiterated that modern healthcare is about more than just treatment; it should focus on enhancing the overall patient journey.
"Our goal is to provide exceptional experiences and support for patients – which we are constantly working to improve, recognising that their treatment journey can be emotionally challenging."
"We are proud of this aspect here at Island Hospital: the main focus of patients coming first, particularly their needs and comfort."
Quality Healthcare For All
MHTC is dedicated to ensuring patients receive the appropriate medical treatment at suitable institutions.
Therefore those looking to acquire treatment abroad are advised to seek the council's services to guarantee a seamless experience as the council can ensure Quality Care, For Your Peace of Mind.
Additionally, these hospitals under MHTC are available to extend their services to accommodate patients' families, offering nearby facilities for laundry, shopping and convenient accommodation arrangements.
THE BRUNEIAN | KUALA LUMPUR, MALAYSIA