The second phase of Hengyi Industries' refinery and petrochemical plant in Pulau Muara Besar (PMB) is slated to increase its production capacity by two million tonnes per annum (MTPA), totalling 11 MTPA.
With the integration of the existing refining facility, the new phase two project at PMB Industrial Park which operations to begin in 2029, will garner new sources of refined petroleum products such as ethylene, polyethylene, butadiene, and polypropylene.
These products serve as vital raw materials for downstream industries, spanning from textiles to agriculture and automobile to electronics manufacturing.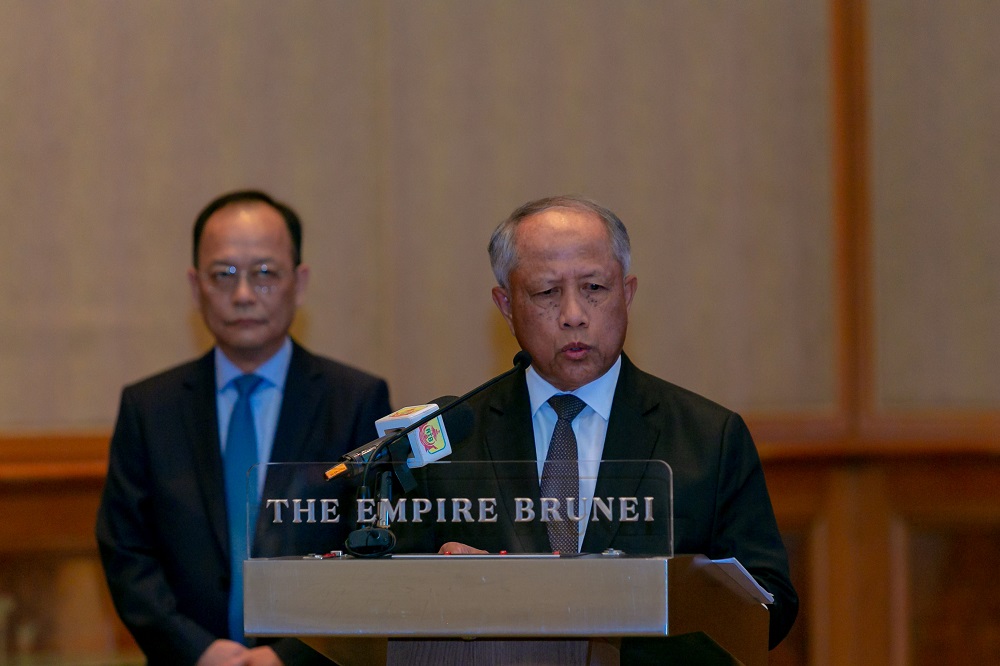 The complex will include the development of processing facilities such as a 1.65MMTA ethylene cracker with a 2.5/2.2MMTA purified terephthalic acid/polyethylene terephthalate (PTA/PET) plant, as well as three new jetties.
In his remarks at the signing of the agreement between Petroleum Authority of Brunei Darussalam, Brunei Economic Development Board (BEDB) and Hengyi Industries recently, Minister at the Prime Minister's Office and Second Minister of Defence highlighted that the project will enable Brunei to manufacture the country's first high value derivate petrochemicals and establish PMB as the foundation for oil-based downstream development and investments in the country, elevating Brunei's presence in the region as a competitive player in the petrochemical industry.
"It is anticipated that with the completion of the Phase 2 Project, an additional of more than 2,000 employment opportunities will be created and 50 per cent of the employment opportunities will be allocated for Bruneians from the start of operations in 2029," said Yang Berhormat Pehin Datu Lailaraja Major General (Retired) Dato Paduka Seri Haji Awang Halbi in his capacity as Co-Chair of the PMB Development Steering Committee.
After the successful commissioning of the USD$3.45 billion Phase 1 facility in 2019, the minister noted that Hengyi Industries has been instrumental in strengthening Brunei Darussalam's energy security and driving Brunei Darussalam's economic growth, having directly contributed over a total of BND 4.5 billion to the national GDP until 2022.
"… and now holds a significant share of about 9.4% of the total national GDP. Hengyi Industries contributed around 55% of the country's total exports in 2022. With the additional high-value petrochemicals production planned for the second phase, the contributions to Brunei Darussalam InsyaAllah will be further increased," said the minister.
YB Pehin Dato Halbi further said that the second phase project is expected to pave way for spin-offs from the new petrochemical sector, especially for foreign direct investments, as well as small and medium enterprises (SMEs).
Upon operations in 2029, the new phase will also double Hengyi Industries' current workforce with 50 per cent allocated for Bruneians, demonstrating the company's commitment to the government's efforts towards increased Bruneianisation.
Touching on sustainability, the minister added that the Government of His Majesty the Sultan and Yang Di-Pertuan of Brunei Darussalam is committed to supporting the growth of the refining and petrochemical industry, with the aspiration of increasing its competitiveness in the market.
"This includes continuing to collaborate in building the capacity for sustainable growth while jointly working towards achieving our national climate goals," he said.
The minister also underscored Hengyi's consistent delivery of excellent operations and safety since the inception of its refinery and petrochemical complex, upholding national standards and requirements.
"I believe that Hengyi Industries are committed to applying the same high levels of standards and pledge to safety, during the effective and timely execution and operations of the second phase," continued the minister.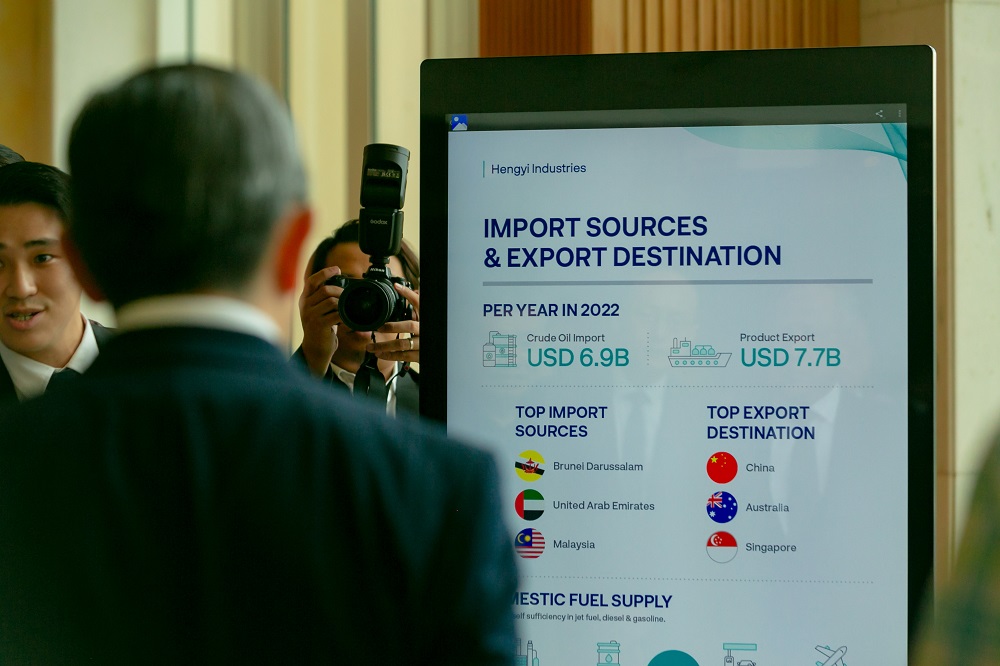 "On behalf of the Government of His Majesty the Sultan and Yang Di-Pertuan of Brunei Darussalam, I wish to express our appreciation to Hengyi Industries Sendirian Berhad, particularly under the leadership of Chairman Qiu, for the unwavering commitment and confidence in Brunei Darussalam through this new investment," said YB Pehin Dato Halbi.
On his part, Chairman of Zhejiang Hengyi Group Co Ltd and Hengyi Industries Sdn Bhd Qiu Jianlin said that since the start of Phase 1 operations in November 2019, the plant has not only operated seamlessly but has consistently surpassed its designed processing capacity.
"This shows Hengyi's capability in optimising its operation and its commitment to technical research, which has enabled it to achieve higher production output, all the while under safe and stable operations over the past four consecutive years," he said.
The chairman further said that in 2022, Hengyi's GDP contribution was 9.3 per cent its Gross Value Added (GVA) was BND$2.17 billion, with Sales Revenue of BND$8.15 billion, and export contribution up to BND$7.18 billion, accounting for 53.9 per cent of Brunei's exports.
Chairman Qiu also said that Hengyi Industries has been working closely with local institutions to develop and train local talents.
"This investment aims to ensure that these young talents are well-prepared to join our workforce upon the successful completion of the various scholarship and collaboration programmes we have with local institutions," he said.
He added: "We have thus cooperated with Universiti Brunei Darussalam (UBD), the Institute of Brunei Technical Education (IBTE) and Polytechnic Brunei (PB). As of Q3 2023, 799 students have been trained through these scholarship and collaboration programmes, and 150 students have joined Hengyi."
Moreover, the chairman said that under its Phase I project, Hengyi has played a pivotal role in contributing to the economy through direct and indirect opportunities.
"In 2023, a total of USD$52.5 million is directed to local spend, with services provided by the local market such as real estate, catering, logistics, securities, and constructions industries," he said.
For its corporate social responsibility, Hengyi actively leads three vital initiatives – Hengyi Future Ready, Hengyi One Planet, and Hengyi Cares.
Through 'Hengyi Future Ready', the company invested USD$6.1 million towards the development of the local youths through initiatives such as the joint scholarship and collaboration programme.
For 'Hengyi One Planet', Hengyi actively engages in environmental preservation through initiatives such as the reforestation project, planting more than 3500 trees.
Lastly, through its 'Hengyi Cares', the initiative emphasises its dedication to giving back to local communities, including support for the development of Brunei's first special needs school and annual donation drives for underprivileged families and orphans.
As a responsible project sponsor and at present Brunei's largest foreign direct investor, he added, Hengyi remains committed to meeting the local business development directives for contributing to the Brunei economy.
"With the signing of Phase 2, we celebrate yet another significant milestone for both Brunei and China, one that highlights the alignment between the Belt and Road Initiative and Brunei's Wawasan 2035," concluded the chairman.
Signing the agreement on behalf of Petroleum Authority of Brunei Darussalam were by Permanent Secretary (Energy) at the Prime Minister's Office Hajah Farida Dato Seri Paduka Haji Talib, and Permanent Secretary (Infrastructure, Housing and Professional) at the Ministry of Development Haji Amer Hishamuddin Pehin Orang Kaya Amar Pahlawan Dato Seri Setia Awang Haji Zakaria; while signing on behalf of BEDB was Acting Chief Executive Officer of BEDB Daniel Leong; meanwhile, Hengyi Industries was represented by Chief Executive Officer of Hengyi Chen Lian Cai.
The signing was witnessed by Acting Managing Director of Petroleum Authority of Brunei Darussalam Haji Kula Haji Metasan, Assistant Chief Executive Officer of BEDB Abdurrahman Abdul Aziz and Company Secretary and Director of Administration of Hengyi Li Peng.
THE BRUNEIAN | BRUNEI-MUARA