Universiti Brunei Darussalam (UBD) has signed an agreement with Zhejiang University (ZJU) for the provision of scholarship programmes to Bruneian students, a renewed commitment of an additional five years between the universities and Hengyi Industries.
Through the collaboration, local students will have the opportunity to enrol in joint-training Chemical and Process Engineering programmes at UBD and ZJU in China.
Students will undergo four years of academic studies – four semesters in UBD, three semesters in ZJU, and one semester with Hengyi Industries for Industrial Training Internship.
Upon completion and graduation from the programme, scholars will begin their career in the petrochemical industry at Hengyi Industries.
In his remarks at the signing ceremony of Hengyi Industries's Phase 2 Implementation recently, Minister at the Prime Minister's Office and Second Minister of Defence said that Hengyi Industries' steadfast commitment towards advancing young local capabilities and talent throughout the years is evident through the close collaboration established with local higher institutions.
"I wish to congratulate Hengyi Industries for further extending their commitment for another five years. With the Phase 2 project underway, I believe that the strengthening of the skillsets of our locals is an important enabler for sustaining and delivering operational excellence," said Yang Berhormat Pehin Datu Lailaraja Major General (Retired) Dato Paduka Seri Haji Awang Halbi in his capacity as Co-Chair of the PMB Development Steering Committee.
Hengyi Industries has awarded a high number of scholarships to local students and recruited many local students under the joint universities' programme. Since its inception in March 2014, the initiative has produced a total of 117 graduates across ten intakes.
Furthermore, Chairman of Zhejiang Hengyi Group Co Ltd and Hengyi Industries Sdn Bhd Qiu Jianlin in his remarks said that the investment aims to ensure that young talents are well-prepared to join the workforce upon the successful completion of the various scholarship and collaboration programmes with local institutions.
"We have thus cooperated with Universiti Brunei Darussalam (UBD), the Institute of Brunei Technical Education (IBTE) and Polytechnic Brunei (PB). As of Q3 this year, 799 students have been trained through these scholarship and collaboration programmes, and 150 students have joined Hengyi," he said.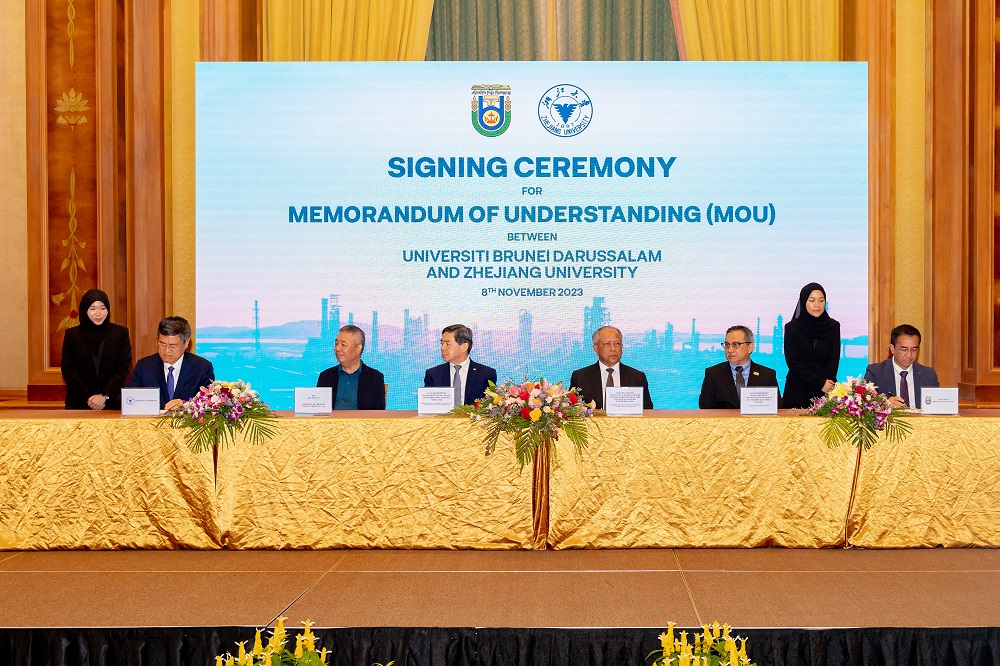 The chairman added that Hengyi's objective is to achieve a business relationship that is mutually beneficial to both countries.
"As a responsible project sponsor, our focus extends beyond just financial success, as we are also dedicated to making meaningful contributions to Brunei's economic growth and social development," he said.
He concluded: "All in all, Hengyi remains committed to meeting localisation targets, nurturing local talents, protecting the environment and contributing to Brunei's economy."
The agreement was signed between Dean of the Faculty of Integrated Technologies at UBD Dr Juliana Haji Zaini and Dean of the College of Chemical and Biological Engineering at ZJU Professor Youqing Shen; witnessed by Vice-Chancellor of UBD Dr Hazri Haji Kifle, and Chairman of the Zhejiang University Council Professor Shaobo Ren on behalf of Zhejiang University Council.
THE BRUNEIAN | BRUNEI-MUARA